Archive for the 'D/s' Category
I'm very happy to announce that A Chance at Love is now available. Grab your copy here!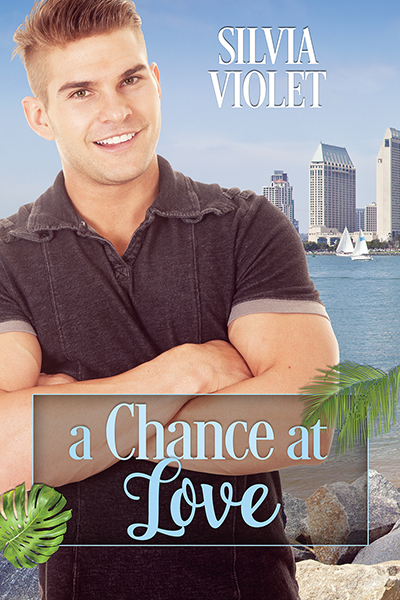 A Chance at Love is humorous, contemporary age gap m/m romance.
On the flight back home to San Diego, Chance Emerson meets an intriguing older man. They flirt, and Chance hopes for more, but the man never calls. Months later, they meet again at a charity auction. Chance decides this time he isn't walking away.
Darren Walsh can't stop thinking about the gorgeous grad student who almost had him joining the mile-high club. When Chance suggests they hook up, Darren says the only thing he can—yes.
From their first moments together, Chance and Darren know there's more between them than lust, but their differences in age and income make a real relationship challenging. They decide to keep things secret, yet as they learn more about each other, Darren realizes he wants something real and open. To have that, he'll need to convince Chance that he has a place in Darren's world, and Darren will have to take some risks of his own.
You can buy it Amazon or borrow on Kindle Unlimited. In three months, it will be available at most other vendors.

The holiday season is fast approaching! While I don't have a holiday book per se this year, Professional Distance wraps up at Christmas and the holiday plays a significant part in the end. I love writing about couples at Christmas and about the holiday in all it's cheesy glory – overdone decorations, movies, music, and ugly sweaters. And the food, oh the holiday food. If you enjoy holiday books too, check out these.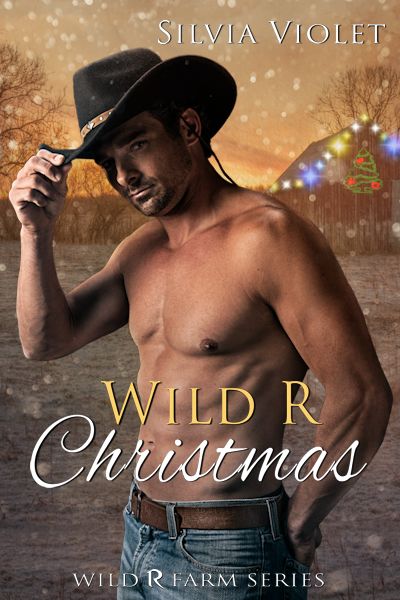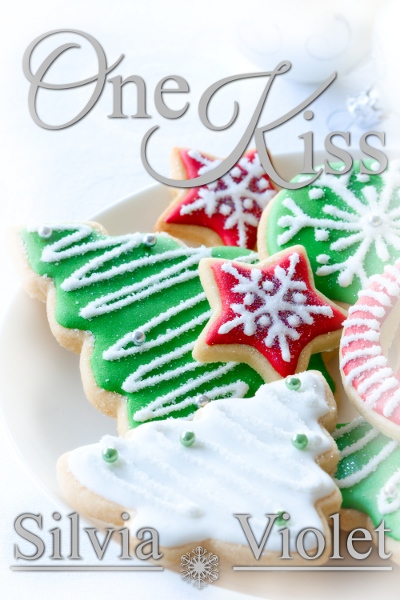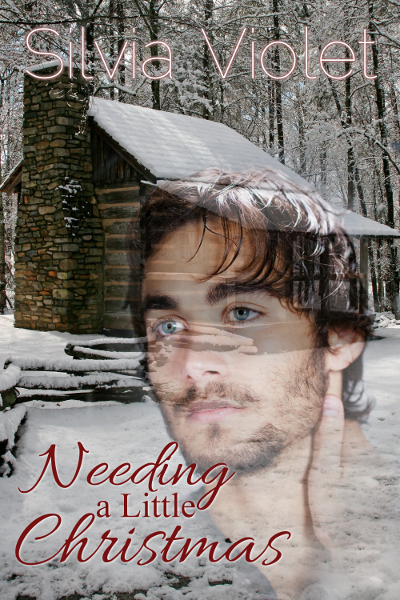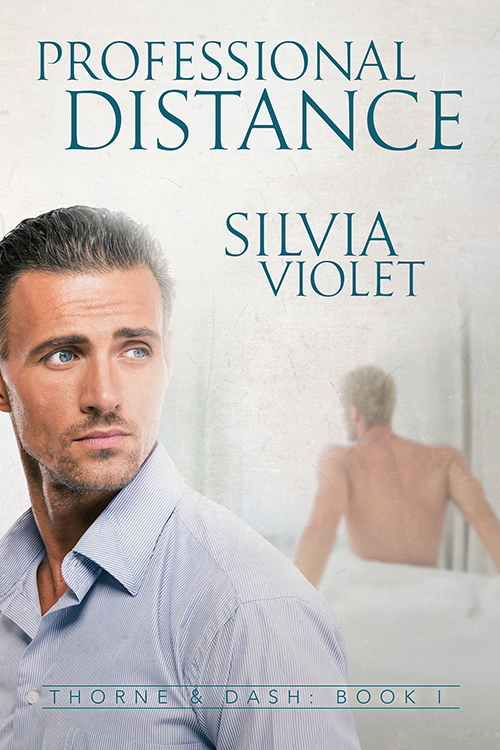 Grab your copy of Professional Distance now. You can pre-order at Amazon, ARe, Kobo, or iTunes.
Thornwell Shipton is wealthy, uptight, closeted, and an incurable workaholic. A tragic love affair left him terrified of relationships, so he tells himself sex is better scheduled and paid for.
Riley Dashwood is young, easy-going, and comfortable in his own skin. He's a passionate baker and an aspiring chef, working as an escort to save up for culinary school.
They're clearly made for each other.
When Thorne hires Dash, it's lust at first sight. After a few scorching nights together, both men start to wonder if what's between them is more than physical, but their age gap and resistance to romance make them afraid to change their professional relationship to a personal one. Dash pushes Thorne to admit he wants things he's denied himself for years. Kinky things. Soft, caring things. Things that force him to open his heart, not just his body. To move forward, one or the other must take a risk and ask for what he really wants.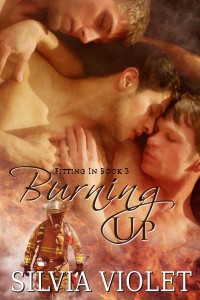 This is the first in a series of list posts. These lists will include books I love and, where appropriate, titles from my own catalog. I enjoy many romance subgenres depending on my mood. This week's list consists of books that are ultra hot, ones where the erotic content is integral to the character development.
A slight digression: You may have noticed I like writing this type of book as well as reading it. At GRL 2015, I will have the privilege of being on a panel with two authors who know all about writing hot, LA Witt and SE Jakes and we'll be talking about this very topic. So join us if you'll be attending.
Sizzling M/M Books and Series
Hell or High Water series by SE Jakes
Tristan and Jared (Market Garden series) by LA Witt and Aleksandr Voinov (sold in a bundle or as separate stories)
The Magpie Lord series by KJ Charles
Force of Law by Jez Morrow
Whitetail Rock by Anne Tenino (a free download at ARe)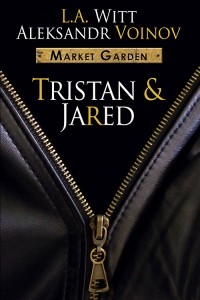 Dirty Laundry by Heidi Cullinan
Shock and Awe by Abi Roux
More by Sloan Parker
A Simple Romance by JH Knight
My own Fitting In series
I'd love to hear some of your suggestions for more hot books!

I'm entering a new decade in my life this week and to celebrate, I'm having a sale on some of my titles. Also tomorrow, Wednesday, I'll be sharing lots of beautiful men on Facebook, Twitter, and Tumblr.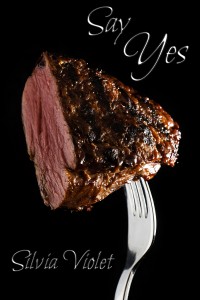 Say Yes is free through 9/18 at All Romance eBooks.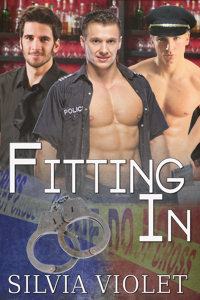 Fitting In is 75% off through 9/18 at Amazon and All Romance ebooks.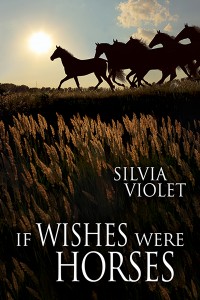 If Wishes Were Horses is 40% off through 9/21 at Amazon and All Romance ebooks.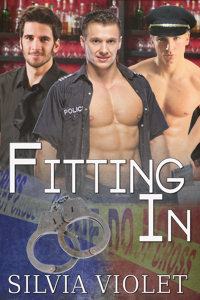 Fitting In is now available at Amazon, ARe, BN, and Smashwords. Get your copy today!
Blurb:
Two cops walk into a bar. Mason, the bartender, waits for the punch line, because no way in hell are these ridiculously hot men real cops. They're straight out of a cop-fetish fantasy. But he quickly learns that Jack and Gray are the real deal, and they want him in the worst way.
What starts as a night of hot, three-way sex becomes a lot more. The two cops fulfill Mason's submissive fantasies, but they also meet a more basic need, comfort. They want to take care of Mason, to offer him unconditional friendship, but their concern for him unnerves Mason more than even the kinkiest sex.
To find happiness with his new partners, Mason must change his belief that love is as much a fantasy as a pair of gorgeous, handcuff-wielding cops landing in his bed.
Excerpt:
Two cops walked into a bar. Mason, the bartender, waited for the punch line, because no way in hell were these ridiculously hot men real cops. They were one hundred percent fantasy material. He hoped to hell they were strippers, and they'd be willing to do a private performance for him.
Their dark blue uniforms were snug, hugging their bodies in all the right places. The taller of the two men was big enough to bench-press Mason. His shirt looked like it might burst at the seams, and Mason hoped it would. Dark, wavy hair fell over his forehead and softened the hard lines of his face. His eyes were dark without being warm, just right for a cop.
His partner was shorter, about Mason's own five foot eleven or so. He had buzz-cut dirty blond hair and blue eyes. He looked younger than his partner, like he hadn't been out of the academy for long, but he was just as ridiculously hot as the bigger man. His looks were the all-American-boy type. He'd probably played baseball in school and won the heart of every girl he smiled at. He was a perfect counter to his partner's rough, domineering appeal. They could play a scintillating game of good cop, bad cop, and Mason would love for them to play it with him.
If Mason were in a porno, the cops would cuff him and drag him to a back room where they would proceed to plow his ass until he couldn't stand up. Sadly, this was real life. They were probably relentlessly straight and only here for a beer.
They headed toward the end of the bar by the register where there weren't any customers during the midafternoon lull.
"What can I get for you, officers?" Mason asked.
The big one smiled. "Anything cold."
The shorter man punched his partner's arm. "Nothing. Thank you. We're here on official business."
The big man rolled his eyes. "Can't I at least get a soda?"
"Fine. Two Cokes please."
Mason was glad to have the simple task of scooping ice and pouring fountain drinks to distract himself for a few minutes. What official business would they have here? While the occasional fistfight broke out, most typically during the NCAA basketball tournament, Nathan's Public House was hardly a hotbed of crime.
He picked up the drinks and faced them again, willing his hands to stop shaking. It wasn't like he hadn't served plenty of attractive men in the past. What was it about these two that had him so stirred up?
He set the drinks on the bar in front of them and watched as they both took a sip. His cheeks heated when he realized he was staring, openmouthed, at the flex of muscles in the bigger man's throat as he swallowed.
Focus, Mason, focus. "So…um…what kind of business brings you here?"
The shorter man smiled and held out his hand. "I'm Officer Jack Abney, and this is my partner, Gray Sadler. We want to talk to the staff who were working last night when Gino's was robbed in case anyone might have seen or heard something that will help with the investigation."
Mason took Jack's hand. His skin was softer than Mason expected, and he held Mason's hand a few seconds longer than he needed to. "Um…I'm Mason Shields."
"Nice to meet you, Mr. Shields," Jack said, grinning.
Mason thought he might melt, but this wasn't a time to become a puddle of lustful intentions. The robberies had shaken up most of the business owners in the part of downtown Durham where Nathan's was located. The break-in at Gino's was the third one in the area, and all the robberies were believed to have been inside jobs pulled off by well-organized professionals. The occasional group of kids breaking a window and trying to get into the till or taking valuables customers foolishly left lying on the seats of their cars wasn't uncommon, but this type of systematic criminal activity was something new.
"I was here last night, but until I heard sirens, I had no idea anything was going on. It was really crowded, and I had a long line at the bar so I was focused on making drinks and keeping customers happy."
Jack stood up and looked toward the windows. "Not much of a view of the place either."
Mason shook his head. "Once the lights go out over there, I can't see a thing, especially with people blocking my view out front."
His partner, Officer Sadler, looked at Mason then, his dark eyes calculating. "We understand one of your servers worked at Gino's until a month or so ago."
"Yes, Gwen did." The idea of Gwen working for a band of criminal masterminds was ludicrous. She could barely manage to serve a couple of tables without fucking up their orders.
"Was she working last night?" Gray asked.
Mason thought through the evening. Gwen had been there, but he didn't remember seeing her after the dinner crowd left, and he'd wondered why they were understaffed when the rowdy game watchers filled the place up. "She was, but her shift must have ended by nine."
"Is that unusual?" Jack studied him as carefully as his partner had. Having the two gorgeous men staring at him was doing unsettling things to his insides, and his expanding dick was making his pants uncomfortable.
"I guess so. Kinda. Usually most of the waitstaff works until eleven on weekends, but I really don't think—"
Jack held up his hand. "Just routine questions."
"Okay. Maybe it would be better if you talked to my manager."
"We will," Gray assured him. "But right now, we want to talk to you."
His voice was low and sexy. If Mason didn't know better, he'd have thought Gray was flirting with him, but he had to be imagining it. Jack was staring at his partner like he'd lost his mind.
Mason looked back at Gray and was caught by his cool gaze. He bit into his lip, needing the sharp pain to break the spell and allow him to look away. Gray exuded dominance. Mason had no doubt he was a man who expected to get his way, and Mason would be happy to give him just that. The thought of being pinned under him and told exactly how to please him made Mason shudder.
Needing to break the tension vibrating among the three of them, Mason said, "The bartender knows all, is that the theory?"
"Something like that." Jack's sly grin made Mason's knees weak. These two were going to be the death of him.
The officers asked a few more questions, but Mason truly didn't have anything useful to tell them so they moved on to questioning the servers.
He was glad there weren't many customers in the bar because both cops had asses worthy of his devoted attention. He sighed as he watched them while pretending to wipe down the bar. What he wouldn't give to peel them out of their tight blue pants and get a closer look.
The intensity of his attraction puzzled Mason. Gray's size and dominating presence pushed all his buttons, setting off submissive fantasies that had him reeling. And Jack, Mason could imagine him reveling in a hard, rough fuck or giving the orders himself with the confident air he used for interrogation. If the two men had told him to drop his pants and bend over the bar, he truly might have done it, which unnerved him. While he'd had his share of hook-up sex with no names exchanged, he wasn't usually quite so slutty.
Maybe the fact that it had been months since he'd bothered to find a partner at all was part of the problem. He'd never really enjoyed the anonymous club sex, but he'd learned the hard way that depending on someone to be there for you was pointless, so he wasn't much for relationships either. Hitting the clubs was the easiest way to take care of his sexual urges. He'd stepped out of his comfort zone often enough to keep from dying of unfulfilled lust, but the last few times he'd hooked up with someone in a grungy bathroom, he'd felt more sick than satisfied after it was over. For the last few months, he'd reveled in his nerdy side, the side of him that still hoped to go back to college, get his degree in chemistry, and then move on to grad school. Instead of going out he'd been spending his time off reading scientific journals and watching his favorite Star Trek episodes over and over. Perhaps he was experiencing temporary insanity from lack of sex.

Surrender in the Dark by Silvia Violet
Blurb:
Radek, king of the Underworld, knows that Nia is destined to be his. Yet as the crown princess of Upperworld, Nia is unavailable to him. Desperate to claim her, Radek puts the safety of his own colony at risk and lures her to him by seducing her in his dreams.
A progressive ruler, Nia believes in the importance of modernization. But as princess, her say is limited. Her mother, the Queen of the Upperworld, forbids the Underworld's king from attending Nia's crowning. So when a man from Underworld invades Nia's dreams and invites her below, she accepts the offer, hoping for an audience with the king
The moment Nia lands in Radek's throne room, she realizes her mistake. By Underworld law, she is Radek's slave for seven days — and seven nights. Radek vows to make use of every moment.
Nia's society expects women to dominate in bed, but Radek draws out her hidden desires. How can serving him be so deeply thrilling? Even when he shows her the pleasure in pain, she craves more of his brand of dominance.
The seven days pass far too quickly. When Nia and Radek must face the censure of two societies, passion may force them apart more thoroughly than it held them together.
Excerpt:
"Taste me, Nia."
She hesitated. He wrapped her hair around his wrist and jerked her toward him. "Now."
Her tongue snaked out, licking the head of his cock. He sucked in his breath. Her tentative strokes fired him in a way the most experienced slave never could. "Take me into your mouth."
Fear showed in her eyes, but Nia did as he bade. He fisted his hands in her hair, longing to feel the back of her throat, but resisting the urge to thrust deeper. He wanted her to love serving him this way, to relish being on her knees in front of him. Only after she had would he show her the sweet agony of swallowing him whole.
"More. Take me deeper."
She groaned, but managed it.
His knees threatened to buckle as the heat of her mouth surrounded him. "Suck." The single word was all he had breath for.
Within seconds he would have sworn she'd lied about her experience. Her mouth brought him exquisite pleasure, and he didn't need his Lalatian senses to know desire fueled her enthusiasm, along with her natural need to serve. He could smell the hot cream dripping from her cunt, and he wanted to taste it as much as he wanted to draw his next breath.
The rhythm of her sucking quickened, and she swirled her tongue around his shaft with as much skill as any woman in his harem. His climax rose. He tightened his grip on her hair, thrusting into her as she sucked. "Swallow as you feel me come in; see how much of me you can take."
Fear returned to her eyes. She tried to pull back, but he held her firm. "Trust me to know your limits."
Nia whimpered, but ceased her struggles.
"I'm going to come in your mouth, and you are going to take it like the gift it is."
Her eyes widened as he thrust into her mouth, holding her still. A few strokes later, he felt her surrender.
Buy it at Amazon
Buy it at Loose Id
Buy it at All Romance eBooks

Protect and Serve: Savage Wolf by Silvia Violet
Blurb:
I'm Wolf, Officer Aidan "Wolf" Savage. I'm a werewolf. But unlike most of my kind these days, I'm one of the good guys even if I do scare the hell out of most people the first time they meet me. When a white-tailed deer shifter comes leaping into my life, she makes my body hotter than an erupting volcano. She's on the run, and she doesn't want my help. But I'm not about to let her get herself killed, and I'll use any means necessary to keep her safe.
Excerpt:
I tried to make myself be a gentlemen and roll off my naked little shifter. But werewolves aren't gentlemen. I heard her racing heart and smelled the hot cream between her legs, and my wolfish side begged me to shove her legs up onto her chest and bury my cock in her pussy. Then she shocked me by opening her legs and inviting me in. How could a man say no?
And, by all that's holy, she said those four words that just about made me lose it before I'd even gotten inside. "I like it rough." Just what an alpha wolf like me needs. A woman who appreciates my appetite.
When I drive into her, holding nothing back, she cries out. Her pussy holds me tight. I fight to hold still and let her adjust to my size. But she wraps her legs around my hips and bucks against me.
"More," she begs, and I'm not about to deny her. I slide out nearly all the way. She whimpers.
I thrust back in, and she groans, "Yes." After that I ride her hard and fast. She meets every stroke, slamming her hips against mine. I fuck her with brutal strength, and she keeps crying for more. I'm in heaven.
Her gorgeous breasts bounce up and down in rhythm with my thrusts. I can't wait another second to get better acquainted with them.
I shift my weight to one arm, and use the other hand to cup the tantalizing flesh, which is as soft and smooth as it looks. I slide my thumb back and forth over her tightly puckered nipple, and I'm rewarded with a sharp cry.
I keep up the light, teasing strokes. She arches toward my hand, whimpering. I pinch and tug on the pink bud. She bucks so hard she nearly unseats me. "Yes, God, yes!" she cries.
I need one of those sensitive nipples in my mouth like I need to breathe. I grab her hips, holding her firmly on my cock as I sit back on my heels. She lets her torn dress and bra slide from her arms. Then she wraps her arms around my neck and pulls herself up until she's seated in my lap. Now I can lick and suck and bite those hard buds all I want while driving myself even deeper inside her tight, wet cunt.
As if she can read my mind, my doe pulls my head down to her breast. I draw a pink tip into my mouth and suck hard, letting my teeth sink in just enough for her to feel them. She cries out, digging her hands into my scalp. "Harder, oh God, harder. I . . ."
I glance up without letting go of her nipple, desperate to know what she wants to say. Her deep brown eyes are wide and filled with need. "I like it to hurt."
I nearly choke around the hard flesh in my mouth. Have I died and gone to werewolf heaven? I bite hard enough to make her scream. She writhes against me. Before she's recovered, I give her other nipple a vicious pinch.
Buy it at Amazon.
Buy it at ARe
Buy it at Changeling Press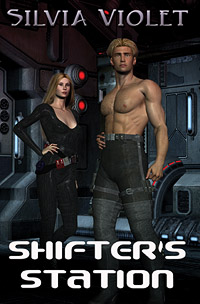 Shifter's Station Collection by Silvia Violet
Years ago, the Terran Government betrayed special forces officer Marc Devlin, forcing him to flee for his life. He rescued several fellow officers and built a new life as the head of his own mercenary force. When he captures a beautiful Cerian diplomat, he thinks to torture the man to learn Cerian secrets. Instead, he finds a lover. Months later, Marc and his Cerian lover, Kirlos, take a young woman captive, fearful she might be an agent of one of Marc's oldest enemies. The two men strike a bargain with her that lands her in their bed for a month. As they dole out exquisite torment with their Cerian sex table, passion builds and turns to love. But Marc and Kirlos must fight to keep her and the life they've made for themselves.
This e-book collection contains the previously released Shifter's Station series novellas Pilot's Bargain, Pilot's Heart, Loving the Enemy, and Eye of the Tigress.
*Warning: This is an X-rated excerpt*
Excerpt from Book 2: Pilot's Heart
"I want you at the side of the table."  Larissa didn't move, unsure if Devlin were directing her or Kirlos.  "Now.  Both of you."
Larissa took a deep breath as she stepped up to the long side of the Cerian sex table  Anticipation zinged through her body.  She'd expected a simple spanking but Devlin obviously had something more complex in mind.  Whatever it was, it would ultimately be delicious but with his current mood, she knew he would work them both over thoroughly first.  She glanced over her shoulder at him.  Why did he have to look his finest when he was about to deal out pain?
"Table, take their wrists and stretch them out."
Tentacles snaked out and captured Larissa's wrists.  They pulled her forward until her chest lay flat on the table.  She raised her head enough to see Kirlos lying beside her in the same position.
"Secure their ankles."
More tentacles slid over the side of the table and dangled down until they reached her feet.  They wrapped her ankles to two of the numerous thin legs that supported the table.  Devlin leaned forward and caressed her spine.  "Ready?"
She nodded and sucked in her breath.
Out of the corner of her eye, she saw him take something out of the drawer at the end of the table.  But before she could register what she saw, he cracked it against her ass.  Lines of fire sizzled down her legs and up her spine.  Gods of earth, it was his most wicked crop.  It had a large, soft, leather loop at the end that delivered a fiendish sting.
He caressed her other buttock with the tip.  She tensed, waiting for the blow.  She heard it snap but didn't feel any pain.  Then she realized he'd hit Kirlos.  She opened her eyes and peeked at the Cerian, watching him as Devlin nailed his ass again and again.  Kirlos's teeth sank deeply into his dark, red lips.  His ribs expanded and contracted rapidly, but he didn't make a sound.  He loved to make Devlin work for the cries the captain wanted to hear.
She was so mesmerized by Kirlos's beauty that she failed to notice Devlin shifting his attention to her.  His blow caught her by surprise, and she screamed.  The sound echoed in the room.  She forced herself to focus on the sound rather than the fire on her ass.  Devlin kept the blows coming fast and hard.
Finally, he stopped.  Larissa floated, feeling lost and unaware until Devlin laid his hand on her back.  "Deep breaths."
She obeyed without thought.  Pushing his hand up as she pulled air in until her lungs could take no more.  Then, Devlin pushed his hand down, forcing her to exhale.  "You're mine, and I will protect you."
His voice had a haunted edge to it.  She wanted to turn over and pull him into her arms.  She longed for him to accept the comfort she wanted to give.  But sending her to heights of sensation and pleasure was his way of working through his emotions,.  She smiled as she thought how life with him could be a lot worse.
Pleasure rushed in to fill the void of sensation as her pain receded.  She squirmed her hips against the side of the table.  Devlin slapped her sore ass with his palm.  "Don't move".  She fought for control as her body screamed for release..
Devlin slipped two fingers inside her and pumped them in and out.  She pushed back against him.  Another slap with his hand.  "I said don't move."  He drew the nails of his other hand slowly, deliberately across her welted ass.  She sucked in her breath and squeezed her eyes shut, fighting the pain.
"Relax and breathe."  Devlin wiggled the fingers he'd kept inside her, curling them against her g-spot.  She panted. How could she possibly relax if he expected her to stay still?
"Table, wrap her hips."  A tentacle streamed out and circled her upper thighs right under her buttocks, pinning her to the side of the table.  Devlin worked his fingers under it and started plundering her again.
She gasped as he flexed his fingers, filling and stretching her.  As he kept driving in and out, she fought the growing wave of orgasm, knowing he would expect her to wait for permission.
Buy it at Changeling Press.
Buy it at Amazon
Buy it at ARe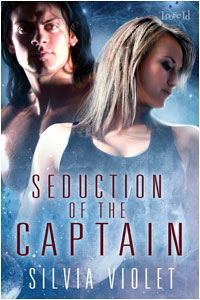 Here's an excerpt from the third book in my BDSM Sci fi series, Surrender, starring another sexy Lalatian dominant.
Seduction of the Captain by Silvia Violet
Blurb:
Kajinek is a Lalatian Dominant who must feed on fear, pain, and sex for survival. Since leaving his homeworld, he hasn't met a woman who could truly satisfy his needs.
Mercenary captain Saida Alexander needs a pilot for the most dangerous mission she's ever undertaken. She chooses Kajinek, because he's reputed to be the very best. She never suspects that he'll awaken the submissive desires she's ignored for years.
When Saida knocks on Kajinek's door, he senses that she's the partner he's been looking for. He agrees to fly her ship under one condition; she must personally feed his darkest desires. Can Saida give in to what her body wants or will submitting sexually shatter the careful control she wields over the rest of her life?
*Warning: This is an X-rated excerpt*
Excerpt:
Kajinek followed Saida down the corridor toward their quarters, fighting the urge to throw her over his shoulders and run just to get there a few seconds faster. His cock felt like an iron rod in his pants, and the need to take her burned through his veins. At every stop along the tour, she"d managed to brush against him, lean over him, flaunt her body at him, all without seeming to do a thing.
When her ass had brushed his cock as she stepped back into him while reaching for an overhead hatch, he"d almost lost it. He"d planned to introduce her to more of his implements of torment that night. He"d wanted to work her up, make her beg, make her acknowledge what she was to him, but that would have to wait until he got some relief. The second the door to her quarters was closed, he was going to take her hard and fast. Then he was going to torment her until she surrendered her very soul.
Saida laid her palm against the sensor beside her door. Kajinek smiled when he noticed her hand trembling. He breathed deep, drawing in a satisfying stream of hunger and fear.
The door slid back. Saida stepped through. He stepped in behind her, so close they were nearly touching. She smacked the interior sensor. The door slid closed ever so slowly. Kaj didn"t move. Neither did Saida. The door clicked shut.
"Full privacy screens." Saida's voice was low and husky.
The control computer responded. "Confirmed."
Kaj grabbed her shoulders, spun her, and slammed her back against the door. He crushed his lips to hers in a brutal kiss. He wasn"t interested in finesse or seduction or even forcing her submission—he simply wanted. Wanted what she"d been flaunting all night, wanted relief from the hunger that raged through him.
"Fuck me," Saida demanded, arching her hips to slide her pussy along the hard length of his cock.
He felt the heat of her through her suit and his pants. But that wasn't enough. He needed her naked; he needed to be inside her. He needed to make her scream. But he couldn't seem to tear himself away from her mouth.They bit and sucked at each other. Their tongues were like weapons fighting to devour each other. She dug her nails into his back, tearing into him like the claws she could form. He groaned and used his hips to pin her to the wall while he ground his cock against her pussy lips, which were as clearly defined against her suit as if she were already naked.
She growled and bit his lip hard enough to draw blood. Pleasure jolted through him. He might not need pain like a submissive did, but he"d been taught to appreciate any heightening of sensation. He sucked her tongue into his mouth so hard, she groaned and bucked against him, trying to get him to move, working her clit against the hardness of his shaft. He drank down her fierce need, wanting more, wanting her surrender, wanting to eat her up.
She raked her nails down his back—no longer fingernails, but claws—ripping the fabric of his shirt. He gasped and pulled away from her. Her eyes burned with passion, but they still looked human. "Saida?"
Her need assaulted him, nearly making him choke. She struggled to draw in air. "I"m controlling it. Some of my lovers…like the…danger. I thought you…would too." She worked the fastening of his pants. Once she got them open, she shoved them over his hips, freeing his cock.
She wrapped her still-clawed hand around his cock and slid it up and down. He didn't think it was possible to get any harder, but she proved him wrong. He was supposed to be the one who inspired fear, the one who fed his partner"s need for danger, but the sight of her claws wrapped around his cock was making him hotter than he"d thought possible. If she didn't stop soon, he was going to come.
"Enough." He closed his fingers around her wrist. She released him, but she trailed one of her claws down the length of his cock, barely skimming the delicate skin. He sucked in his breath. His cock jerked, reaching for her touch, wanting the danger she offered.
Saida chuckled. "I knew you were addicted to danger."
Anger burned inside him. How the hell had she gotten the upper hand? As soon as he"d slaked the lust burning through him enough to think again, he was going to torture her until she begged to serve him. He"d make her his slave. He looked up, letting her see the anger burning like fire in his eyes. "You have no sense of self-preservation."
Buy it at Amazon
Buy it at ARe
But it at Loose Id