Archive for the 'reading' Category
I love to read at least as much as I love to write and I always enjoy talking about books so I've decided to start a series of give-aways based on questions about your favorite books. Share one or two of your favorite recent reads and you'll be entered to win your choice of any of my ebooks.
Two books I've read recently and loved are Touch and Geaux by Abi Roux (if you haven't met Ty and Zane, run and do so now) and Dirty Laundry by Rhys Ford which manages to be hilarious, romantic, suspenseful, and hot all at the same time. Cole and Jae are two of my all time favorite characters.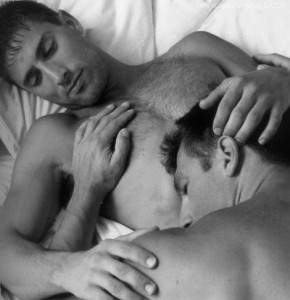 I've been reading lots of posts listing people's top picks from what they've read this year and since I can't resist a good list, I decided to join in too. I've read more in the m/m genre this year than any other so I decided to highlight some of the books that led me on this path both for reading and writing.
Favorite Books Published in 2011 (in no particular order)
Come Unto These Yellow Sands by Josh Lanyon
Bear, Otter, and the Kid by TJ Klune
Quinn's Need by SJD Peterson
Bounty by Hank Edwards
Blood Howl by Alex Kidwell and Robin Saxon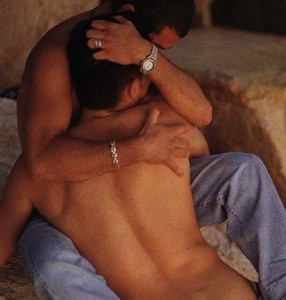 Learning to Samba by Johnny Miles
The Birches by Xavier Axelson
A Summit City Christmas by Ethan Day (as well as Sno Ho and Life in Fusion)
Divide and Conquer by Madeline Urban and Abigail Roux (and the rest of the Cut and Run series)
Morning Report by Sue Brown
And a few more that were published before 2011 but deserve a place here
Adrien English series by Josh Lanyon
SubSurdity and Suburbilicious by Eric Arvin
Comfort and Joy by Jim Grimsley

I'm loving Changeling Press' Protect and Serve series, so much I'm working on a story idea for the series myself. All three of the books released so far funny, sexy and fast-paced. And man are the covers hot! With each one, I couldn't stop reading once I got started. I highly recommend checking them out.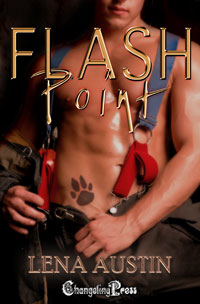 Flash Point by Lena Austin
When fireman Dustin Hardesty saves a scruffy tomcat from a fire, and then a neutering at the shelter, he has no idea he's just moved a cat shifter named Tigs into his life.
Tigs figures he owes Dustin, so he'll hang around to give Dustin some good times. He doesn't count on Dustin never wanting to let go of his alley cat.
Badge Bunny by Cynthia Sax
My name is Officer Drake. I'm genetically enhanced to be the best damn policeman there is. I can snap a werewolf in two. I can outrun a car. That's not boasting. Those are the facts.
I'm designed to protect and serve, and when I spot a plush little bunny shifter by the name of Hunny Lapin, that is exactly what I do. I protect her from a strip club owning vampire and serve up her every desire in bed. 'Course, that lands me in a whole heap of trouble, but it's nothing I can't handle. I'm a supercop, remember?
Kitty Kat by Anne Kane
Kat hasn't always been a stray — but times are tough, and when she lost her job, her no good boyfriend dumped her. Now she's living in a deserted basement and scrounging for food behind the restaurants in the better section of town, while attending business school during the day.
Jake feeds scraps of his dinner to the fluffy little con-artist from time to time as he walks his beat. He can't get the sassy stray off his mind. He feels a strange affinity for the feisty little kitty, so he decides to trap her and tame her. What he doesn't realize is, she's a shifter, and she's conned his heart right out of his chest.

I've spent the last week revising a novella. Turning my wild first draft into something polished and cohesive always makes me ponder the mysteries of the writing process. I thought I'd share the three books that have been most helpful to me in solving these mysteries.
Bird by Bird by Anne LaMott – There are many gems of advice in this book. Here's one of my favorites: "Writing a first draft is very much like watcing a Polaroid develop. You can't -and, in fact, you're not supposed to – know exactly what the picture is going to look like until it has finished developing."
On Writing by Stephen King – I fell in love with Stephen King's straightforward, simple advice like "If you want to be a writer, you must do two things above all others: read a lot and write a lot" and "Adverbs, like the passive voice, seem to have been created with the timid writer in mind."
The Modern Library Writer's Workshop by Stephen Koch – My favorite part of this book is the section on revising. After writing several stories I got the hang of writing my way through the first draft without stopping to revise. I knew I had to get the story on the page as quickly as I could, but once it was there, I didn't know what to do with it. This book helped me figure out what revising was really all about.

For the next week, you can buy Shifter's Station 1: Pilot's Bargain for 1¢. That's right just a single penny!
Edited to add: You can now buy it for only 99¢.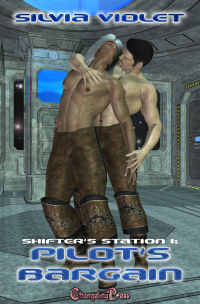 Book Summary
Larissa, a freighter pilot for an interstellar delivery company, has been blackmailed by her boss into delivering a cache of illegal weapons to a trading post on the edge of Common World space. When she arrives, one of the faulty weapons explodes, killing an inspector and injuring several others.
The station's commander, an alien with the power to read the truth from someone's mind, confirms that Larissa knew nothing about the weapon's potential to malfunction. But the captain, a former officer of Terran Special Forces, refuses to let her go. Instead, he makes a wicked bargain. If she can resist his and the commander's attempts at seduction for two hours, then she is free to go. If she gives into her desire for them, then she will serve as their bed slave for one month.
Publisher's Note: Pilot's Bargain is Book One of the Shifter's Station Series, available in the Shifter's Station Collection and in print.

I'd read several rave reviews of Meljean Brooks' The Iron Duke and put it on my wishlist. I expected to enjoy it, but it truly blew me away. I expected a conquering alpha male story, and don't get me wrong I love that type of story (I write that type of story), but this book is something so much more. The characters are so deeply nuanced I found myself quite envious of Meljean Brooks' creative genius.
The plight of both the hero, Rhys, and the heroine, Mina, brought tears to my eyes at various times in their rocky relationship. The secondary characters are just as amazing. And I'm so excited that my favorite among the varied cast, Lady Corsair, will be the heroine of the next book in this series, Heart of Steel (Nov 2011).
The steampunk setting is complex, unique, and so engaging. I loved the detailed and the impressive world building makes me want to revisit this world again and again. So, as soon as I finished The Iron Duke, I grabbed Burning Up, an anthology that includes "Here There Be Monsters", a short story set in the same world. I started reading the story when I should have been going to bed and I didn't stop until I was done.

Three Days Until the Release of A Persistent Attraction
I first started reading historical romances in the early 90s. Here are some of my favorites that addicted me to the genre:
Mary Jo Putney's Fallen Angels series particularly Thunder and Roses
Jane Feather's V series, particularly Velvet
Untamed by Elizabeth Lowell
The Ruby by Christina Skye
Reckless by Amanda Quick
Some more recent reads that have gone on my keeper shelf:
Never Deceive a Duke by Liz Carlyle
Lord of Ice by Gaelen Foley
My False Heart by Liz Carlyle
What books turned you into romance readers? What are your current favorite?