Archive for the 'm/m' Category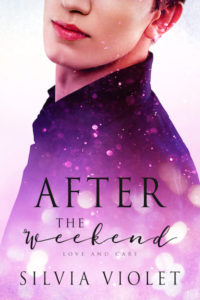 After the Weekend (Love and Care 2) is here now! Grab your copy today.
Amazon | iBooks | Kobo | Barnes and Noble | Smashwords
After the Weekend continues Graham and Avery's story from Father of the Groom.
What Graham and Avery thought would be a single night of pleasure turned into so much more. Their needs and desires lined up perfectly, and by the time they parted after three glorious days, they both knew there was far more than lust between them.
Living in different towns makes continuing their relationship challenging, but Graham visits Avery most weekends, and their bond deepens. Avery thinks Graham is the best Daddy ever and Graham loves nothing more than taking care of Avery and challenging his need to surrender. But both men are unsure exactly how far they want this relationship dynamic to go. There are so many hard questions to answer when both men would prefer to live in a fantasy world during their limited time together.
But reality is calling. Graham and Avery both have friends who need their help with major life decisions, inquisitive family members, and a growing desire to spend more time together. In order to continue their relationship, they must figure out where their boundaries lie and what they want from each other outside the bedroom.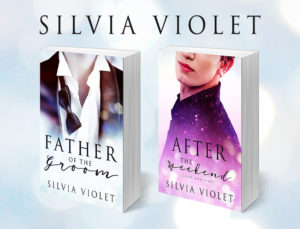 After the weekend, the sequel to Father of the Groom will be here August 21. So if you haven't read Father of the Groom yet, now is a great time.
You can find it at
Amazon | iBooks | Barnes and Noble | Kobo | Smashwords

I'm very happy to announce that A Chance at Love is now available. Grab your copy here!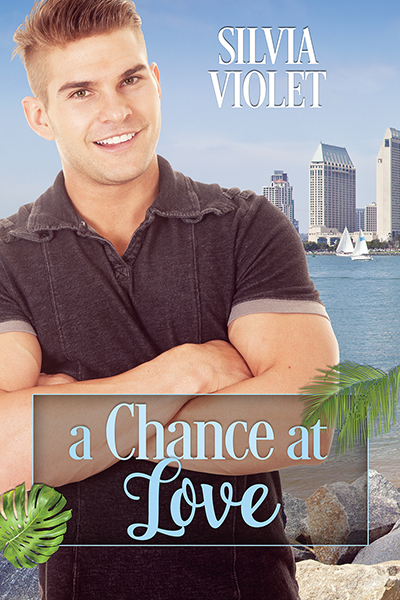 A Chance at Love is humorous, contemporary age gap m/m romance.
On the flight back home to San Diego, Chance Emerson meets an intriguing older man. They flirt, and Chance hopes for more, but the man never calls. Months later, they meet again at a charity auction. Chance decides this time he isn't walking away.
Darren Walsh can't stop thinking about the gorgeous grad student who almost had him joining the mile-high club. When Chance suggests they hook up, Darren says the only thing he can—yes.
From their first moments together, Chance and Darren know there's more between them than lust, but their differences in age and income make a real relationship challenging. They decide to keep things secret, yet as they learn more about each other, Darren realizes he wants something real and open. To have that, he'll need to convince Chance that he has a place in Darren's world, and Darren will have to take some risks of his own.
You can buy it Amazon or borrow on Kindle Unlimited. In three months, it will be available at most other vendors.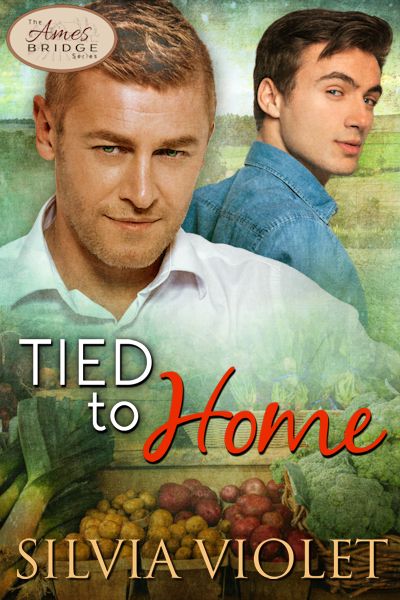 Tied to Home (Ames Bridge 3) is out now! Jack and Luke's story can be read as part of the series or as a standalone.
Luke Sumner has spent his whole life being coddled, after nearly dying as an infant. At twenty-one, he is more than ready to break free from his restricted world. He hasn't told anyone he's gay, and he's only just admitted his kinkier needs to himself, but he hopes to work up the courage to say something to the older man who has captured his attention.
Since moving back to Ames Bridge, Jack Lawrence has been consumed with running a successful bed-and-breakfast. He hasn't considered making time for relationships until he starts flirting with Luke each week at the farmers' market. By the end of the summer, Jack is wondering where the spark between them could go.
When Luke finally ventures into a club where he can fulfill his desires, he unexpectedly runs into Jack, and they discover they're a perfect match in the bedroom. With each hot encounter, more tender feelings surface, but between the age gap, not being out in Ames Bridge, and Luke's need to come into his own, do they dare be more to each other?
Buy now! Amazon | Barnes and Noble | iBooks | Smashwords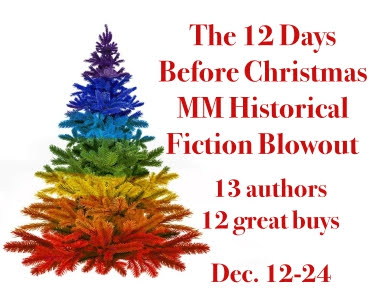 Get swept away to times past.
Thirteen authors share the history and setting of their books or book excerpts.
Follow the links below to the authors' posts to
read all the authors' posts and then go pick up a great read
for half-price or less from December 12 – 24!
---
My story, Revolutionary Temptation is set in 1777 during the American Revolution. A sequel, Of Hope and Anguish, is coming in February 2018.
Blurb:
The American colonists are fighting for their independence, but the battlefield is not the only place to wage war. When General Washington's head of intelligence asks Captain Jack West to spy on the British in New York, Jack agrees, despite reservations about this ungentlemanly pursuit.
Jack's contact in the city recruits bookshop owner Elias Ashfield, an impeccably dressed sensualist who flaunts his desire for both men and women and seeks a place in high society. Jack longs for a simple life guided by clear principles. Eli is a risk-taker who knows how to get what he wants. And he wants Jack in his bed.
Events in Jack's past have made him fearful of acting on his secret craving for a man's touch, but Eli intrigues Jack as much as he infuriates him. As Jack and Eli search for the information the rebel army needs, they realize there's more between them than mere lust. But finding a way to be together may prove more difficult than defeating the British Empire.
Excerpt:
Jack cleared his throat. "If Major Bradford is at leisure to accompany you ladies, I will take leave of you and follow Mr. Ashfield. If I'm to have reading material, I may as well pick it out myself rather than impose on him."
Mr. Ashfield looked at Jack as if it would be his pleasure to have Jack impose on him in intimate ways. Jack turned away before Mr. Ashfield's lack of discretion caused comment.
"I am exceedingly pleased to be these ladies' chaperone," Bradford responded.
Constance smiled. "If I do not meet up with you before then, I shall see you at home for dinner, Mr. West."
Jack bowed, and Constance linked arms with Miss Bradford and sailed off.
"This way, sir," Mr. Ashfield said. "My shop is just there." He pointed to a building down the street. Jack saw the sign—De Lancey's Emporium—with a stack of books painted on it.
As they crossed the street, Jack watched Mr. Ashfield. His gaze drifted down over the man's firm ass and his legs, which were sculpted perfection. Then the wind caught Mr. Ashfield's hat, and it was blown away, revealing his beautiful golden hair in all its glory. Was it as soft as it looked? Jack was beginning to believe Mr. Ashfield was his ultimate fantasy come to life.
"Mr. West?" Ashfield asked as they entered the store.
"Um…yes?"
Ashfield smirked. Fuck, Jack was being obvious.
"What type of book are you looking for, sir?"
Jack pondered this. He'd never been much of a reader, preferring to be outside, doing something physical. In school he'd been forced to pour over dry law books until his eyes ached. He'd not read much since. "History, I suppose." That at least had some appeal as an interesting subject.
"Hmmm. Might I make a suggestion?"
Ashfield's tone indicated that his suggestion might be very lewd. Surely Jack was imagining that. "Of course, sir," Jack answered.
Ashfield took Jack's arm and pulled him toward a shelf in the corner. The warm, firm contact had Jack's cock very interested. He bit back a groan. The last thing he needed was a fucking cockstand.
Focus on the books.
The shelf displayed ghastly gothic novels.
Jack snorted. "These are hardly something I would be interested in."
"Really?" Ashfield drew the word out and held Jack's gaze. God, his eyes are beautiful.
"Mr. Ashfield, I don't care for nonsense written to titillate girls just out of the schoolroom."
"Oh, you think that's what they're for, do you? You may call me Eli, by the way. I believe we are going to be friends."
Without answering, Jack picked up a copy of Pamela, or Virtue Rewarded.
"Ah, yes, that is one of my most sought-for books, but I much prefer this one." Eli ran a finger over the cover of The Palace of Mysteries. "It's anonymously written and quite…horrid." He dropped his voice to say the last word, and Jack felt it like a caress.
"You can't tell me you read this…balderdash."
"I do, as do plenty of…"—he gave Jack a studying once-over—"officers who patronize this shop. You'd be surprised just how popular this 'balderdash' is."
What was Eli implying? Had Jack reached for his sword or given some other indication he was or had been in the army?
Eli reached across Jack, stepping close enough to press his chest against Jack's side. Jack sucked in his breath, which turned out to be a mistake; Eli smelled like cinnamon, nutmeg, and smoke—likely from standing close to a hearth.
Jack wanted to bury his face in Eli's neck and draw in his scent while tasting his warm skin. Instead, he stepped to the side. "Excuse me."
"Oh, you didn't have to move." Eli's smile said he regretted the loss of intimacy. Was he truly openly flirting with Jack?
Jack glanced at the book Eli had selected. "The Palace of Horrors?"
"There are some quite chilling scenes in there. Mary is left all alone in a haunted palace and ends up lost in a series of tunnels. She believes she is being chased by a beast and—"
Jack held his hand up. "Enough."
"But you seem like a man who craves new experiences."
"I…" Jack exhaled slowly. "I suppose I am."
"Then try one of these books. You might like it."
Jack shook his head. "No. Something on ancient history. The life of a Roman general or…Greek architecture. Or…" What else could he say that sounded loftier than this gothic rubbish but not utterly dull?
Maybe you are utterly dull. Jack heard the words in his sister's voice.
Eli sighed. "Are you certain I can't convince you otherwise?"
"No, these stories are…not for me." Firm, but no longer insulting. He could be a gentleman.
"You never know what you might be into if you don't try."
Jack cleared his throat. He really needed to get out of this shop before Eli's flirting and his own baser instincts overtook him. "I'm certain. Just select something historical for me, and I'll be on my way."
Eli bowed. "As you wish, sir. Wait here." He gestured toward a pair of armchairs by the fire. "I'll select something that suits your taste and wrap it up for you."
Jack watched Eli walk away, unable to take his eyes off the gorgeous lines of his legs, firm thighs, muscular calves, outrageously ornate shoes. The man was a fop and far less discreet than he should be, not Jack's type at all. Fantasy and reality should not meet. Oh, who the hell was he kidding—Eli was exactly the sort of man who called to Jack's most sinful desires. He would have to work hard to curb his lust if they were going to work together.
Grab Revolutionary Temptation now while it's 50% Off:
Amazon Global | iBooks | Kobo | Barnes and Noble | Smashwords 
---
Check out the links to all the other participating authors!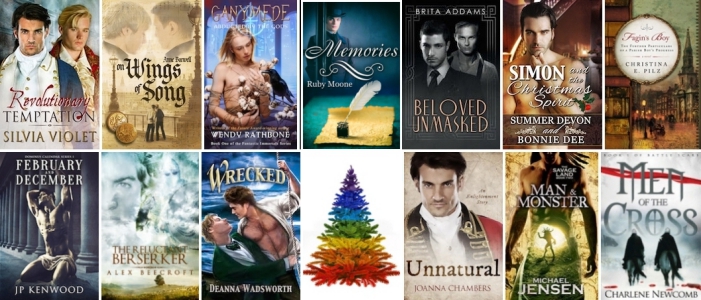 Alex Beecroft
The Reluctant Berserker
Era: Early Medieval/Dark Ages Saxon
Amazon  All Other Formats  $0.99c/99p
Website | Amazon author page | Facebook | Twitter
JP Kenwood
February and December (Dominus Calendar Series I)
Era: Imperial Rome
Amazon Worldwide $0.99/.99p
Website | Facebook | Twitter | Archive of our Own
Summer Devon and Bonnie Dee
Simon and the Christmas Spirit (Victorian Holiday Hearts series)
Era: Victorian
Amazon | Smashwords | Kobo | B&N | iTunes $0.99
Website | BD Facebook | SD Facebook | BD Twitter | SD Twitter
Christina E. Pilz
Fagin's Boy: The Further Particulars of a Parish Boy's Progress
Era: Victorian
Amazon | Kobo | Apple | Smashwords $0.99
Website | Twitter | Tumblr | Pinterest | Facebook
Anne Barwell
On Wings of Song
Era: WWI – 1920
Dreamspinner  $2.50
Website | Twitter | Queeromance Ink | Newsletter | Facebook
Brita Addams
Beloved Unmasked
Era: Early 20th Century New Orleans
Dreamspinner | Amazon  $3.00
Website | Newsletter | Facebook | Twitter
Deanna Wadsworth
Wrecked
Era: pre-Civil War Key West, Florida
Dreamspinner $.89c Dec.19 only
Amazon | Google | Google Play | Nook | Kobo | iTunes $2.99
Website | Twitter | Pinterest | Goodreads | Facebook
Joanna Chambers
Unnatural
Era: Regency
Amazon Amazon (UK)  Nook  iBooks  Kobo  GPlay $1.99
Website | Facebook | Twitter | Goodreads
Michael Jensen
Man & Monster
Era: 1799, America
Amazon $1.99
Website | Twitter | Instagram | Facebook
Wendy Rathbone
Ganymede: Abducted by the Gods
Era: Bronze Age, fantasy, alternate myth
Amazon $2.99
Website | Facebook | Newsletter (get a free copy of "Letters to an Android")
Charlene Newcomb
Men of the Cross (Battle Scars I)
Medieval – 12th century
Amazon $0.99c/99p
Ruby Moone
Memories
Era: Regency

Sep 30, 2017 Filed under: m/m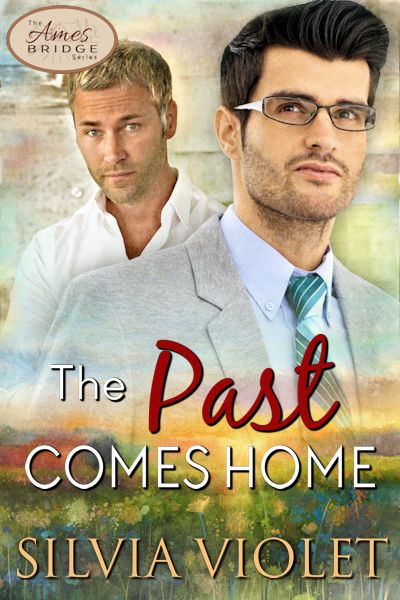 The second book in the Ames Bridge series, The Past Comes Home, releases on October 3. Preorder it now.
Twenty years ago, Paxton Marshall realized he liked boys, in particular his brother's best friend, Brad. Pax now runs a successful art gallery, but he's never found anyone who stirs his heart the way Brad did.
Brad Watson is back in town for his twentieth high school reunion. However, the celebration of long-ago days is the last thing on his mind. He's there for one reason: to finally tell Pax how he feels.
Pax is shocked to learn Brad is not only gay but also interested in him. Dating a man in Ames Bridge isn't as simple as it sound, though. In order to make a relationship work, both men will have to bolster their courage and alter their expectations.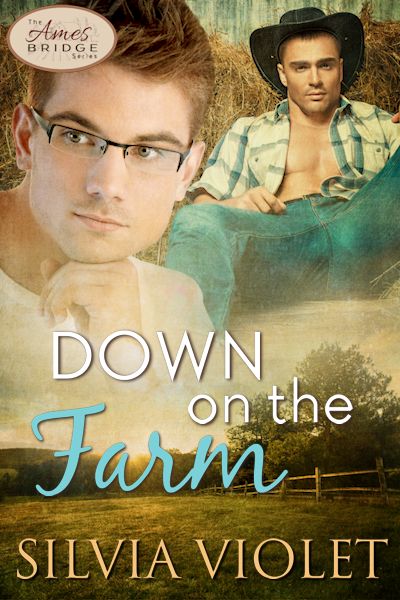 Down on the Farm, the first book in my new series, Ames Bridge is available now.
Buy it at Amazon or borrow it on
Or borrow it on

Check out my Ames Bridge Pinterest Board and see the bridge that inspired the setting.

Woohoo! Today is the launch of Felice Stevens' Memories with the Breakfast Club Kindle World, the first gay romance Kindle World.
My contribution to this world, Remember Love, stars Antonio, a bartender who shows up in Felice's Second to None. My story can be read on it's own, but Felice's series is amazing so you should read it too.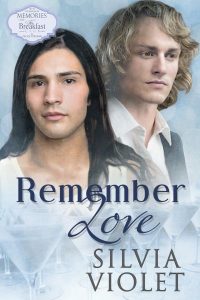 The last person Antonio expected to see sitting at the bar in Sparks was Scott, the only man he'd ever truly cared about, the only man who ever broke his heart. As memories of the painful end of their relationship come flooding back, all Antonio can do is run.
Scott's number-one regret is believing Antonio would hurt him. He's never forgotten the look on Antonio's face the night they broke up. If there's any chance he can repair the damage he'd done, he's going to take it.
Though they care deeply for each other, Antonio and Scott will need to forgive and trust again if they're to find their way around the obstacles in their path.
Here are all the other Memories with the Breakfast Club stories:
Hot Date by Felice Stevens
Uncommon Ground by Kelly Jensen
A Way with Words by Lane Hayes
Finding His Place by Nic Starr
Memories Follow by S.C. S.c. Wynne
Anticipation by Talia Carmichael

It's release day for my first m/m historical, Revolutionary Temptation. You can buy it at Amazon, Payhip, iTunes, Smashwords, and Kobo. The print version is at Barnes and Noble and ebooks will be available there soon.
1777 New York City
The American colonists are fighting for their independence, but the battlefield is not the only place to wage war. When General Washington's head of intelligence asks Captain Jack West to spy on the British in New York, Jack agrees, despite reservations about this ungentlemanly pursuit.
Jack's contact in the city recruits bookshop owner Elias Ashfield, an impeccably dressed sensualist who flaunts his desire for both men and women and seeks a place in high society. Jack longs for a simple life guided by clear principles. Eli is a risk-taker who knows how to get what he wants. And he wants Jack in his bed.
Events in Jack's past have made him fearful of acting on his secret craving for a man's touch, but Eli intrigues Jack as much as he infuriates him. As Jack and Eli search for the information the rebel army needs, they realize there's more between them than mere lust. But finding a way to be together may prove more difficult than defeating the British Empire.
Save

Perfect Alignment (Thorne and Dash 3) will be out on November 15. My next project is a historical m/m set during the American Revolution. My love for the musical, Hamilton, inspired me to read more about Alexander Hamilton and Revolutionary America. To put myself in the mood for writing a historical I've written a short, sexy fic to share with you. For those of you who don't know, there is historical evidence to suggest that Alexander Hamilton was bisexual and he had a relationship with fellow Continental Army officer, John Laurens. Read more about it here.
*Warning: This story contains one of America's founding fathers getting some seriously NSFW attention.*
First Time
John sat up and stared across the room. Alexander was seated at the desk, writing furiously by the light of a single candle. John had tried to pretend he was asleep. But, every night since he'd arrived at Washington's headquarters, sharing a bed with Alexander had rendered him unable to sleep. He was preoccupied with fantasies of what would happen if he reached out and touched the man who'd charmed him from the moment they'd met.
He watched Alex, whose red-hair glistened in the soft light. He could almost feel the man's intensity as he scribbled quickly, pausing only when he had to dip his quill in the inkwell. John's cock grew hard as he studied Alex. John had always been attracted to men, but he'd never been this obsessed before, this desperate. He'd seen Alex look at him, like he was as filled with lust as John was. Unless, John was wrong and only seeing what he wanted to see. If he spoke of what he wanted, and he'd misjudged, it could prove a deadly mistake. But he couldn't go on like this; he was slowly going insane.
He rose from the bed and approached Alexander. "Were you unable to sleep?"
Alex looked up at him, his beautiful azure eyes bright. "No. I…" His lips remained parted as his gaze dropped to John's mouth. John's heart pounded. He wants this too. He must. No. John shouldn't risk it.
Finally, Alex licked his lips and said, "I've got so much work. If I allow myself to sleep, I'll never finish."
John nodded. "I haven't slept well since I arrived."
Alex scribbled a few more words, signed his name, and laid his quill down. "Is it hard to get used to being away from home?"
John shook his head. "That's not it."
"No?" Was that a hopeful look on Alex's face?
"I'm all… tense." That wasn't exactly the truth, but…
"John?" Alex pushed back his chair and stood. He was so close. John wanted to reach out and touch him, but he couldn't. He should leave, say he had to go take a piss, or something, anything to keep him from making a fool of himself or worse. He didn't move.
"Yes."
"I like you," Alex said.
"You do?"
"I do. And I think you like me too. I think that's why you can't sleep."
John nodded. "You're right."
Alex reached up and ran the pad of his thumb over John's lips. "So soft."
"Y-you…"
Alex studied him intently. "Do we understand each other?"
"Y-yes." John thought so anyway. All he really cared about was that Alex was there, touching him. He let his gaze drop. Oh, fuck. Alex's prick was making his nightshirt stand out. John had been partially erect, but he hardened fully at the sight.
"Kiss me," Alex said.
John sucked in his breath. Most encounters he'd had with men had been rough, fast. His partners had gone right to fucking or shoving him to his knees to take their pricks in his mouth. Kissing wasn't part of it. He'd only ever kissed girls, and then he'd had to fake his interest.
When he hesitated, Alex slid a hand into his hair and took charge, sliding his lips over John's gently, barely touching.
John moaned and gripped Alex's hips, pulling him closer, needing to touch him.
Alex kissed him harder, and John opened his mouth, letting Alex invade with his tongue. Alex cupped his face, holding him in place, kissing, licking, and nibbling. He seemed willing to do this forever, but John needed more. He gathered the edge of Alex's nightshirt and started to lift.
Alex pulled away just enough to end the kiss. "Have you done this before?"
John froze, his hands on Alex's waist, Alex's skin warming him. "Yes, but not… yes." He'd almost revealed too much. Something about Alexander made him want to bare his soul, to say he'd never been with a man he liked this much, with someone he might… No, it was much too early for that.
"Good, because I want to fuck you."
John groaned. "I wanted you from the moment I saw you. So you've done this too?"
"Mmmhmm," Alex said as he drew his tongue along John's neck. John lost himself in pleasure as Alex nudged his nightshirt aside and teased the sensitive skin along his collarbone.
"John?"
He had the sense it wasn't the first time Alex had said his name. "Yes?" Alex pulled him close, and his very hard prick pressed against John's, making him bite his lip to hold in a whimper.
"Come to bed."
Alex grabbed the candle from the table and John followed him, nearly tripping over his own feet.
Alex sat the candle on the nightstand, looked back, and smiled. "I wanted to be able see you."
"This… I…"
Alex smiled. "Yes. Me too."
John let Alex pull him onto the bed. He settled between Alex's legs, heart hammering, cock so hard he was afraid he would disgrace himself by coming before they even began.
Alex opened his legs and John stretched out on top of him, grinding against him, unable to hide his desperation.
"Alex, I…"
Alex tugged on John's nightshirt. "Off."
John sat back, pulled off the garment and tossed it to the floor. When he looked down, Alex was watching him, lust darkening his eyes. He reached out and trailed his fingers down John's chest.
"You too," John forced the words out around a ragged breath.
"What?"
"Your shirt. I want… I want to see you too."
John scrambled back as Alex tried to sit up. Finally Alex was able to get his shirt over his head, and John took in his lean body, pale skin, and his cock, which stood rampant. He wanted to feel it inside him. He wanted all the energy that poured off of Alex focused on him.
"Do you have—"
"Oil. Yes. In my bag," Alex said.
Thank God. "I'll get it."
John couldn't take his eyes off Alex. His foot caught on the edge of the bed, and he tumbled to the floor. The both laughed with their hands covering their mouths. If someone heard and came to investigate… He glanced toward the door.
"Did you bolt it?"
"I… I'm not sure." How was Alex's absent-mindedness so sexy? John was desperate to kiss him again. He wasn't sure if he could cross the room without tasting Alex first, but he managed somehow. They couldn't take that kind of risk.
He slid the bolt into place and then dug through Alex's bag. He found several large tomes on economics and trade but no oil. "How many books do you have in here?"
"A lot." Alex waved a dismissive hand. "Hurry."
John's hand finally closed around the bottle of oil but he almost dropped it when he turned and saw Alex, prick in his hand, stroking it. "Alexxxxx."
"You're so beautiful, John. I feel like you've consumed me. I can't look away." His hand moved faster, and John sucked in his breath. He'd never met anyone so open about how they felt.
John managed to get back on the bed without falling again, but it was a near thing. Alex took the oil from his hand, fumbled the cork loose, spilled some, but finally got enough into his hand to coat his prick.
John licked his lips as he watched. God, he needed this.
"How… how do you want me?"
"Ride me," Alex demanded.
John straddled him, but before he could figure out the logistics of getting Alex's cock to his hole, Alex pulled him down.
"Can't get enough of this," he murmured before kissing John again. John was lost to the sensations Alex created. They rutted together, cocks sliding along each other.
The taste of Alex, warm, spicy, perfect was driving John wild. He needed to stop, or they might both spend before he ever got Alex inside him. He tried to sit back but Alex held him tight. "Please. Need you. Need your cock."
Alex moaned. "I want everything: your mouth, your cock, to feel you all over me."
John sat up and reached behind him taking hold of Alex's prick. It was so slick with oil that his hand slipped. They both laughed.
"So eager," Alex said.
"And you're not?"
"Oh, I am. I want to spread you wide, to know what you look like when you're stuffed full, to hear the sounds you make."
"God, Alex, I'm not going to last if you keep that up."
"I'm not going to last anyway," Alex confessed. "Not this first time. It's all I've thought about for days."
John groaned as he got the angle right and began to sink down. The stretch was almost too much, but seeing Alex, eyes wide, mouth open, was too incredible, so he didn't stop. As he sank all the way down, an embarrassing whine escaped him, and heat rushed to his face.
Alex licked his lips. He stuttered twice before words came out, and John wondered if he'd ever been rendered speechless before. He hoped not.
"Don't hold back. I want to hear you."
John shook his head. The rest of Washington's aides were in the rooms surrounding them. "The others will hear us."
"They're sleeping," Alex seemed so confident, and John didn't have the will power to argue.
When Alex was all the way inside him, John paused. Alex gripped his hips. "Don't make me wait," he begged.
John fought for air. He didn't want to deny Alex anything, but he was sure if Alex's cock dragged over his prostate, he'd come right then.
He tried to draw in a breath. "Need. Air."
Alex grinned. "No, you need this." Alex wrapped a hand around John's cock and stroked.
John started to cry out and bit his lip. He had to stay quiet. If they were caught, they'd be—
Alex stroked him again, and he couldn't stay still any longer. He rose and then lowered himself, faster and faster, until he was riding Alex so hard the bed was shaking, ropes creaking. He had a second to wonder if the whole bed was going to fall apart. And then he was right there, ready to spend in Alex's hand.
"I want to watch," Alex said, obviously knowing how close he was. That was all it took. His seed shot over Alex's hand and across his chest, the sight forcing another cry from him.
Alex's eyes went wide, and John leaned down, capturing his lips in a kiss, preventing him from shouting and giving them away as Alex pumped out his seed into John's ass.
When they were both thoroughly spent, John let Alex's cock slip from his body and rolled to his side.
Alex drew him into his arms, and they settled against each other. "Tell me we can do this again."
John wanted to say yes. He knew he'd never get enough of this man, but… "It's dangerous."
Alex tightened his hold. "I don't care."
Was it really that easy for Alex? John had a feeling he always went after what he wanted and always got it. "I… Okay, I don't either."
"Good." Alex kissed the top of his head, and they drifted to sleep in each other's arms.