Recommended Read: Protect and Serve series
I'm loving Changeling Press' Protect and Serve series, so much I'm working on a story idea for the series myself. All three of the books released so far funny, sexy and fast-paced. And man are the covers hot! With each one, I couldn't stop reading once I got started. I highly recommend checking them out.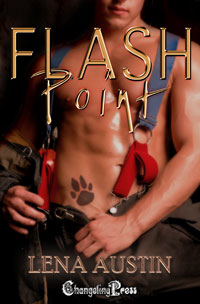 Flash Point by Lena Austin
When fireman Dustin Hardesty saves a scruffy tomcat from a fire, and then a neutering at the shelter, he has no idea he's just moved a cat shifter named Tigs into his life.
Tigs figures he owes Dustin, so he'll hang around to give Dustin some good times. He doesn't count on Dustin never wanting to let go of his alley cat.
Badge Bunny by Cynthia Sax
My name is Officer Drake. I'm genetically enhanced to be the best damn policeman there is. I can snap a werewolf in two. I can outrun a car. That's not boasting. Those are the facts.
I'm designed to protect and serve, and when I spot a plush little bunny shifter by the name of Hunny Lapin, that is exactly what I do. I protect her from a strip club owning vampire and serve up her every desire in bed. 'Course, that lands me in a whole heap of trouble, but it's nothing I can't handle. I'm a supercop, remember?
Kitty Kat by Anne Kane
Kat hasn't always been a stray — but times are tough, and when she lost her job, her no good boyfriend dumped her. Now she's living in a deserted basement and scrounging for food behind the restaurants in the better section of town, while attending business school during the day.
Jake feeds scraps of his dinner to the fluffy little con-artist from time to time as he walks his beat. He can't get the sassy stray off his mind. He feels a strange affinity for the feisty little kitty, so he decides to trap her and tame her. What he doesn't realize is, she's a shifter, and she's conned his heart right out of his chest.