Recipes: Fall Soups
Oct 4, 2011 Filed under: recipes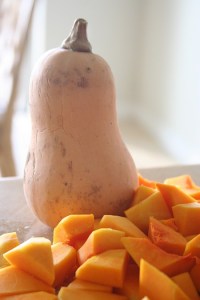 I love fall comfort food and in the last few weeks, I've made several soups that I loved and I want to share those recipes with you.
The first is a curried butternut squash soup. Roasting the onions, squash, and garlic gives this soup a wonderful rich flavor.
Then I made a white chili based on the recipe Amara shared. I used chicken thighs instead of breasts, added garlic and left out the cilantro. I made it in the crockpot and it came out perfect.
Last night I made butternut squash soup with shrimp based on a recipe in Everday Food magazine (my favorite cooking magazine).  Here's my interpretation of the recipe:
Butternut Squash Soup With Shrimp
1 lb shrimp, peeled
2 T butter
1 large or 2 small butternut squash (I used a butternut and a delicata because that's what I had), peeled, seeded and cubed
1 medium onion, chopped
1 t rubbed sage
3 cloves garlic, diced (or to taste)
3 cups chicken broth
1 tsp hot sauce (I used Melinda's Habenero Chipotle because I like the smoky flavor)
1/4 cup sour cream
1) Salt and pepper shrimp and then saute in 1T butter in a dutch oven or other heavy pot until pink and curled. Transfer to a plate and reserve.
2) Add 1T butter, chopped onion, sage, and salt and pepper to taste to pot. Saute until onion is soft. Add garlic and saute about 1 minute more. Then deglaze with about 1/2 cup of the broth. Scrape bottom of pan to get all the good flavors up.
3) Add the rest of the broth, hot sauce, and squash. Boil for about 20 minutes or until squash is soft.
4) Add sour cream and puree in batches in a blender. Be careful blending hot soup, take plastic center out of blender top and cover with a towel so steam can vent.
5) Return soup to pot, add shrimp and serve.
I hope you enjoy it!

Comments
Janice says:

Liked this. Cool stuff.