Holiday Recipe Extravaganza – Bebe Burnside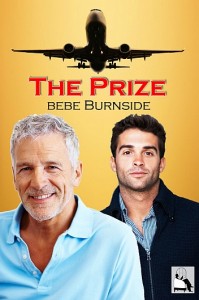 I am not what one could call a gourmet chef.  I do, however, every Christmas Eve make this very simple salsa dip for my brother and sister-in-law's annual Christmas Eve party.  It always goes over big.  I made the mistake of not making it one year and everyone was mad at me.
Salsa Dip
Start with a pie dish or something that is fairly shallow and microwave safe.
Cover the bottom with sour cream (light or regular, it's up to you)
Next add a layer of salsa (I use mild; I'm a wimp, get as spicy as you like.  If your industrious feel free to make your own)
On top of that add shredded cheese (I use a Mexican blend, but again get creative)
Pop it in the microwave for about 3 minutes or until the cheese is nice and melted.  Serve with your favorite tortilla chips, or crackers, or melba toast, or bread, anything that floats your boat.  It's quick, easy, and ever so yummy.  It's the exact kind of thing Bruce might have whipped up for Martin in The Prize, on a cold winter night when they just wanted to stay in and cuddle.
The Prize by Bebe Burnside
Blurb
High school English teacher, Bruce Michaels, has his life right where he wants it, or so he thinks. When his nose isn't buried in a book, he's teaching or taking a class for fun. When he learns that his favorite author is coming to the small Vermont town where he lives to teach a class in English literature, Bruce jumps at the opportunity to audit the class and get a chance to talk to Nobel Prize winning author, Martin Welder. But expectations rise when he finally meets the award winning author, and becomes interested in more than his mind.
Excerpt
"This is it," Bruce said as they walked in. "Do you want anything?  I have wine, water, tea, coffee."
"It's adorable," Martin said as he looked around. "Wine sounds nice."
Bruce smiled and went to the kitchen to select a bottle of wine as he said, "Make yourself at home."
Bruce chose a Merlot that his parents had given him.  He opened it and poured a glass for Martin and a half glass for himself.  After all, he would have to drive Martin home later.  Then he thought about it, they could always get Martin a cab.  The campus wasn't that far away and Bruce would offer to pay for it.  He added the additional wine to his glass.
He walked into the living room to find that Martin had taken off his shoes, jacket and tie and was sitting on the couch.  He smiled at Bruce.  "Well, you did say make yourself at home and that's the first thing I do when I get home."
Bruce grinned, handing one glass to Martin before taking a seat on the easy chair next to the couch.
Martin took a sip of the wine. "Mmmm, this is good.  A Merlot?"
"My parents gave it to me for some occasion, probably my birthday or Christmas."  Bruce took a sip. He wasn't surprised that it was good; his parents did have good taste in wine.  They both drank in silence.  Bruce wanted to invite Martin to stay, but he suddenly felt shy.  Why would a Nobel Prize winning novelist want anything to do with him?  He could just lean over and kiss Martin and see what happens.  After all, Martin did agree to come over.  It was probably assumed something might happen.
"Are you coming back soon?" Martin asked softly.
"What was that?" Bruce asked.
"You seem to be thinking about something."
"I'm sorry," Bruce said, realizing that he'd been distracted by the wine and worrying about Martin. "Um, well, I'll be blunt.  I would like you to stay the night.  It's been a while for me, but I really like you and, well, I would like to…well, that is, um, I mean."  Bruce couldn't believe he was so tongue tied.
Suddenly Martin was kneeling in front of his chair.  "Let's see if I get your drift. "
Check out The Prize at amazon.com, Barnes and Noble, and Seventh Window.
Learn more about Bebe Burnside at her blog or Facebook.

Comments
Sharon S says:

Hi Bebe, thanks for the recipe AND an excert of The Prize. I'm off to amazon. LOL!

Silvia, thanks for having Bebe on your blog.

Sharon
xx

Sharon S says:

*excerpt

Bebe Burnside says:

Thank you, enjoy the dip and the book.

Bebe

Ken Harrison says:

Will have to try that dip some day.