Flash Fiction Friday Inspired by Joe Manganiello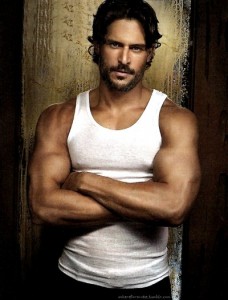 This is Joe Manganiello. He plays Alcide on True Blood. Isn't he HOT? I think so. I also think he's inspiring. Oh the fantasies he stirs up…..mmmm…..oh where was I? Right. Inspiring. Along with inspiring naughty day dreams, he also inspires stories and characters including werewolf cowboy Coleman Wilder, one of the heroes of my upcoming book, Finding Release.
This Friday (March 16) Poppy Dennison and I are hosting a flash fiction blog hop inspired by Joe. If you'd like to join in, write a shot original (not fan fic) piece based on a picture of Joe and post it on your blog.  All the rules and info you need as well as more pics can be found here on the Facebook Event page.
This is going to be so fun!