A Sexy Mind Blog Hop – Matty and Jay from Always MJ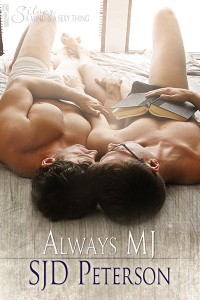 It's Day 2 of the A Sexy Mind Blog Hop and I'm thrilled to welcome SJD Peterson (Jo) to my blog. Actually Jo doesn't really get any screen time today. Matty and Jay, the very intriguing heroes of Always MJ, have taken over and they're answering some questions and heating things up. But first, here's a little more about their story.
Always MJ by SJD Peterson
BLURB:
Matthew Jonathon Parker planned every aspect of his day. From the time he woke up until the exact minute he crawled back into bed, his day was set. He wasn't the kind of man to seek out other men in chat rooms. He certainly wasn't the type to fall in love with someone he only knew from typed words.
After a six-month online affair, Matty agrees to meet Jay in Florida for a weekend getaway. Only Jay isn't what Matty expected; although, perhaps he should have known it was too good to be true.
After all, Jay's screen name AlwaysMJ stands for 'Always making jokes'–or does it?
And now on to the interview….
Do you have a nickname? What is it, and where did you get it?
MJ:  Matty. I've always been called Matty, it's just short for Matthew.
J: None I can say here. I promised Matty I'd behave.
What do you wear when you go to sleep?
J: Matty.
MJ: What the hell? You can't wear me.
J: Sure I can. You drape yourself all over me like a blanket. Matty is a major cuddler. No clothes allowed in our bed. I love neekid cuddling.
MJ: ~blushes~
In your opinion, what is your best feature? What is your partner's best feature?
MJ: My best feature is my brain for sure.
J: Pfft, his ass is by far his best feature.
MJ: You said you love my eyes.
J: Yeah I did, I said I love looking into your eyes when I'm pounding—
MJ: ~glares~ Shut it!!
J: So what's my best feature?
MJ: I was going to say your mouth, but that will only get you talking all naughty again, so I'll go with eyes.
Do you have a job? What is it? Do you like it? If no job, where does your money come from?
MJ: Director of Finance and yeah I like my job.
J: Kept man.
MJ: You are not. He's a software consultant; he just wishes he were a kept man since he hates traveling.
J: No I don't hate traveling, I hate leaving you.
MJ: Interview over? That needs a special kind of thank you.
J: Not yet, but hot damn I'm getting lucky after this!
What is your boss or employer like?
MJ: He can be a pain in the ass sometimes. Always wanting to know what I'm doing, where I've been, when I'm coming over for dinner.
J: Yeah your dad is worse than your mom is. Matty is a daddy's boy! My boss on the other hand is super-hot, great in bed and a fricken genius.
M: Ego much?
J: You saying I'm not super-hot and great in bed?
Do you tend to save or spend your money? Why?
MJ: I'm a finance specialist, of course I save money. Not any easy thing to do with him around.
J: I like to keep up on the latest technologies.
MJ: No you have a freaky electronics fetish.
J: How else am I going to make, edit and share my homemade porn videos?
MJ: What!
J: Simmer down tiger, I'm only kidding.  ~whispers~ about the sharing part.
What song is "your song?" Why?
MJ: Closer to the Edge by 30 seconds to Mars. Fricken love that song, no regrets and I'm living my life the way I want.
J: Oh good song choice, Matty.
MJ: Thanks and yours is?
J: Let's get it on, by Marvin Gaye and duh!  ~starts singing to Matty~ "Don't you know how sweet and wonderful life can be? I'm asking you, baby, to get it on with me"
MJ: Hell yeah!  Interview is over!  Bye!
J: ~Races after Matty~
I can't wait to learn more about these guys! I bet you can't either. If you'd like to be entered to win a copy of the book, leave a comment with your email and the answer to this question: What is Matty (MJ)'s job?
If you missed the blog hop kick off with Blake and Greg from Astronomical, hop on over to Freddy MacKay's blog and check it out. Then tomorrow, head to Jo's blog for a taste of Freddy's men from Moving Mountains.

Comments
Sharon S says:

Matty is a director of finance.

GREAT post, Jo (& Silvia)!! I can't wait to read this.

Sharon
schofield726@comcast.net

Jo says:

Thanks Sharon, I always love doing these little interviews with the characters. Letting out my silly side 🙂

~hugs~
Jo

Poppy says:

Aww! Love this interview Jo! Made of win and awesomesauce!

Jo says:

Awww and your comment was awesomesauce!!

~Hugs~

Kirrilee says:

MJ is a Director Of Finance.

I can't wait for this book!! It looks great Jo!!

Kirrilee
XX

Jo says:

~hugs~ After battle Buddy I had to get back to my angst. I mean how can I stray from that for too long 🙂

Karen Candido says:

Is this a trick question? LOL Matty is Director of Finance. Love the interview with the characters. Really want to read it now! Thanks Jo!

Jo says:

Yes it was Karen, it can only be answered if you have had your morning cup of Joe 🙂

~hugs~

Panalopy says:

Ahaha, these guys sound great!
I can't wait for these to come out 🙂
Matty is a director of finance.

Jo says:

Yeah!! Thanks for commenting and stopping by. ~hugs~ Jo

Sabrina D. says:

Matty is a director of finance…

Jo says:

~waves to Sabrina~ Thanks for stopping by 🙂

Juliana says:

This was so funny! Matty is a Director of Finance! Can't wait for the next stop!
OceanAkers(at)aol(dot)com

Jo says:

They are naughty guys sometimes for sure 🙂 Oh just wait till tomorrow I got Freddy on my blog!!! And we all have videos on Thursday 🙂

Thanks for commenting see you tomorrow
~hugs~
Jo

Frances says:

Great interview! Loved it!!

Jo says:

Thanks My Lady and…. Go team Matty 🙂

Yvette says:

Matty is Director of Finance…great interview.
Yvette

Jo says:

Thanks Yvette and Good luck in the drawing!

~hugs~
Jo

Donna says:

That interview had me smiling. Love that!

Matty is a financial specialist.

Thanks,
Donna
donnafisk@bellsouth.net

Judi P says:

These guys sound so great!!
ahh~ I so want to read their story! lol…
Please count me in on the contest~

Matty (MJ) is a: Director of Finance 🙂

Really enjoyed the post! 😀

Judi
arella3173_loveless(at)yahoo(dot)com

Dawn Roberto says:

Oh hell after reading this I NEED to grab this book like NOW. LOL Loved it and Jo, you have a way of creating some very memorable characters. *winks*