Guest Author: Cari Silverwood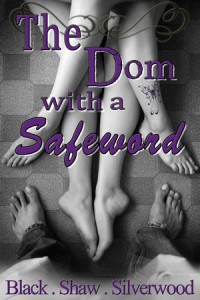 Welcome Cari Silverwood! She is here to share her new co-authored book, The Dom with a Safe Word.
I have a new book out called The Dom with a Safeword which I co-wrote with two other authors.
Here's what the book's about:
Late at night, on an amateur ghost hunt, Sabrina and her best friend Q are caught trespassing by the gorgeous, blonde Jude. The embers of attraction between them sizzle when they discover Jude's kinks match their own. Jude is a Dom on his last summer of freedom before starting the prison sentence that is med school. Q is a badass bi switch who knows what she wants, and for years it's been her cute, doe-eyed straight friend Sabrina. But the only way for Q into Sabrina's heart and panties may be with Jude's fist wrapped in her hair.
Domming the bratty Q and mischievous Sabrina isn't going to be easy but Jude relishes the challenge. At the end of the summer, will they find a way to stay together when everything is tearing them apart?
So it's a BDSM contemporary romance with a ménage and Mff sex scenes as well as quite a few girl on girl kissing and sex scenes.
People often ask how the three of us came to write The Dom with a Safeword – after all, it's uncommonly difficult to get along with one other writer enough to do a book, let alone three!
We three became friends first – I already knew Leia Shaw, of course, as we wrote 31 Flavors of Kink together. And when we discovered that Sorcha was a good writer, despite being new and a bit clumsy with the grammar, we considered doing a book together (Her writing is now awesome, by the way). We all wanted to try contemporary fiction but all of us were more comfy with fantasy writing. Things rolled out from there.
It became quite simple for each of us to slip into one character and we alternated chapters as the points of view (POV) changed from one person to the next. We came to know our characters so well that we would often alter the dialogue or body language someone else wrote in. I was the sexpert (lol) as I seem to write those well, and Leia was the US dialogue and humor coach.
I won't say who wrote what, though I have mentioned it elsewhere. You can guess. We critiqued each scene anyway, and swapped, and so things merge to a degree. I also wrote the sex and some of the kissing scenes told from Leia's character's POV.
So there are three characters and each chapter is labeled with the name of the character whose POV it is.
We figured out the people and plotted it first, though that did alter a bit as the story progressed. Mostly we wrote it in time sequence, but toward the end we overlapped so as to get it finished.
The book was released early on the 28th of October, because of worries Hurricane Sandy would mess up our release plans. Our first review on Amazon:
5 Stars
"Absolutely LOVED this story! It was so hard not to fall in love with Jude! The story of Jude, Q and Sabrina was adorable! Such a wonderfully written piece where everyone ends up happy, even if there is a heart breaking moment of separation. I thoroughly enjoyed this story of the dom/sub play, and it truly showed the respect and unconditional love a Dom has for his submissives. A fantastic read!"
Kayla-Marie
Excerpt from The Dom with a Safe Word by Cari Silverwood, Leia Shaw, and Sorcha Black
Here's an excerpt where Sabrina has found herself bent over and pinned facedown to a table by Jude.
Jude lifted his hand from her lower back and the spot felt suddenly cold. She almost complained but caught herself. No way would she give any indication she enjoyed this. When his hand came down again, she could tell he was gathering handfuls of her dress. Inexorably, like the raising of the curtain on a stage, he was hauling it up.
Then the hand dragging up her dress switched from hard and heavy, to a lighter grasp. Q had taken over the task while Jude went back to holding her down at neck and lower back. Her dress was staying on. The threat of sudden, terrible nakedness was gone.
Yet that hold of Jude's on her – so firm, unrelenting, and male. His calluses rubbed her nape. He'd shown her such consideration without relinquishing a single bit of control. And without him speaking a word to her, she felt their connection sink in, from where his palm touched her skin, and spread through her flesh.
The hem of the dress reached her upper thighs. Trembling, she adjusted her grip on the tablecloth, and put her forehead to the cloth. If they looked, they'd see her thong was drenched.
A touch of cool night air hit her bared ass. So vulnerable.
Q came into her vision again. She looked down at Sabrina curiously.
Maybe she could appeal to her too-nice side.
"Q," she said in a small voice. "Just…just be nice."
Q smiled. A good sign, right? "I don't think you really want me to be nice, little girl."
Learn more about Cari Silverwood at her website.