Very Inspiring Blogger Award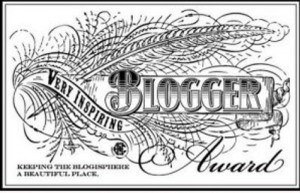 I was nominated for the Very Inspiring Blogger Award by RJ Scott. If you have read her recent release, Bodyguard to a Sex God, run grab it right now!
The Rules:
Display the award logo on your blog.
Link back to the person who nominated you.
State 7 things about yourself.
Nominate 15 bloggers for this award and link to them.
Notify those bloggers of the nomination and the award's requirements.
Seven Things About Me:
1. I've lived in the Southern US my entire life and I have the accent to prove it.2. I love to bake especially cookies, scones, and muffins.
3. I have an unholy passion for Sriracha.
4. I homeschool my children.
5. I make a weekly meal plan for all our meals, but I cannot for the life of me plot out a book and stick with it.
6. I have a crush on Dr. Sheldon Cooper.
7. I'm married to my high school sweetheart.
Now head on over to check out what these wonderful authors have to offer.