Release Day for Love Times Three!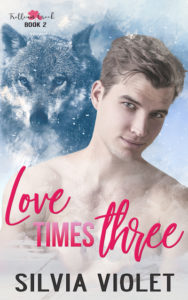 Love Times Three (Trillium Creek 2) is out now so grab yourself a copy or borrow it from KU!
If you love something let it go…
Brett thought letting Ryder go was the best way to show how much he loved him. Ryder would be free to find an omega and start the family he'd always wanted. Ryder doesn't want anyone but Brett, and he will do whatever necessary to convince him they belong together.
If it comes back to you…
Cam is on the run from his pack. He's not looking for love, but when he's rescued by Brett, his childhood crush, he realizes those feelings he had for his former packmate haven't faded. Then fate steps in when Cam meets Ryder, Brett's alpha mate, and a bond is formed. Cam tries to fight his attraction to both men, but the pull he feels toward them may prove too strong.
It's yours…
Ryder knows Cam is the omega he and Brett need to complete their dream of happily ever after. He's their missing piece, and it will take them both to convince Brett the three of them belong together
If you haven't started the Trllium Creek series yet, the prequel, Love at Lupine Bakery and Book 1, Love at Long Last are out now.