Dinner With A Hero – AJ Llewellyn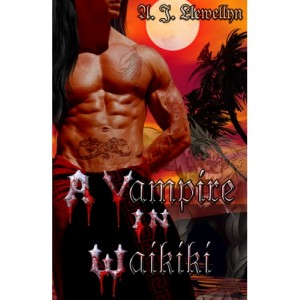 Having salivated over the delectable descriptions of food in his books, I knew I wanted AJ Llewellyn to be part of this series. So I asked, and he sent me a yummy vampire who knows his way around both food and men.
AJ is also offering a copy of A Vampire in Wakiki (or another title in the series if you own it already) to a lucky reader. Just leave a comment to enter. Enjoy….
Blood for Breakfast
by Divine Thunder
Hey There,
My name is Divine Thunder, or as my husband calls me, Div. I used to go by Jimmy Thunder, until I met Temeura…who was Angelis when I met him. Have I confused you yet? Well, let me explain. I'm a vampire and I live in Waikiki.
Being pretty well endowed, I noticed a guy at the gym down here on Kalakaua Avenue checking me out. I was kinda between girlfriends…well, I had two, actually but one was sweet and the other one was a total bitch. You can probably guess the bitchy one was damned hot in the sack and Clancy, the sweet one was well, sweet, but something was missing. I'd never met a woman who could be both sweet and hot…and then this guy at the gym approached me.
His name was Angelis and he was a good-looking Hawaiian-Asian guy. I'd heard rumors he was a gay porn star and he asked if I'd like to shoot some gay porn. I can't explain it but I took one look at his massive cock and I kinda liked the idea of fooling around with him. The work was at night and I don't know…I'd never thought about being with a guy but he was handsome and seemed to want to work with me.
It was the best sex of my life.
We fell in love. I have never met anyone like Tem and yeah, he's mine. So no more porn for either of us. He is now my vampire lover and husband in every way and it might surprise you to learn that we eat. Yes. Waikiki Vampires enjoy their food. I can tolerate sun up to a point but my favorite dinner with Tem – unless he's cooking – is to go to Duke's at the Outrigger Hotel in Waikiki.
I think we are the only couple in the whole, wide world who don't request beach tables. Tem, being a fairly new vampire is still very sensitive to sunlight.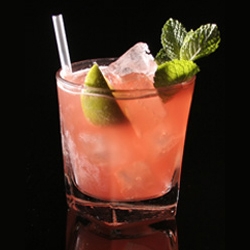 We get nice and toasty on a couple of mai tais, my favorite island drink and we love the crab macadamia wantons. After a couple of mai tais, my husband likes to "have a party in my pants" which can get embarrassing so we sometimes get a room upstairs. We get dessert of hula pie to go. By the way, we both love blood for breakfast. We drink from each other. It's a crazy-good high.
Tem and I share our wonderful, sprawling ranch-style home on top of Tantalus, mountain on top of Waikiki. We live with my sister, Heavenly, and her wife, Clancy. Yep, I hooked up my ex girlfriend with my sister. I told you, Clancy is sweet. I am legally married to her, but that was for immigration purposes since she is Australian and needed residency.
Clancy and Tem are the best things that ever happened to me and Heavenly. We were the two loneliest souls before we met them. For two hundred  years, we just existed. Cursed by a bad kahuna because of my grandfather's gambling debts, we became vampires, doomed to live alone. Now, we have love, sex and unbelievably great food. I have a fantastic family. Tem and I are proud parents of the bossiest cat in the world, Midnight, and we have a nephew who is a storm demon. But that's another story.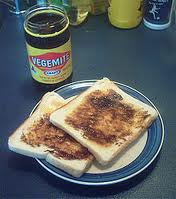 Tem and Clancy are great friends and cook together. I've never heard them argue, except over the subject of Vegemite. Clancy, being Australian, thinks it's the best thing since sliced cheese. The rest of us tolerate it. Actually, I'll be honest, I've come to crave a slice of hot-buttered toast smeared with vegemite.
If you were to come to the Thunder residence, you will find a house filled with Hawaiian antiques and fresh flowers Heavenly cuts from our garden. You would have your choice of cocktails. Actually, you won't. My husband makes the best bloody mary's ever.
We have a cellar full of gourmet wine that was once ransacked by French-Vietnamese eunuchs, but that's another story, too. So, you'd get great wine and if you and your partner decide to have a party in each other's pants, that's just too bad because Tem is the hostess with the mostest.
For an appetizer he would present you with sake and ginger-poached shrimp cocktail. It's not your mom's shrimp cocktail. This one comes with Asian sesame remoulade. If you want to make my husband unhappy, ask him for the traditional red dipping sauce.
For your main course, you would have your choice of sea-salt crusted prime rib or fresh ahi seared with ginger and shallots. You can have a little of both, if you like. Or a lot. Ahi is Hawaiian tuna and Tem and Clancy buy it every day from a little old man who catches it himself. He brings it to our door. All our meals come with salad and vegetables pulled from our garden.
By the time we've refilled your wine glass several times, you will definitely want to have a party in your husband's pants. We're well prepared for this. We have plenty of guest rooms…and we'll give you a big hunk of hula pie to share in bed.
It's yummy. Almost as good as blood for breakfast.
Aloha oe (love forever),
Div xoxo
Learn more about Div and Tem and more delightful characters than I can count at AJ Llewellyn's website.

Comments
Pam S. says:

The excerpt makes you want to visit the Thunder residence for dinner and to further investigate hula pie. Foreplay, sex, food and afterplay can be a good recipe for fun.

Ivelisse says:

Wow everything sounds delish…except for the vegemite lol definitely an acquired taste 🙂

Araya says:

Sounds like a good time to be had by all! The flavors sound delicious as well as the company!

Silver Pixie says:

Div!!

glad my most favorite Divine vampire could pay us a visit! Give my love and regards to your equally Delicious husband Tem. I would love to pay a late night visit for Dinner *of course* Tem and Clancy are world Class cooks and I am assured that Dinner at the Tem/Div home is never without its entertainment..

AJ thank you for sharing your Darling Vampires with the world!!

Mika says:

That's awesome! I want to eat, drink, and read now. LOL

Silver Pixie says:

If my Kindle didn't break i would be spending the weekend with Tem and Div…. *Cries and stomps*

AJ Llewellyn says:

Thank you so much everyone!! Silver, Tem and Div love you…they are sorry about your kindle!

Silvia, thank you for having me here!!!

Mika, Pam, Ivelisse and Araya thank you too, for stopping by. I'll let Silvia pick the winner!

Silver Pixie says:

Thank You AJ Dev and Tem
oxoxoxox

Silvia says:

AJ, thank you for joining us here. I'll pick a winner tonight.

desiree says:

wow that sound great and the cover is super who could not complain about the fun and sex

Silvia says:

And the winner (picked by random number generator) is Mika! Congratulations!! I'll facebook message you to get your email for AJ.

Tina says:

I love, love, love the cover art!