Guest Blogger: Hank Edwards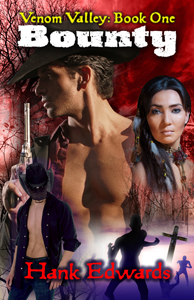 I'm thrilled to have the charming and talented Hank Edwards as my guest today. Hank, tell us about your awesome new release.
My latest release is "Bounty," the first book of my Venom Valley Series. It's a self published book in which I combine a number of different genres: paranormal, Old West, m/m romance, and a little m/f.
I fell in love with this story and couldn't put it down!
What is your favorite genre to write? What other genres do you enjoy?
I really seem to gravitate toward contemporary romantic comedy. And even when I write outside that genre, I have to add a bit of sass from one or more character. I do enjoy all genres, but have to say that comedy and suspense / thriller are my favorites. Crazy, isn't it?
Do you have a favorite character from one of your books?
You know, I do. In my Charlie Heggensford series of books, I introduced a woman at the end of book one, Fluffers, Inc., named Bernice Tallipepper. She is a divorced mother of 4 adult age children who moved to LA from Minnesota and started working the front desk at Fluffers, Inc. She's been really fun to write, and I hope to get back to that series some time in the near future and bring Bernice back into an adventure. I love Bernice 🙂
Is there a style or genre of writing that you haven't tired yet but you'd like to explore?
With Bounty I'm kind of hitting a number of genres at once: western, horror, suspense, so I think I'm pretty much covered.
How do you make time in your life for writing?
It's really the biggest challenge. I work full time and watch more TV than I should, but I seem to find time right after dinner and in the mornings on the weekends. Some weekends I get lucky and I can write the whole day. Now that I'm part of the Story Orgy group, five writers who post free m/m reads on our blogs every Monday morning, I have to get at least 1,500 words done a week. Sometimes that takes time away from my book writing, but I've found it's good practice, and I've developed some great stories from that writing, like "Wicked Reflection," which turned into a novella and is part of the upcoming Story Orgy anthology which is due to be released from Breathless Press the end of this year.
What do you like to read? Do you have some favorite authors?
I read Stephen King, Janet Evanovich, James Rollins, Sue Grafton, Josh Lanyon, Lee Brazil, Em Woods, Silvia Violet (of course!), and a slew of others. I like to bounce back and forth between m/m romance and suspense thrillers or mysteries.
If you decide to take a Saturday off, what are we likely to find you doing?
Oh wow. Hanging out with my partner of going on 16 years, maybe working in the yard a bit, or reading, or watching movies, or taking a day trip somewhere. He is very good at getting me back into the real world with the three dimensional people.
Choose six adjectives to describe yourself.
Determined, anxious, friendly, curious, wishful, hopeful
Describe the perfect meal.
I love Italian food, so I'm going to have to say something with pasta and a red sauce, probably some meatballs (though not on Mondays, we try to do meatless Mondays and eat vegetarian that one day a week), a bottle of smooth red wine, preferably a pinot noir, some warm, fresh bread, and something rich and delicious for dessert. Good God, I just made myself really hungry. Ha! *sigh* I love Italian food.
If you were a dessert what would you be and why?
Sigh … a French silk pie. I love that pie. Mmmmm! Sounds delicious 🙂
Thank you for being here today, Hank!
An Excerpt from Bounty:
Josh could see the firelight reflected in Dex's eyes and he reached out to squeeze his hand. A comfortable silence slid around them, filled with years of memories and trust.
"I'm sorry, Dex. I know this is tough for you, too. We'll get through it together, just like we used to get in trouble growing up, right?"
Dex gave a dry chuckle and turned back. They looked at each other a long moment, the fire popping and crackling beside them. An excited flutter started in Josh's stomach as the expression on Dex's face changed, became more intense, charged with a sudden and dangerous attraction. With a stubborn will of its own, Josh's cock bloomed into life, hard in moments and confined painfully inside his pants.
"Josh…"
Josh's breath was locked in his chest. "Yes?"
Dex half stood out of the chair and leaned over the table, now so close Josh could feel his breath on his cheek. Josh's cock throbbed as he stared into Dex's eyes and fought down the panic building inside him.
What were they doing? This was Dex, his best friend and a sheriff's deputy, and Josh was an outlaw. If Sheriff Haden discovered Dex had found Josh and not taken him into custody, Dex could be hung alongside Josh as a traitor. And, foregoing all of that, what would it do to their friendship?
Without another word, Dex moved closer and kissed him. It was a light kiss, questioning, just a brush of Dex's lips against his own. But the feel of a man's mouth against his, the scratch of whiskers, the realization that it was Dex who kissed him — handsome, loyal, and caring Dex — made Josh's head spin.
The kiss lasted just a moment, but when Dex leaned back they smiled at each other.
"I've wanted you to do that for years," Josh said.
Dex laughed and a blush rose in his cheeks. He looked away into the fire, and then back again, his grin showing off his dimples. "I've wanted you to do that for years."
Josh smiled and leaned in for another kiss. This time there was no hesitation, no question if the kiss would be returned. They kissed for several minutes, mouths parting to admit the other's questing tongue. Josh's awareness narrowed to Dex's mouth: the heat and force of his tongue, the feel of Dex's teeth beneath his own tongue.
A sharp pop from the fire startled them both, and they broke apart, staring at each other.
"This is dangerous, Dex," Josh said, "we shouldn't do this." The words sounded like a lie, even to his own ears. His cock pulsed within his trousers, aching to be free. He could feel that it already leaked, weeping for release with Dex.
"I've wanted to be with you for too long to care about that now." Dex's voice was low and spiked with lust, the timber of his words like a fist that wrapped around Josh's cock and squeezed.
Dex moved fast, standing and pulling him out of his chair, crushing his mouth over Josh's. Dex's tongue lunged past Josh's lips and filled his mouth, commanding and insistent. Dex's large, rough hands pulled Josh against him and the heat of Dex's body soaked into him, sinking in right to his bones, making him feel safe and loved.
They stretched out on the floor in front of the fire, Dex sprawled on top, his cock like a fence post pressed against Josh's thigh. The kiss that had started frantic slowed and deepened. Dex's fingers eased open the buttons of Josh's shirt as they kissed and when it lay open, Dex pulled the bottom of his linen under shirt out of his pants. Sliding a hand beneath the soft fabric, Dex's fingers finally touched Josh's bare skin. Josh shivered at Dex's touch and pulled back to gasp.
Dex slid off Josh and furrowed his brow as he looked down at him. "You all right?"
Josh felt himself blush and nodded as he smiled. "I'm all right. I just … I've never been touched that way before. It caught me by surprise is all."
Dex smiled and leaned down to kiss him again. "Me neither," he whispered.
You can find Bounty at Amazon, Smashwords, and ARe
Learn more about Hank at his website.
And stop by his blog every Monday for a fantastic FREE short story!

Comments