The Bear Talk Blog Tour Starts Today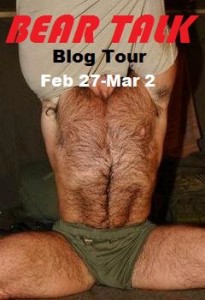 Woohoo! The bears are here. I'm over at DC Juris's blog today and Louisa Bacio is visiting Johnny Miles' blog.
Here's the schedule of posts for the rest of the week:
Tues. 2/28
Kayla Jameth with Ike Rose
Johnny Miles with here with me.
Wed. 2/29
Margie Church with DC Juris
Hank Edwards with Kayla Jameth
Thurs. 3/1
Deanna Wadsworth will be with Hank Edwards
Tom Webb will be with Louisa Bacio
Fri. 3/ 2
Ike Rose will be with Margie Church
DC Juris will be with Deanna Wadsworth

Comments