Mikela Q. Chase's Rhea Part 15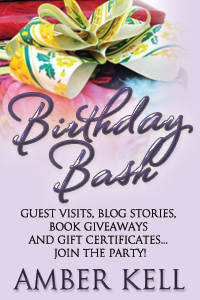 Mikela Q. Chase (Amber Kell's alter ego) is visiting today as part of her Birthday Bash. Below is Part 15 of her story m/f story, Rhea. Go here to find links to Parts 1-14 and look for more to come each day this month.
Rhea wrenched her arm free. "We aren't getting married. I don't know what kind of lame idea is forming in your head, future brother-in-law."
Ooh it was fun to watch him wince.
"But we are going our separate ways and if we're lucky we'll only run into each other at the occasional family gathering. And, if you are really lucky I'll resist the urge to gut you with my blade."
The hammering started again.
"Enter." Rhea yelled before Teven had the chance to lecture her again.
Married. Not in this lifetime. There was no way she was pinning herself down to one guy when there were so many out there. She hadn't even sampled more than one of the men on this planet. With the number of moons on this planet she'd need much more tasting, comforting and red hot sex.
She didn't have time to think of much else because two of her largest guards Peller and Rafe slammed their way in. They must've just arrived planetside and discovered her missing. The two cat shifters shoved the other guards out of her way. Rhea winced, so much for interplanetary relations. She'd fucked the king and they trounced his servants. They were off to a stellar start.
Two pairs of burning amber eyes glared down at her.
Rhea shrugged. "I guess I should've let you know where I was."
Like she didn't know about the tracking device they had embedded in her heel. She showed them her best "contrite" look.
"Try to remember next time." Peller scolded gruffly.
Rafe nodded his angry expression already fading.
"Oh please, I can't believe you bought that." Teven glared at her. "If you'd skipped out on me I would've spanked you until you couldn't sit for two days."
Rhea lifted her chin. "Which is why I'll never be yours."
On that pronouncement she sashayed out of the room…only to come face to face with her sister.
"Tell me you didn't sleep with the king," Jamie begged.
"Yes darling tell your sister that lie she wants to hear."
Jamie looked over her shoulder at the king. "She's really good with a knife you know."
Rhea smiled, she purposely didn't turn around and see the king's face. Better leave while she could still cling to her dignity with her last desperate breath.
"Come on sis, I'll take you to your room and you can try to get some sleep. Even though you never do," Jamie coaxed.
"She slept with me." Teven's voice could only be described as smug.
Rhea frowned as she realized the king was right she had slept quite soundly in the king's arms.
Weird.
Rhea didn't bother to answer the king, instead she hooked arms with her sister and walked away, her two guards trailing behind.
To give her credit, Jamie waited until they were out of earshot before she gave Rhea hell for being with the king.
"What were you thinking!" Jamie whispered. It was an angry whisper but quiet all the same. The cat shifter guards were probably the only people who could hear her.
"I didn't know he was the king." Rhea confessed after she was pretty certain her sister had run out of steam.
"It all happened really quickly and the magic was riding me hard."
"Oh.' Jamie didn't have a response for that they both knew what bad decisions she made when she was trying to dull the power of the magic.  It was generally agreed among their people that Rhea had too much magic, but the only effective way of draining it was sex. That still didn't stop her from denying her mother's request to set Rhea up with a harem.
Of course picking up strange men who turned out to be kings?
Not necessarily a better choice.

Comments
zeneida says:

Oh I think that the King is her mate. They are going to butt head all the time.

Katie(13) says:

I really really like this story! I cant wait till tomorrow to read the next part!

Marie* says:

As soon I got home I dashed up stairs to my laptop to find out what happened.. lol

Denise says:

Ha ha… I think she'll make the king definitely work for it… Plus hilarious!!

cinders says:

This is so very good and yeap the King will have his hands full.

Laurie P says:

This just keeps getting better. What a brat Rhea is turning into. Can't wait for Teven to give her the spanking she deserves!

Melinda says:

Another good posting.

Savannah Miller says:

I agree with Laurie its time Rhea gets a spanking :)!!

Tracy VH says:

Love it!

CC says:

This story so much fun.

Delayed says:

oh my. Why does it seem the king is used to getting his way and so is Rhea. Should make for a spicy match.

Look forward to more tomorrow.

Delane

Doro says:

I love this story. I'm on pins and needles. Just not quite sure if Jamie was supposed to marry the king or someone else. And now there are shifters too, I'm looking forward to reading more about them.

heather f says:

i agree with everyone else ha ha great!!!!!!

Carrie says:

Can you say mate? I can't wait to read more.

Sami says:

can moon priestesses have mates? Also, wouldn't a king be a worthy male for her children?

wyndwhisper says:

what a great excerpt! i can hardly wait for the next one to see what happens next. i doubt the king is going to put up with much but then neither will Rhea. LOL! thank you for the chance at such a great giveaway.

tammy ramey
trvlagnt1t@yahoo.com

TerriA says:

I think we need more tasting and comforting!

Teena M. says:

I am so looking forward to tomorrows installment. I think both the King and Rhea have met the person that will make their lives interesting in each other…

Judi P says:

Finally caught up again.
oooh~~ Looking forward to tomorrow! heh..

JenCW says:

I'd say they both met their match here. I wonder if the King will get to give Rhea that spanking.

Dawn Roberto says:

oh boy, Rhea has some problems coming her way…namely the king. 🙂 I so cannot wait to see what these two go at it again.

Kami C says:

This story is great:)

Kristy says:

I am looking forward to the next segment…

Caitlin H says:

I really like the part where she threatens to gut him. Go Rhea!

Toni g says:

Not many people threaten to gut a king and walk away… LOL Go Rhea

Deborah H says:

Wow I hope she ends up with the king he sounds like a good match for her.

sandra9 says:

haha loving this story

kellee says:

Hmmm. Sounds like there might be some kind of law that she HAS to marry him now? Sparks are flying for sure! I am enjoying this story so much.

Laurie H says:

These charecters have depths. Can't wait till the dragons debt comes due and how it's going to make Rhea's life even more convoluted!

Marie A. says:

I am really enjoying this story!

Rain says:

"so much for interplanetary relations"

lol Maybe not most diplomatic start for the visit, but this certainly might be more effective for, um, future relations. 😀

cathy lee hart says:

I can not wait till tomorrow… I think this was way 2 short:(
I love this story.. Thank you for letting us come visit

Silence says:

this is so much fun. can't wait for the rest.

Diane Mc. says:

I can't wait to see what the king will do.

KD says:

This is a great story every day i check my phone constantly to see if the blog is up yet
KD

Jenn says:

Rhea is in trouble now. I don't think that will be the last of it if Teven has anything to say about it. He is the king after all. It is going to be fun watching them fall in love.

Devon says:

Rhea rocks! Cant wait for tomorrow…

Lisette says:

I agree tomorrow can't come soon enough…Love it…

Evi says:

You sure do know how to leave folks hanging… Specially the king! Lol… Wonderfully written as always…

SheriV says:

Another great installment. Thank you Mikela/Amber

Nae says:

A strange, sexy man, who is a king!? That's who i'd usually want lol

Mary says:

Really enjoying this story.

Zzyzx says:

Hehe Miss Rhea may have to have her mind changed

Lillian says:

Better and better.

Donna says:

How about a king and a harem of Dragons? That would be good.
Thanks,
Donna

Tera says:

This gets better and better LOL 🙂

SuzyQue says:

I so think that he has underestimated her….bring on the next segment!

Sabrina v. says:

Ooh. Can't wait to find out she"s going to deal with this.

Tanya H. says:

I am loving this story:)

Krista says:

This is getting good. Can't wait to see what the King does next.

Jessica B says:

great story. . can't wait to see what's next

H.B. says:

Lol. Rhea is such a handful, I'm looking forward to seeing who will be the one to match her.

Christine F says:

Great story!

Mary Preston says:

Still catching up. Loving this thank you!!

Jessica Hale says:

wonder what the king is gonna do lol cant wait

berryblu says:

Oh, this is just so good. 🙂 Can't wait until the king gets what's coming his way. LOL

Thanks, Silvia and Amber.

Emily W. says:

Oh, I'm loving Rhea so much right now 🙂

wendy h says:

Picking up stray kings is never a good idea. You have to feed them, walk them and find them other countries to invade when they become bored. Cats are really a better choice.