Hoofin' it to the Altar now at Amazon, ARe, and BN.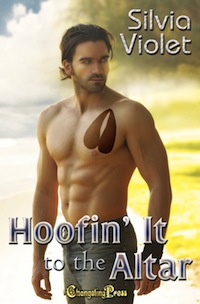 Hoofin' it to the Altar, my most recent contribution to the multi-author Protect and Serve series, is now at Amazon and ARe and Barnes and Noble.
Blurb
Deer shifter Jason Fleetfoot and vampire detective Drew Danvers have been together for a year. When Drew proposes, Jason is thrilled but shocked. Vampires aren't usually the marrying kind, even the few who side with the good guys. Drew wants to elope, but Jason's sister, Natalie, insists on planning an elaborate ceremony.
As Jason and Drew fend off well-meaning friends and family, a far more serious problem threatens their union. A vampire killer is on the loose. He subdues his undead victims without a struggle and finishes them off by literally curdling their blood. Drew has no idea what could kill a vampire so easily, and everyone suspects he's next on the killer's list. Can he stop the killer in time for "Dearly Beloved, we are gathered here today…" to start his wedding instead of his funeral?
Reviews for Hoofin' It to the Altar
"Ms. Violet has the knack for infusing lots of witty humor into the dialogue between the characters. They click as friends and even better as lovers. The storyline was interesting and very sexy. This author knows how to write some hot sex scenes."
— 4 Hearts from Beverly, The Romance Studio
"I absolutely adore Silvia Violet's Protect and Serve stories in this multi-author series. She infuses her stories with some humor, lots of lovin' and amazing characters. The writing is tight, story moves along at a nice pace and there were a few twists that had me flipping the pages quickly to see what would happen next."
— 4 Hearts from Dawn, Love Romances & More

Comments
Mercy says:

Grade A stuff. I'm unuqetsinaobly in your debt.