Archive for the 'paranormal' Category
Today I'm participating in the Autism Blog Hop and I'm offering two ebooks from my backlist as a prize.
Fact: Autism affects the way a person communicates with, and relates to, other people. It also affects how they make sense of the world around them.
Communicating effectively can be a challenge for anyone. Sometimes you want to say something but you worry that the person you need to talk to will take it wrong or that you will hurt them. Or you might be traveling in a country where you don't speak the language and you're not sure if a few basic words and hand gestures will suffice to help you find what you need. As a writer I have stories in my head but I'm never sure if I'm going to be able to find the right words to tell that story to others and have them see it as I do.
Every human being has a unique perception of the world around them and we can't always communicate what we see or feel to others. But those challenges we face are magnified many times over for those who have autism. For them, even the most basic communication with others may not be possible or may bring on so much frustration that they stop trying. Many years ago, I worked in a preschool and one of the boys in my class was autistic. You could see the frustration build as he attempted to interact with other kids. Most days he ended up pulling at his hair and kicking because the challenge was too much for him. I wanted so badly to help but I couldn't see the world the way he did. It's so easy to judge someone when they don't react or behave as we expect—and I've certainly done that many times—but we never know what challenges that person might be facing.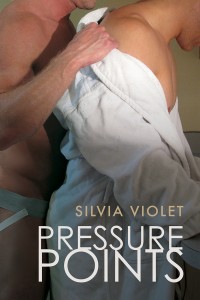 My latest release is Pressure Points, Book 2 in the Pisgah Mountain Wolves series.
It's hard enough being an inn manager, serving at everyone's beck and call, making sure all the guests are happy and the employees are paid on time. Add to that being a werewolf, a recovering alcoholic, and a pack leader. Add to that a brother who is trying to tear the pack apart and a dark past he can't escape. Needless to say, Carl is under a lot of stress. Not helping: Justin, the inn's human massage therapist—who Carl is trying not to fall for—has offered Carl a massage to "lower his stress levels." As his boss, Carl can't tell Justin his hands might lower stress levels, but they would raise something else.
Despite Carl trying to put him off, Justin won't give in. Carl's friends won't leave him alone, and the divisions in the pack are near exploding. And it's tourist season. The last thing Carl needs are wolf wars in the lobby. Like it or not, Carl is going to have to rely on Justin and the wolves who love him to teach him how to let go and get through everything without falling apart.
You can find Pressure Points at Dreamspinner, Amazon, ARe, and BN

Mischief Corner Books – What Happens When Creative Minds Start Thinking Too Much
We didn't set out to do this. Honestly, we didn't. MCB was born of a need to keep a bunch of friends writing together who miss each other too damn much. We live all over America and even in Australia, for gosh sakes, and we only get to see each other maybe once a year, if that.
It's tough being separated but group writing projects made us feel like we were still in the same room, bouncing ideas off each other, making outrageous suggestions just to see if someone would take us up on it. Someone always did. But the more we worked on these things, the more we realized…we needed to go legit. So Mischief Corner Books was born as a company.
Today, we thought we'd share some details and some snippets of MCB stories – both from the current release and some past ones that are getting ready for individual release soon.
The current release, Horns and Halos was a reader selected anthology. We like that kind of thing. You guys tell us what you want. We go out and interpret the request each in our own unique way. We had three takers on this one: Toni Griffin, Freddy Mackay and Angel Martinez, and while we had originally asked for short stories, this collection of three tales ended up at 99K words. Um. Yeah. Some of us need to learn the meaning of short. *ahem*
The prompt? Write a story about angels and/or demons. Take your cues from whatever culture you like. Write in whatever genre you see fit. We ended up with an interesting trio.
Archie's Accidental Kidnapping by Toni Griffin (M/M Fantasy – Hellhound Shifters)
Hell may not have any fury like a woman scorned, but even that's nothing compared to a Hell Hound when you get between him and his mate.
Snippet:
"What the hell are you doing?"
"Sleeping. What does it look like I'm doing?" Archie asked quietly as sleep tried desperately to take him away. Really, Archie was starting to wonder about his kidnapper with a question like that.
"You get kidnapped and think it's okay to just go to sleep?" The man sounded genuinely confused. Archie didn't know why. Everyone needed sleep.
"See, told you that you kidnapped me."
Internment by Freddy Mackay (M/M Fantasy)
Tadashi's life spirals out of control, and he hides away on his mountain taking care of the one place he knows he is safe, and people are safe from him. But the world has a way of interrupting life.
Snippet:
The squirrel danced around the broom, determination on its face. It sat back on its hind legs and pointed at him. "Bad human!"
"Argh!" God, it talked. It really fucking talked. The broom came down on instinct, landing right on top of the demon squirrel. It squeaked. That seemed normal.
"Stop trying to squish me!"
That did not! Its tail flicked wildly under the bristles.
"Get this broom off me!"
"Stop talking!" he demanded, his chest heaving. His head felt kind of light. That couldn't be good.
Hell For The Company by Angel Martinez (M/M Science Fiction/ Humor
Shax, the Demon Prince of Thieves, has reconciled himself to exile. He has a grand time careening around the galaxy as a high-end, intergalactic purloiner of pretties. Everything's going just fine, thank you very much, until he comes across an injured angel in a psychedelic alien jungle.
Snippet:
"Ver."
"Hey, trouble."
Shax sipped his coffee, staring in confusion down into the not-quite-empty-anymore hold. "We have cows."
"You figured that out all by yourself."
"They're…floating."
"Yeah." Steam rose from Verin's nostrils when he snorted. "They're antigrav cows. The guy explained the science-y stuff about how they have some kind of extra antigrav stomach built into their genetics but I wasn't really listening."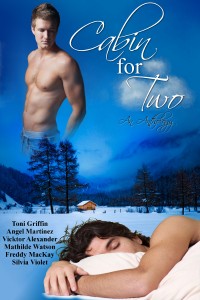 Cabin For Two was our first anthology, inspired by…our cabin. Ha. That's where we all met, though, and it was quite an inspirational place 🙂 Next month, we'll start releasing the Cabin for Two stories as individual pieces, nice little bite-sized Mischief Corner stories just for you. A few tastes to hold you over:
Their Natural Habitat by Silvia Violet (M/M Contemporary)
A forest ranger and his lover just want a nice weekend away. The bear baiters have other ideas.
Snippet:
Dan had been told how to handle a bear encounter countless times. Why the fuck couldn't he remember what to do? He looked down stupidly at the flashlight in his hand. Carry a flashlight if you go out, Parker had said. What the hell was he supposed to with a flashlight? Shine it in the bear's eyes? That seemed unwise. Try to bash it over the head? That would be sheer stupidity.
A loud clang behind him nearly stopped his heart. The bear dropped to all fours and took off into the woods. Dan stared, unable to move.
"You okay?"
Parker's voice snapped him out of his paralysis.
He turned to see his lover holding a large bell. He tried to find the words he wanted to say, but his mouth just hung open as he tried to remember how to breathe.
Parker lifted the bell. "I keep this on the porch, because it's good for scaring off bears."
"You could've told me that."
Three Little Words by Mathilde Watson (M/M Historical
Lifelong friends have returned from the Korean conflict and now need to fight their way through the feelings they've harbored for each other for so long.
Snippet:
Hugh opened the door and disappeared inside. Gary followed him into the bedroom and took in his surroundings, once again frozen in place. The room had a tiny closet, a chest of drawers… and one large bed. Only one. Gary swallowed hard and watched as Hugh moved around the room.
"My things are all in the bottom two drawers. You can have the two on top. And I've got some extra hangers in the closet… What is it?" Hugh frowned at him from across the room. Gary took a deep breath, willing himself not to panic. He cleared his throat.
"Where…" One word and he ran out of air. Gary took another deep breath, carefully trying to keep his tone light. "Where do I sleep?"
Hugh looked pointedly at the bed. His eyebrows were drawn together over a puzzled expression. "In the bed."
"With you?"
"Well, yeah. Unless you want to sleep on the floor…" Hugh sighed, his voice softening. "I warned you that this place was small. But the bed, it's big enough for the both of us.
We're on a roll now – look for lots more in the future, including our (yet to be titled) Cowboy anthology coming out later this fall! Stay with us folks. It's going to be an interesting ride.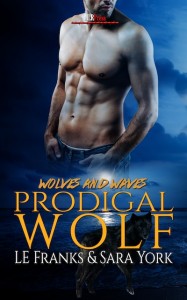 I love shifters. Silvia's Wild R Farms series drew me in and had me falling in love with the characters. She always does such an excellent job of creating worlds that are believable and characters that are amazing.
When Linda and I started writing Prodigal Wolf we wanted to make the shifters believable. We wanted the characters to be more than just wolves who occasionally turned into humans or humans that occasionally turned into wolves. We wanted fully formed characters that were shifters and couldn't be separated from or exist without the other piece of themselves. Of all the wolves, I think Ted is my favorite. He's comical but dangerous. Ted isn't the main focus of book one, but he's a big part of it. Ted's humor comes from his laid back attitude. He's masterful but in a calm way.
My next favorite would be Carlo. He's all smoke and shadows with a dose of sexy and dangerous. Tall dark and handsome along with smart make him one hell of a man. Add to that the animalistic nature that is his beast and he's the total package. Carlo is the central character in the Wolves and Waves series, featured in book one but his story isn't resolved that quickly.
Then there are the twinks, Kevin and Grady. They are cute and sweet but together, they are trying to hard and they might just ruin the best thing to happen in their lives. Through their fumbling, Kevin and Grady might just find happiness, if they get their head up high enough to see that they have something special.
I hope you enjoy Prodigal Wolf and our guys. Prodigal Wolf is available at most online ebook retailers like Amazon
Blurb: Carlo has a problem; after years away he's finally returned to his South Carolina roots – but instead of peace and quiet all he's found are nosy wolves, romancing twinks, an out of control roommate threatening to expose them all, and a demanding Alpha who just won't go away.
All his Alpha wants is to show Carlo who he really is, and where he belongs. But Carlo Montefiore is a man fighting his instincts, memories, and responsibilities. His beachside home was supposed to provide sanctuary, but pack politics, unruly roommates, and human neighbors at risk of discovering that shifters exist, are making life anything but peaceful. Twinks Kevin and Grady have their own problems. Two college freshmen are no match for a couple of hot wolves who like to play chase. If they don't stop playing games they'll miss the biggest thing to happen in their young lives—love.
Excerpt:
Joey moved to stand beside him at the sink. "Whoa! Dude!" he threw over his shoulder, "Ya gotta check this out—twinkies!!!"
Ted tossed his rag on the board and crowded in to check out the scene. "Sweet!"
Two slender young men were unloading a little red Audi A3 hatchback, pulling bags and suitcases out of the rear. They looked like twins from this angle—all light brown curls and tan skin. Typical East Coasters in their pastel polo shirts and colorful madras shorts. You could literally pick them out of a Vineyard Vines catalog. Everything you ever thought about a preppy was currently bent over across the way. "Yum!" Joey couldn't resist. The change in Carlo was immediate, his eyes darkening, a scowl fixed on his face. One glance had Ted slinking back to his seat at the table.
"That is exactly what I'm fuckin' talking about! You stay the fuck away from them! You do not shift in the house without drawing the curtains… No. Wait. No fucking shifting in the house at all. You want to run, you take a drive and walk into the refuge or head to Pinckney Island. Period."
"Hey! What the fuck Carlo. You can't tell me…" Joey was protesting when a finger jammed into his breastbone, Carlo's breath in his face, brows drawn.
"Grow up, Joey… Just…." He jammed his finger, highlighting each word with a thump before moving back to lean against the counter, running his fingers through his thick black hair.
"Shit. I need you to drive to Beaufort and pick up a package. I also have a list of errands, it's there on the counter…"
Joey stared at the man. Carlo was completely losing it.
"Christ Carlo, just chill. I can pick up the stuff later—"
Carlo growled, his eyes narrowing and turning yellow, indicating the wolf was about to show. "Pick it up now."
"Fuck! Just because Angelo crawled up your ass this morning doesn't mean you have to take it out on us!"
"That's the prob, Carlo wants Angelo up his ass…" Ted muttered under his breath.
The silence was shocking and Joey knew they'd gone too far. Normally they kept their razzing at a low hum, but this morning he and Ted had thrown wisdom out the window, pouncing on the man.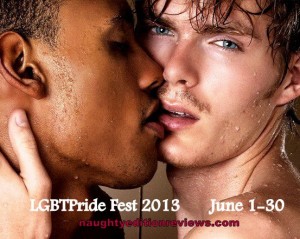 Hi everyone! I'm happy to be part of the 2013 LGBTPride Blog Fest at Naughty Editions reviews. I love writing about LGBT relationships and giving my characters happy endings. I hope that eventually all LGBT people will be able to publicly take pride in who they are and that everyone in our society will realize that we're all just people no matter who we love.
Today in celebration of Pride Fest I'm giving away all three ebooks in my Wild R Farm series. To be entered to win leave a comment here.
In the Wild R Farm series, my characters face predjudice both because they are gay and because they are shapeshifters. Just as there are those in our society today who tell LGBT people that their actions are sinful, there are people in my shapeshifter world who preach that changing form goes against God and that shapeshifters shouldn't take their animal forms. In other words, they should suppress who they really are.
The third book in this series, Embracing Need has just been released. I hope you enjoy Tristan and Wes as much as I've enjoyed writing them.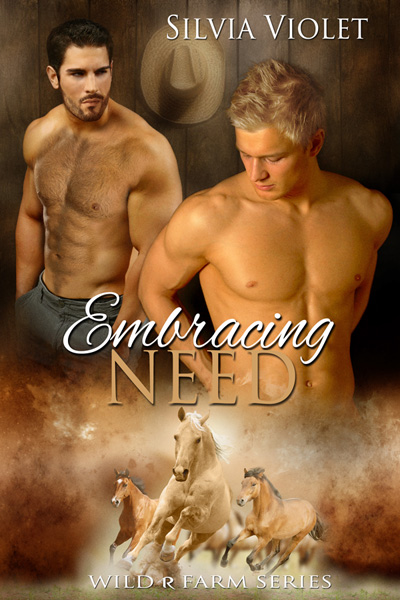 Embracing Need (Wild R Farm 3) by Silvia Violet
Blurb:
Horse shifter, Tristan Hayes, doesn't believe in relationships. He believes in hot, sweaty one-night stands that leave him aching for days.
Private investigator, Wesley James, is looking for someone to settle down with, but it's never occurred to him that someone could be a man.
Tristan loves a good game, so he flirts with Wes, never thinking anything serious will come of his attraction. Wes fends him off, but after three months of cat and mouse, both men are worn out from fighting what they feel.
When a young woman from Tristan's herd goes missing, he asks for Wes's help. Tristan keeps up his flirtatious façade until Wes calls his bluff, taking him out for dinner and dancing. As they search for the missing shifter, Tristan struggles to believe Wes could care for the man Tristan hides beneath his abrasive exterior.
Excerpt:
Tristan was sitting in a chair on Wes's front porch with his feet up on the railing when Wes pulled up.
Wes jumped out of his car, but his messenger bag tangled on something, and he tripped as he tried to yank it free. After cursing and kicking the car door, he turned back to Tristan, who was doing nothing to hold back his laughter. "If you were hoping that would turn me off, it didn't work."
Wes flipped him off, but Tristan just smiled. Wes's T-shirt stretched across his muscular chest as he worked to catch his breath. His well-trimmed, dark beard begged Tristan to rub his face against it and find out if it was as soft as he imagined. Even the annoyance in Wes's rich, brown eyes only made Tristan hotter, because knowing he could fluster Wes so easily was a major turn-on. Not that Tristan had any business pushing Wes's buttons more than he already had. The right thing to do was to keep things businesslike, but he just couldn't help himself. Years of overindulgence made his desires impossible to curb.
"What are you doing here?' Wes asked, his tone implying Tristan was the last person he wanted to see even though the fact that he was still not breathing steadily after falling out of his car belied his disinterest.
"I have a business proposition."
"Is that an innuendo?"
Tristan grinned. "Do you want it to be?"
"I've never paid for sex, and I don't intend to start now."
"Ouch." Tristan stuck out his lip, and Wes laughed, too good-natured to stay annoyed.
"I do have to say it's unsettling to find you all cozied up on my porch."
Tristan stretched deliberately, letting his shirt ride up. He ran a hand over his chest and across his toned abs, stopping just short of his crotch. "I have been getting rather comfy waiting for you."
Wes eyed him suspiciously. "What are you really doing here?"
"Are you afraid I'm here to demonstrate my riding skills?" He pushed up the hat, the same straw one he'd been wearing when he'd last seen Wes.
Wes's gaze strayed to the hat and then skittered over Tristan's lean body. "No. Yes. Damn it, Tristan, quit being so fucking infuriating."
Tristan took pity on him then. "A young woman from my herd is missing, and I need your help to find her."
Wes sighed. "Calling the police is out of the question?"
"Yeah. We don't involve humans in our affairs unless we absolutely have to."
Wes stared at him. "I'm human. Did you forget that?"
"Oh, you don't count."
Wes glared. "I don't?"
Heat rose in Tristan's cheeks. "You know what I mean. You're not going to try to force us to adhere to your human ways."
Wes shook his head. "I'm not going to force you to do anything."
"Really? Are you sure? I've been such a bad boy. You might need to teach me a lesson."
Wes growled. "Knock it off."
"Aren't you going to invite me in?" Tristan asked, gesturing toward Wes's front door.
Wes sighed. "Do I have to?"
"Well." Tristan paused to fan himself dramatically. "It is a bit warm out here." With Wes so close, warm was an understatement.
When they got inside, Wes offered Tristan a bottle of water from the fridge. He took it, then watched, paralyzed, as Wes cracked his own bottle open and gulped it down, the muscles of his throat flexing, his large hand wrapped around the bottle.
When Wes put the bottle down, he seemed to realize Tristan was staring at him, and his cheeks reddened. Tristan looked away and opened his own water. He really needed it now, since all the moisture seemed to have left his mouth.
"I'm assuming you haven't eaten dinner," Wes said.
Tristan shook his head.
"Then let's go get some. I even know a place where after we eat, you can show me your dance moves like you've been threatening to do."
Tristan stared, openmouthed. He'd been teasing Wes about taking him out dancing since the day they met, but he never thought Wes would propose such a thing. "What are you up to?" he asked. Calling his bluff. That's what the bastard was doing.

I'm so excited about the wonderful reviews I've gotten of Denying Yourself like this one from Whitney at Live Your Life, Buy the Book –  "This book left me all swooney and happy. I was sucked from the first few pages. Matt and Shane were just meant to be together. This is one of those hard-fought roads to love for a love that was there from the start. Really tragic but beautiful."
And this one from Tyra at Guilty Indulgences -"This book may be a  paranormal but the feelings of self loathing and denial not to mention the addictive personality traits are very real. Shane could be any teen today struggling, looking for approval and love. This is an emotionally intense story about self acceptance."
Lucky from Mrs. Condit Reads Books had this to say – "Silvia Violet writes stories of amazing and powerful shifters, but what happens when the shifter doesn't want to be one? What happens when he has fallen so far that there is nowhere else he can go? These are the questions that begin in the next section of the book. They're not easy things to answer. Some of the answers are not pretty. Some are disturbing, even to the point of wanting to scream no at what Shane does. Ms. Violet doesn't sugarcoat it at all. I know that Shane is meant to be with Matt, but it's a lesson he needs to learn."
To read an excerpt, go here.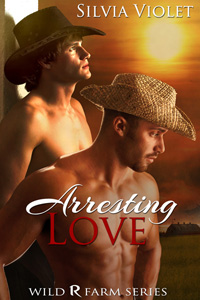 Here's the first chapter of my brand new release, Arresting Love (Wild R Farm 2). Leave a comment on this post for a chance to win book 1 in the series.
Arresting Love (Wild R Farm 2) by Silvia Violet
http://www.amazon.com/Arresting-Love-Wild-Farm-ebook/dp/B00AUVNSF8
Blurb:
Billy Lawson is jealous. Every day he watches his boss, Cole, and his boss's lover, Jonah, prove again and again how deeply in love they are. Billy's never had a real relationship, and he didn't believe true love existed until Cole proved otherwise. Now, he longs for what Cole and Jonah have.
When he meets Levi, a scared, wounded shifter who needs his help, he ignores the chemistry that flares between them, thinking he'd be taking advantage of Levi at a vulnerable time in his life. Before Levi can convince Billy they were made for each other, his past catches up to him, and both men must fight for a chance at love.
Excerpt:
The crazy cuckoo clock his boss's lover had rescued from the farmhouse attic began to chirp, signaling the start of a new year. Cheers went up from the hands, and Billy watched his boss, farm owner Cole Wilder, pull Jonah to him for a kiss.
Billy took a pull from his beer and tried to make himself look away, but he couldn't keep from staring as Cole staked his claim, seeming to devour his young lover. Jonah gave back as good as he got, and Billy's cock stirred in his pants. The two men were beautiful together.
When Cole finally pulled back, the look on his face made Billy's chest ache. No one could miss seeing Cole's love for Jonah. They had a bond that was strong as steel, and Billy was jealous.
Four years ago when he'd been hired as barn manager at Wild R Farm, Billy had developed a crush on Cole, but he'd quickly realized Cole would never see him as more than a friend. He'd accepted that. He treasured their friendship, and he'd never forgotten that Cole had given him a chance when he could have hired someone better educated with years more management experience. But watching Cole and Jonah together made him long to connect with someone. Having a man look at him the way Jonah looked at Cole would be a taste of heaven.
Billy drained the rest of his beer. That line of thinking would do nothing but depress him. He needed to be thankful for what he had. The chance of finding the kind of love Cole and Jonah shared was nearly non-existent. He was starting another year doing a job he loved on a farm where he didn't have to hide the fact that he was gay. Considering he'd been kicked out by his family at seventeen, he'd done a damn fine job of pulling his life together.
It wasn't in his nature to be morose, but he'd be turning thirty this year, and he was getting tired of living in a bunkhouse, no matter how much he enjoyed the company of the hands he shared it with. He was weary of men who wanted nothing more than a hard, rough fuck behind a trailer at a horse show. He wanted a home and someone to share it with. Age was making him soft.
He stepped onto the farmhouse porch and took a breath of the chilly night air. He shivered, but he'd rather be out here than in the crowded house especially in his current mood. He leaned against the porch railing and listened to the rush of water in the stream that ran behind the house as he tried to push his depressing thoughts away. One of the horses whinnied, and he wondered if going for a midnight ride would help.
"What you doing out here?" Cole asked, stepping out on the porch and letting the screen door slam behind him.
Billy shrugged. "Just gettin' some fresh air."
Cole frowned. "Are you okay?"
"Yeah, you know I don't like crowds."
Cole snorted. "Me either. I'm about to get rid of everybody since we've rung in the New Year. This whole party thing was Jonah's idea. I had a much better plan for the night, but he wouldn't listen."
Billy forced himself to smile. "I'm guessing your plan involved Jonah naked and flat on his back."
Cole grinned. Then he narrowed his eyes and studied Billy. "Are you sure you're all right? You've been grouchy for weeks now."
Billy raised his brows and looked pointedly at Cole.
"Yeah, yeah. I'm grouchy all the time. I know it." Cole said.
Billy rolled his eyes. "Damn temperamental wolf."
Cole snorted. "I'm better than I used to be, now that I've got Jonah." As soon as those words came out, Cole tensed.
Jonah's brother, Nathan, had kidnapped Jonah, drugged him so he had to remain in horse form, then sold him. Fortunately, he'd ended up at Cole's friend's horse sanctuary. As Cole and the rest of the crew at the farm fought to keep Jonah safe, Billy ended up in a fistfight with Nathan. In the aftermath, Cole finally realized Billy had hoped for more than friendship between them. Fortunately, Cole hadn't freaked out, but he was still sensitive about talking to Billy about his relationship with Jonah. Billy wished he'd just get over it.
"You're right. Jonah's been good for you." Billy clapped him on the shoulder, and Cole looked his way, tension easing.
"You should take some time off," Cole said. "With planning the addition to the barn and new horses coming in, you've been working non-stop for weeks."
That was true, but when he was working, Billy didn't feel lonely, and he didn't have time to be jealous of Cole. "I don't mind. I'd rather be working with the horses than doing anything else."
Cole frowned. "When was the last time you left the farm?"
Billy shrugged. "I don't know. I went into town a few weeks ago."
Cole raised his brows and glared.
"I'm fine. Really."
"You need a vacation."
Billy shook his head. "I'm happy here. There's nowhere else I want to go."
He'd spent his late teens and early twenties wandering, finding work where he could, never staying anywhere long. Now that he had a place he felt safe and accepted, he never wanted to leave.
Cole leaned closer and sniffed. It had taken Billy a while to get used to Cole's werewolf habits, but now he took such things for granted.
"Something's bothering you," Cole said. "I can smell it."
"I'm just keyed up. It's probably the barn addition. I want to be sure I've got all the details right before we break ground."
"You need to relax," Cole insisted.
Billy scowled. "The last thing I need to is sit around on my ass. You know I can't stay still long."
"Maybe you need to learn how. You're taking a three-day weekend starting next Friday, and I won't listen to any complaints."
Three whole days to think about everything he didn't have instead of concentrating on what was right in his life. "Where the hell do you expect me to go?"
Cole frowned. "I don't know, but I'll figure it out and let you know."
Billy glared at him. "You're not sending me on a trip."
Cole growled. "The hell I'm not. Consider it a bonus."
* * * *
Billy put up a token fight, but in the end, giving into Cole's plan was the only option since he threatened to bodily remove Billy from the farm. So, against his wishes, Billy had driven to Nashville, checked into a fancier hotel than he'd ever stayed at in his life, plopped down on the bed, and stubbornly started making spreadsheets for the next week's horse training rotations. Cole could make him leave the farm, but Billy would be damned if Cole would keep him from thinking about farm business.
A few hours later Billy ordered a burger and watched a pointless movie filled with motorcycle chases and things blowing up. At least the fast-paced film distracted him from the quiet of his room. At the farm, he was never lonely for long. Here, in a hotel room, it was painfully obvious he had no one to share this forced vacation with.
He survived the evening holed up on his own, but the next day he got restless and decided to go for a walk. The temperature was hovering around freezing, and the wind cut right through his fleece-lined jacket. He noticed some beautiful carvings of horses in a gallery window. Danielle, the farm's head trainer, would love them.
The gallery appeared to be having a craft fair, and he decided to take the opportunity to get out of the cold. He found the booth with the horse carvings. They were so detailed and life-like they looked like they might take off running despite being only six inches high. He purchased a galloping stallion for Danielle then spent nearly half an hour talking with the artist and his partner. They reminded him of Cole and Jonah. They had the same settled, unabashedly-in-love look about them. He sighed as he waved good-bye and headed back into the cold.
He shivered as he stepped out of the gallery. The wind howled along the storefronts, and it felt as if snow was on the way. He scurried across the street into a coffee shop. He'd joked about designer coffee plenty of times, preferring his brew strong and black, but he was supposed to be on vacation, and he did have a thing for chocolate. So, after a casual glance to make sure he didn't see anyone he knew, he ordered an enormous mocha with whipped cream and chocolate sprinkles on top.
He sat down with his drink and pulled his tablet from his satchel. He read some articles on the care of newborn foals. Then he scanned through some of the horse care message boards he frequented. By the time he'd finished his drink, he was jumpy from the caffeine. He couldn't sit still any longer. He walked around the city for a while, trying to ignore the cold that seemed to settle all the way to his bones. He hated winter. He'd much rather be dripping with sweat on a burning August day than checking the sky anxiously for snow. Sooner than he wanted to, he headed back to his hotel where he flipped through channels and paced the room.
When the silence got to be too much, he decided to go find a bar. He didn't think there was a chance in hell he was going to meet someone who was interested in more than a quick fuck, but if a warm body next to his for a few hours was all he could have, he'd take it. He was on vacation after all. Maybe with a few drinks in him, he wouldn't care so much.
He did a search for gay bars in the area and found one a few miles away. He considered walking so he could drink as much as he liked, but when he glanced out the window a wet mix of sleet and snow had started to fall. No way was he walking in that crap. He shouldn't drive in it either, but he couldn't spend one more minute in the hotel.
Buy it at Amazon
Buy it at ARe
Buy it at BN
Wild R Farm 1: Finding Release is available here.

Read the prologue and first chapter of Finding Release and if Cole and Jonah seduce you, buy the book at Amazon, ARe, or Barnes and Noble.
Finding Release (Wild R Farm 1)
Prologue
"That should be the last of it." Jonah tossed the final sack of feed on the back of Cole's truck parked outside his family's feed store. "You need anything else?"
Jonah looked at Cole with his big brown eyes as if he needed something. Cole caught his scent, and his wolf stirred to life. He smelled like horse and sweat with an underlying citrusy scent, young and clean. Prey. Cole's cock wanted to fulfill all Jonah's needs, but Cole wasn't stupid enough to even flirt with an eighteen-year-old high school senior whose stepfather had been the most vocally anti-gay preacher in town. The only reason the Marks family deigned to sell him grain was because in these hard times they needed his money.
Cole tried to ignore the fantasies playing out in his mind. "Nope. We're good."
Jonah looked down at his dusty boots. "You got a minute?"
Cole took a deep breath. He glanced around. They couldn't talk here, not openly. Jonah needed a friend, and Cole had once been young and different and scared. "Sure. You wanna get a cup of coffee?" He tilted his head toward the diner down the street.
"Yeah." Jonah looked at his watch. "I'm due for a break."
"All right. Mind if I leave the truck here?" Cole asked.
"Nah, we're not expecting another big delivery until this afternoon."
They walked to the diner in awkward silence.
Cole couldn't let himself think about how gorgeous Jonah looked, staring at him with those puppy dog eyes. Jonah was off limits for too many reasons to count.
They got a booth by the front windows, and Cole ordered coffee for them. Once the waitress brought the steaming mugs, Cole let himself look at Jonah. His red-brown hair was rumpled from finger combing. A combination of sunburn and embarrassment tinted his cheeks. His denim jacket hugged his broad shoulders and… No! Cole wasn't going to let his perusal go any lower, not even in his imagination. His wolf growled deep inside, his werewolf nature recognizing the equine inside Jonah, the shifter side his family forced him to deny.
He concentrated on Jonah's strong, pale hands as they wrapped around the coffee cup, holding it tight for warmth and stability. Cole wanted to reach out and take Jonah's hands in his own, but that would be bad for both of them.
Cole realized he'd made a mistake. He should have told Jonah he was in a hurry to get back to the farm, or something that would've kept him from sitting here alone with a very young horse shifter who was having an indescribable effect on him.
"Mr Wilder?"
Well, being addressed as 'Mister' certainly burst the lurid fantasy in his mind. He was only thirty, but now he felt ancient. "You know you can call me Cole."
Jonah's cheeks got even redder. "I know… it's just… I was wondering if you'd consider hiring me. I know I don't have experience working in a barn, but, I… well… I'm kind of a natural with horses." He grinned as he said this.
His cutely upturned mouth made him look even younger, and Cole cursed his inappropriate thoughts. The boy needed his help, not his perving.
Jonah's home life had to be hell. His father had left them when he was little, and his mother and elder brother were both self-righteous Bible-thumpers. From what he could tell, Jonah couldn't do a damn thing right in their eyes, but Jonah working at Wild R Farm would be a disaster. Cole could smell Jonah's desire for him. Sooner or later, he'd give into his own desire and exploit that. Jonah deserved freedom and a man who had more self-control.
Cole's wolf growled, the sound almost escaping Cole's mouth. If he put his hands on Jonah, he feared his wolfish instincts would take over. Jonah smelled like prey, like something to be consumed, possessed. Cole shuddered. No. He could never let those desires loose. "Jonah, I—"
"Please…" He dropped his voice to a whisper. "My family… I can't live with them anymore."
"Your mother's not going to let you work for me."
"I'm eighteen. She can't stop me."
Cole tried a different tactic. "You need to finish school. Didn't I hear you'd won a scholarship?"
Jonah looked directly into Cole's eyes as if willing him to understand. "Yeah, but I can't take it anymore."
"You'll graduate in four months. Then you can get out of here, go to college."
He shook his head. "I won't last that long."
He wouldn't last long on Cole's farm either, if Cole snapped and let his werewolf side take control. "Why ask me?" Cole thought he knew, but he wanted confirmation.
Jonah glanced around the restaurant. Only a few tables were occupied, and no one sat nearby. In a voice so low even Cole's sensitive ears could barely hear, he said "Cole, I'm… different, like you. If my brother finds out…"
If Nathan found out, he'd kick Jonah out, maybe beat him. Cole wished Jonah didn't stir him up so much. "I'm sorry. I've got all the hands I need right now."
The eager light went out of Jonah's eyes. He sloshed coffee on the table in his haste to get out of the booth. "OK, I understand. I'm sorry."
Cole grabbed Jonah's arm before he could run. Heat snapped between them, nearly making Cole let go. "I'm sorry for what you're going through."
Jonah shook his head. "Not sorry enough." He pulled free and left.
Jonah's condemnation hit Cole like a punch to the gut. Cole leaned back and closed his eyes, willing the thick, bitter coffee to stay down.
Chapter 1
One year later
What the hell was Cole doing at a horse rescue center? He needed some promising colts, not another stray. But he'd run into his friend April when he stopped for lunch on the way to visit a breeder, and she'd sweet-talked him into coming out to her farm to see her rescue organization's latest adoptees. Cole was probably the most soft-hearted werewolf in the history of his kind. His inability to resist a stray was legendary.
April ushered them into her kitchen and plied him with her illegally delicious chocolate chip cookies. Cole let himself relax and enjoy just sitting and talking for a while. He'd forgotten how much he enjoyed April's company. They'd met when he was in college, and when he'd moved back to Cranford, they'd gotten reacquainted, though he saw her less than he meant to. Billy, his barn manager, kept telling him to take more time off. Working all the time made Cole act old and cranky.
Eventually, they headed to the barn, and Cole braced himself for a hard sell. As they walked down the aisle looking at the latest rescues, Cole saw a quarter horse he thought a friend could use so he gave April the contact info. As they neared the end of the barn, Cole thought he was going to escape empty-handed. Then a terrified whinny broke the silence, making Cole shudder.
"That's Demon." April walked toward the heart-rending sound. "His owner died and a neighbor saved him from being destroyed and brought him here. He's been beaten and starved. He won't let any of us touch him, and he's not eating."
Cole followed her. He heard stomping and banging as if the horse was slamming himself against the stall door in his panic. His heart ached for the poor horse. "He's going to hurt himself."
April nodded. "I know. He's already been injured trying to escape. I'm scared we'll have to put him down if we can't get him to eat."
Cole reached the end of the barn and saw the roan stallion. His ribs stood out. His coat had the potential to shine like autumn leaves in the sun, but lack of grooming had made it dull, and scars and saddle sores marred his back. Demon lifted his head and stared at Cole. Suddenly the fight drained out of him.
The force of his stare made Cole step back, instincts on high alert. Something in Demon's eyes called to him, melting his heart and making the hair on the back of his neck stand up at the same time. Cole wasn't sure how he knew, but his life was about to change irrevocably.
Demon stared at Cole for several seconds, standing nearly motionless. Then he stuck his head over the door of his stall, snorted gently, and stretched his neck. He was hoping for a treat.
Cole hardly dared to breathe. Nervous horses normally got more skittish around him. He'd never been able to gentle a horse before. His human half made riding possible, but he still needed much longer to bond with a horse than a pure human would. Some of the animals grew to trust him, but the truly wild ones never accepted him.
April laid a hand on Cole's arm. "I've never seen Demon act this way. He's never shown interest in any of us."
Cole stayed where he was, but spoke to the horse in a low voice. "Easy, boy. You want a treat?"
Demon whinnied softly. Cole took a step toward him.
Demon stayed put.
Cole took a deep breath and counted to three, not wanting to move too fast. As he waited, frozen in place, he noticed something in the barn smelled familiar, a bright scent he couldn't place.
April laid a hand on his back. "Keep walking slowly. See if he stays calm."
Cole took a few more steps. Demon whinnied loudly, but it was a happy sound. No hint of his earlier terror remained. "Wait here," April instructed. She backed away slowly, and then returned with some carrots in her hand.
Cole couldn't figure out what was going on. Why would a terrified horse show an interest in him? Had a werewolf been kind to him in the past? The familiar smell tantalized him again. He tried to pull it deep enough into his lungs to figure out what it was, but memories only teased him.
Demon flared his nostrils. He smelled the carrots, but he wasn't looking at Cole's hand as most horses would. He looked right into Cole's eyes, studying him as if he knew him.
Cole had never seen this horse before. No one would forget him. If the animal hadn't been abused, he'd be stunning. But the sense that their meeting held a deep significance took hold and wouldn't let go.
Cole held out his hand, palm up, offering the carrot. Demon ate it quickly, and then nuzzled Cole's hand. Cole stared, unable to believe what he was seeing. The horse was starving. If he'd snatched the treat and backed away, Cole might have dismissed his easy acceptance of a man with wolf blood, but Demon still wanted attention. He rubbed Demon between the ears. The tantalizingly familiar smell was stronger now. Was it coming from Demon? He rubbed the horse's nose and concentrated, but he couldn't grab the memory before the scent of hay, leather, sweat, and other horses overwhelmed Cole's senses.
April cautiously stepped up beside him. "I can't believe it."
"Me either."
"He hasn't responded to anyone else. We've barely been able to take care of his wounds and offer him food without getting hurt. Then in walks a half-breed werewolf, and he's as content as can be."
"Do you think he's known a wolf before, a civilized one like me?"
April grinned. "Sweetie, there aren't many like you."
Demon snuffled as Cole scratched his ears. How could someone treat such a wonderful horse so badly? His gut knotted as he looked at the horrible scars on Demon's back. He couldn't imagine what could make someone think they needed to beat a horse. "You're going to be OK, now. You know that don't you, boy?"
Demon snorted and nodded as if truly answering. Cole smiled. "You're a smart boy, aren't you? April is going to take such good care of you."
Demon pulled back and stomped his foot as he shook his head vehemently.
Cole looked at April. "Is he saying 'no'?"
She grinned. "Looks like it." April stepped up to the door of the stall, and Demon laid his ears back. His nostrils flared. "Demon, do you want to go with Cole?"
"April." Cole growled, but Demon's ears perked up, and he nodded.
Cole didn't need another rescued animal to join the growing pack of dogs and cats, and… hell, some of his grooms were rescues too. He didn't have time for this project, but how could he say no? The last time he'd turned someone away… well… Jonah had never been found. He might have died because Cole didn't have the courage to hire him.
He couldn't atone for what he'd done to Jonah by taking in an abused horse. But ever since Jonah disappeared, Cole had been incapable of saying no to someone in need. Billy kept pointing out how expensive this habit had become. They'd nearly come to blows over his decision to hire an ex-con Cole believed had been wrongly accused. So far the man had exceeded every one of Cole's expectations.
Maybe Cole could turn Demon into an all-star horse. Demon was asking for help in the only way he could. Yes, cozying up to a man with werewolf blood was strange behavior, but Cole had already begun to think of Demon as his horse
April studied Demon carefully. "Did somebody teach you how to answer questions?"
Demon snorted and shook his head.
Cole was astounded. "Are you sure he's not a shifter?"
"If he could turn into a human, why did he stay with his former owner? Wouldn't he have shifted and run?"
Cole considered her statement. "What if he was hiding from something or someone?"
April pointed to the scars on Demon's flank. "What could make him endure that?"
Cole forced himself to look, to imagine enduring such torture. "You're right. No secret could be worth such pain."
April turned to him, but before she asked the inevitable question, he preempted her.
"Yes, I'll take him."
She grinned. "Thank you. I know Demon thanks you too."
The horse snorted and nodded vigorously.
Cole was going to nurse him back to full strength. He had horses he trusted and loved, but he'd never truly bonded with one. He could bond with Demon, he was sure of it. They were perfect for each other.
* * * *
After leaving April's, Cole spent a long, grueling day haggling with some of the best breeders in the area. Fortunately, his efforts paid off. He purchased two beautiful colts, the most perfectly gaited Tennessee walkers he'd seen since he'd taken over the farm. If his instincts were right, he'd gotten them at a bargain price.
Rain poured down on him all afternoon. He was splattered with mud, sweat-soaked after the adrenaline rush of haggling for fine horseflesh, and starving. He wanted to run into the house, grab something to eat, and take a hot shower, but he had to see to Demon first.
A terrified whinny sent Cole rushing to the trailer. "I'll lead him out."
His trainer, Danielle, eyed him as if he'd lost his mind. "I don't mean to disrespect you, Boss, but I'm not sure you're the best one to coax him out."
"I'm the only one who can coax him out."
Billy gave Danielle a look that told her to back off. She did, though she obviously wanted to know what was going on.
Cole approached the trailer. "Demon, it's OK. I'm here." He kept his voice low, talking like he would to a shy dog rather than a horse, an animal that "got" him, that could be convinced he was part of Cole's pack.
The horse calmed and Cole climbed into the trailer. He rubbed Demon's flank as he approached. "Easy, boy. We're on my farm now. I need to put a halter on you and lead you to a stall. No one here will hurt you."
Demon's eyes were wide. A shiver ran along his back, and he tossed his head.
"Shhh!" Cole leaned close and hugged Demon's neck. "I know this is hard. You've been hurt, but so have a lot of us here. We want to help you."
Demon pawed the floor of the trailer. His ears swiveled, trying to interpret all the new sounds and check for danger.
Cole sighed. He worried his legs would fold under him. He'd give anything to lie down on a soft bed, but Demon needed him.
"I'll stay with you as long as you need me, OK?"
Demon nodded. And snuffled softly.
Cole slipped the bridle over Demon's head, feeling the horse tremble under his hands. "I'll take it off once you're in the stall."
Demon nodded again. How the hell could the horse understand and answer so clearly if he wasn't a shifter? But April was right. A shifter would've changed and gotten free. Demon had probably been owned by someone who trained him for a circus. Although Cole had never heard of another horse who could answer complex questions so easily.
He clipped the lead rope to Demon's halter, clucked his tongue, and encouraged Demon to back out of the trailer. "Clear the way for us, or he's going to panic."
Billy, Danielle, and the grooms moved back, but they all stared.
"What the hell's going on, Boss?" Shep asked. The groom had worked for Cole's grandparents. He was the only employee who'd stayed on after they died. He'd witnessed first-hand how hard Cole worked to get the horses to accept him when he'd first come to the farm as a grieving teenager.
"I wish I knew. I don't understand it either," Cole said in a low voice as he emerged from the trailer. Demon nuzzled him and snuggled against his side as if he were a security blanket.
"Can he really talk?" another of the grooms asked.
Cole grinned. "His grammar's not so good, but he's got 'yes' and 'no' down."
"Hell, my grammar ain't so good either, city boy. You saying that horse is as smart as me?"
Cole laughed. When he got to the barn door, Demon pulled back and neighed nervously. "What is it, boy?"
Demon shook his head. Billy and Shep had entered the barn ahead of him. They were settling the colts he'd bought into their stalls.
He stepped back and scratched Demon between the ears. "You're going to have to get used to being around the other horses."
Demon snorted.
Cole tugged hard on the lead, but the horse scrambled backward. "Damn it." Cole was exhausted, tired, and hungry. He should've stopped for a burger on the way home. He tugged again.
Demon flattened his ears.
"Fuck." Cole kicked at the ground. "You're going in the barn. I'm not going to hurt you, but we've got to get you into a stall."
Demon still refused to budge. Cole forced himself to take a slow breath. "Is it the horses? Did you think you'd get a private barn?"
Demon shook his head.
"Then what the—oh, you don't want my men in the barn, right?"
Demon's ears came back up, and he gave a small nod.
"Billy, Shep, you got those colts settled?"
"Yes, sir," Shep answered.
"Then do me a favor and head on to the bunkhouse. I don't think Demon's going to let anyone else be in the barn."
Billy raised a brow. "That is one odd horse."
"Yeah, but I guess we got to give him his quirks after all he's been through."
"Sure, but cozying up to a wolf. Hmmph. No accounting for taste."
Cole flipped him off. "Fuck you."
"Let me shower first, Boss." Billy retorted.
"Ha. Like I'd want your bony ass." Cole laughed as he remembered how lucky he was to have a manager he could joke with.
"I'll make sure they leave some supper for you, Boss," Shep called as the two men headed out the far door of the barn.
Once the men were gone, Demon followed Cole into the barn without further protest. The light outside was beginning to fade. Cole turned on the lights over the aisles, but the stalls remained deeply shadowed.
Cole's stomach growled as they walked to one of the far stalls. He usually managed to keep his lupine instincts under control, but he'd let himself get way too hungry, and now the barn smelled like food. He wished Demon would let someone else groom him. By the time he got back to the house, he'd have to grab a steak from the fridge and eat it raw. Cole tried to live like a pure-blooded human, but sometimes the wolf inside him was damned hard to fight.
At least the others would be in the bunkhouse and wouldn't see him. A few months ago, Billy had caught him stuffing raw meat in his face like a maniac. Cole feared his friend would run, maybe even quit, but he just made a joke about working for a savage. Other than ribbing him about it occasionally in private, he'd never said anything else. But Billy's acceptance didn't keep Cole from being embarrassed about letting his animal needs control him.
How much pull would his predatory instincts have if he were a full-blooded werewolf? He couldn't imagine fighting stronger urges than those he already felt. No wonder so few werewolves were civilized enough to live among humans. He'd once longed to be a pureblood, but after a year of trying as hard as he could to shift with no success, he'd denied his wolf whenever possible and worked at being human.
Being pulled in both directions was tearing him apart. He imagined hunting prey on four legs, racing through the woods like sleek muscular vengeance. He'd sink his teeth into his prey and… no, best not to think about that. Such animalistic freedom might make it hard to become human again.
As he led Demon into the stall, he smelled the familiar scent again, a bit like fresh hay but orangey and bright and… young? What did that mean? Maybe he was going crazy.
He'd found a horse that preferred a half-werewolf to a human, and he believed the horse could answer his questions. Yep, he sounded crazy all right. Smelling strange things was just an added bonus. Thankfully, April had seen the horse answer him, or he'd be convinced he'd lost it.
Cole unhooked the lead rope but kept hold of Demon's halter. "Are you going to let me groom you? I promise to be gentle."
Demon nodded.
"Good. I'll be right back." Cole slipped out of the stall door, latched it behind him, and went to get a grooming kit. When he returned, Demon was waiting patiently for him. He selected a curry comb and started working the dust out of the horse's coat. Demon hadn't let anyone on April's farm groom him, and his hair was a mess. Tonight wasn't the time to really get him good and clean, but Cole wanted to make a start. He rubbed in firm circles, careful to avoid the freshest wounds which were still healing.
As he worked on Demon's flanks, the horse studied him curiously. His big brown eyes held confusion, fear, and longing—for safety? For a real home? Cole sympathized, and he hoped to God he could give Demon some security.
He finished with the curry comb and rubbed Demon's nose. "I'm going to brush you and clean your hooves. Then I'll get you some dinner."
Demon pushed against Cole's hand and watched him, his eyes soulful, familiar.
What? How could they be familiar? Cole stepped back. The barn spun around him, and the citrusy smell floated in the air again. What was wrong with him? He shook off the feeling that he was missing something important and grabbed the brush. He'd be OK once he got some protein in him. He'd just waited too long to eat. That would explain the swirling of his thoughts and the sloshy feeling in his stomach.
He brushed Demon quickly. The horse continued to watch him as if he was trying to figure something out or trying to memorize every inch of Cole. The constant attention unnerved Cole.
By the time he finished brushing Demon and cleaning his hooves, the horse's ears stood up and Cole would have sworn his mouth curled up in a smile. "Do you feel better, boy?"
Demon nodded vigorously.
"Good. I'm going to get you some hay, and then I'll have to get my own dinner."
Demon nodded again and nuzzled Cole.
Cole patted his nose before leaving the stall. He headed to the far end of the barn and grabbed a feeding bucket. But a few seconds later, a clattering sound made his skin prickle. Something was wrong. He dropped the bucket and ran to Demon's stall.
Demon wasn't there.
Jonah stood in the middle of the stall, pale and thin and completely naked.
Cole rubbed his eyes. He had really gone over the edge now. "J-Jonah?"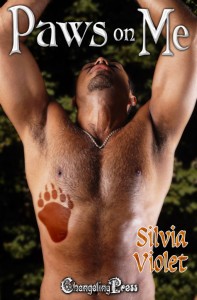 I love pie. Really I do – fruit pies, pecan pie, savory pies. I don't think I've ever been confronted with a type of pie I wouldn't eat – even mincemeat. When it comes to Thanksgiving dinner, I enjoy the turkey and stuffing and cranberry sauce but to me, Thanksgiving is a holiday for pie.
Growing up my family always went to my Grandma's house for Thanksgiving dinner, and the desserts had their own buffet. Grandma's specialty was lemon merigue pie but there were also sweet potato pies, pumpkin pies, and chocolate pie made from a recipe passed down from her grandmother. My dad was the oldest of five children, and it had been decided either before I was born or when I was very small that no one got to take leftovers home. You had to be the first one back to Grandma's house the next day to get your pick of whatever was left after we'd all filled our bellies. I remember many a day after Thanksgiving waking up a 4am not to get in line in front of Wal-mart but to get to Grandma's for the leftover lemon pie.
Silvia's Grandma's Lemon Pie
Vanilla Wafer crust
1.5 cups of crushed vanilla wafers
1/2 cup melted butter
Combine and press into a 9in pie pan. Grandma only pressed the crumbs into the bottom and put whole vanilla wafers around the edge but you can press the crumbs up the sides if you like.
Filling
1 can sweetened condensed milk
1/4 cup fresh lemon juice
1 tsp lemon zest
3 egg yolks (save whites for meringue)
1 tsp vanilla
Combine and pour into pie shell.
Meringue
Beat 3 egg whites until stiff peaks form. Add 1/3 cup sugar and 1/2 tsp vanilla. Beat to combine.
Top filling with meringue.
Bake at 350F until meringue browns just a bit. It doesn't take long. Then refrigerate for at least three hours.
I like to include pie in my stories. My free Thanksgiving short, Heat in the Kitchen, involves the demise of a pumpkin pie and  in Paws on Me, Brandon and Seth get creative with apple pie.
Protect and Serve: Paws on Me by Silvia Violet
Blurb:
Lieutenant Seth Morrison loves being a cop, but with budget cuts and crime both on the rise, he's stopped making time for anything but his job.
On the outside, Brandon Lord is an easy-going, flirtatious club owner. On the inside he's a man trying to overcome a difficult past.
When a murder investigation brings the two men together, passion roars to life. They're both willing to break the rules to be together. Because as mismatched as they might seem, each man is exactly what the other needs.
Excerpt:
I'm Seth Morrison. I'm a cop, a police lieutenant to be precise. I've been on the force more years than I want to think about. I've seen good men get killed, turn dirty, lose themselves in the bottle, lose their fucking minds, but I'm still here doing what I do. I don't know any other life. People tell me I need a break, a vacation, to relax. I don't want to fucking relax. I just want to do my job and keep this city from falling apart.
I park my car, grab my coffee from the cup holder, and charge up the front steps of the station. I could take the side door, it's closer to my office, but I love the chaos of the bullpen. When I open the door, I breathe deeply, enjoying the variety of smells: coffee that's been on the warmer far too long, the sickeningly sweet smell of candy and doughnuts, pine-scented cleaner from the scrubbing the janitors gave the floors last night, and something unnamable that simply smells like cops and hard work. I shake my head as I try to imagine not being here nearly 24/7. This is where I belong.
My stomach rumbles. I should've had dinner, but after pretending an afternoon nap was a night's sleep, I'm running late. I'll grab something from the vending machine while I dream about a juicy burger and thick home fries. It sure would be nice to have someone cook for me. I don't seem to get along with stoves. Years ago, I tried being married. That worked for about 30 seconds. My wife wanted me to work shorter hours. I wanted her to talk less, or maybe never.
Friends tell me I should make an effort to date, but I'm more comfortable at a gruesome homicide scene than making small talk at dinner with a woman or a man. Yeah, I like both. I stopped going out with men when I entered the academy. I just couldn't deal with the shit the guys would give me. Now, I don't advertise what I like, but I pick up a guy now and then. I'm discreet, but if somebody finds out, I'll deal.
One-night stands I can handle, but relationships are beyond me. People think police work is draining, but I'd rather spend all day in the field and all night at my desk filling out fucking paperwork — and often I do — than try to decode relationship signals. I inevitably screw things up and never understand why.
Sex I need. Romance I don't.
My phone rings. I pull it out of my pocket hoping the call will save me from the mountain of paperwork on my desk. It's Drew Danvers, detective and vampire. That's right, a vampire who works for the good guys. We've got a werewolf in homicide too. And he's a damn fine cop.
I remember when the shifters came out of the closet, scaring the hell out of us humans. One by one other monsters made themselves known. Most people assumed they were all assholes who wanted to eat us, but I quickly learned not to judge a man because he sucked blood or turned into a wolf. I judge men based on how they treat others.
I answer the call. "What's up, Detective?"
"Two dead werewolves found in a closet at Shift. Hacked up pretty bad. The scene's a circus. Jenkins called in sick. I'm on my own, and –"
"I'll be there in ten."
"Thanks, sir."
"No problem. Murder scene or paperwork, which would you choose?"
* * *
I step inside the club. A crime lab team is there and several uniformed officers are talking with employees. I spot Drew in the entryway of an office. He's frowning as he questions a tall hairy hunk of a man. I've seen this man around the area several times, and just like every other time, he makes my cock sit up and take notice.
Our most recent encounter was a week ago. When I want to grab a beer and be left the fuck alone, I go to Mitch's, a dive just down the street from Shift. Last time I spent the evening there, he sat next to me at the bar and came on strong. I was in a shitty mood. I wanted him, and it pissed me off. He's not my type. He's young, hip, and outrageously flirtatious. I walked away, but I regretted it later that night when I couldn't stop fantasizing about him.
The man looks my way and catches me staring. His grin says he knows the direction my thoughts are going. Fucking bastard winks at me. Drew scowls.
I turn to face him. He grins down at me, that same cocky-as-fuck little smile he'd given me earlier, making me even more aware of how close we are and how big he is. At 6'2″, I'm hardly small, but he's got several inches on me. And while I've got a rather thick pelt, the fur visible above the vee of his t-shirt is astounding.
He smiles mischievously. "You gonna cuff me if you take me in?"
"Impeding a murder investigation will get you thrown in jail."
He rolls his eyes. "I found two dead guys in my closet when I came to work tonight. My business is shut down, and I'll be losing money every minute that you're here. But at least I have a sense of humor."
"Well, I don't."
He shakes his head. "Are you taken too?"
I take another step back. "You're making a lot of assumptions."
I look over at Drew and realize he and Jason are grinning like loons. Fuck. All I need is the two of them ragging me.
I glare at Drew. "Detective, do you think you can question this man without killing him?"
"Probably."
"Fine. Fleetfoot, head back to the lab. Take my car. I'll get a ride with Danvers." I throw him my keys, and he snatches them out of the air as he gives Drew's hand a final squeeze. Jason is better in the lab than any tech we have. We only send him into the field when we're desperately short-handed. I run a hand through my hair, wishing I knew how I'm going to hold the homicide division together if we don't get more funds.
He holds out his hand. "I'm Brandon Lord. I own Shift."
"Lieutenant Morrison." I shake his hand. His skin is surprisingly smooth, his grip tight and warm. I want to feel those big hands running over me. I want to rub his furry body with my own. Fuck! I should assign someone else to this case right now and get the hell away from him. But some crazy restlessness he's dredged up in me makes me fight my instincts.
"Nice to meet you, Lieutenant." His voice is low and rich. And his grin lets me know he's well aware of my body's reaction to him.
I need to get away. His smell alone is making me hard. "I'm not here to play games. Drop the act and treat this case seriously, or I'll find an excuse to throw your ass in jail."
He grins. Fuck, he knows he's got me rattled. "I'd never kill anyone, Lieutenant. I'm just a cuddly teddy bear."
The bear shifter and the bear. Ridiculous. I need to leave now. This man is no cuddly toy. I don't think he's our murderer, but he's far smarter than he wants me to believe and likely far more dangerous. "I know what cuddling leads to."
Brandon laughs, a deep, infectious sound. I can't help but respond. Now I want him more than ever. Taking this case was a supremely stupid idea, staying on it now is unprofessional.
But I won't walk away.
Buy it at Changeling Press, Amazon, ARe
Now go visit other posts and find more great books and delicious recipes
Angel Martinez – http://www.freewebs.com/angelwrites/apps/blog/show/20193870-the-thanksgiving-recipe-blog-swap–
Havan Fellows – http://havanshawthaven.blogspot.com/2012/11/thanksgiving-recipe-blog-swapleftover.html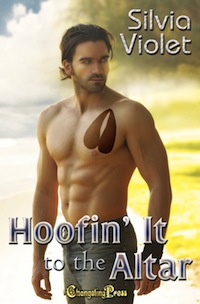 Hoofin' it to the Altar, my most recent contribution to the multi-author Protect and Serve series, is now at Amazon and ARe and Barnes and Noble.
Blurb
Deer shifter Jason Fleetfoot and vampire detective Drew Danvers have been together for a year. When Drew proposes, Jason is thrilled but shocked. Vampires aren't usually the marrying kind, even the few who side with the good guys. Drew wants to elope, but Jason's sister, Natalie, insists on planning an elaborate ceremony.
As Jason and Drew fend off well-meaning friends and family, a far more serious problem threatens their union. A vampire killer is on the loose. He subdues his undead victims without a struggle and finishes them off by literally curdling their blood. Drew has no idea what could kill a vampire so easily, and everyone suspects he's next on the killer's list. Can he stop the killer in time for "Dearly Beloved, we are gathered here today…" to start his wedding instead of his funeral?
Reviews for Hoofin' It to the Altar
"Ms. Violet has the knack for infusing lots of witty humor into the dialogue between the characters. They click as friends and even better as lovers. The storyline was interesting and very sexy. This author knows how to write some hot sex scenes."
— 4 Hearts from Beverly, The Romance Studio
"I absolutely adore Silvia Violet's Protect and Serve stories in this multi-author series. She infuses her stories with some humor, lots of lovin' and amazing characters. The writing is tight, story moves along at a nice pace and there were a few twists that had me flipping the pages quickly to see what would happen next."
— 4 Hearts from Dawn, Love Romances & More

Surrender in the Dark by Silvia Violet
Blurb:
Radek, king of the Underworld, knows that Nia is destined to be his. Yet as the crown princess of Upperworld, Nia is unavailable to him. Desperate to claim her, Radek puts the safety of his own colony at risk and lures her to him by seducing her in his dreams.
A progressive ruler, Nia believes in the importance of modernization. But as princess, her say is limited. Her mother, the Queen of the Upperworld, forbids the Underworld's king from attending Nia's crowning. So when a man from Underworld invades Nia's dreams and invites her below, she accepts the offer, hoping for an audience with the king
The moment Nia lands in Radek's throne room, she realizes her mistake. By Underworld law, she is Radek's slave for seven days — and seven nights. Radek vows to make use of every moment.
Nia's society expects women to dominate in bed, but Radek draws out her hidden desires. How can serving him be so deeply thrilling? Even when he shows her the pleasure in pain, she craves more of his brand of dominance.
The seven days pass far too quickly. When Nia and Radek must face the censure of two societies, passion may force them apart more thoroughly than it held them together.
Excerpt:
"Taste me, Nia."
She hesitated. He wrapped her hair around his wrist and jerked her toward him. "Now."
Her tongue snaked out, licking the head of his cock. He sucked in his breath. Her tentative strokes fired him in a way the most experienced slave never could. "Take me into your mouth."
Fear showed in her eyes, but Nia did as he bade. He fisted his hands in her hair, longing to feel the back of her throat, but resisting the urge to thrust deeper. He wanted her to love serving him this way, to relish being on her knees in front of him. Only after she had would he show her the sweet agony of swallowing him whole.
"More. Take me deeper."
She groaned, but managed it.
His knees threatened to buckle as the heat of her mouth surrounded him. "Suck." The single word was all he had breath for.
Within seconds he would have sworn she'd lied about her experience. Her mouth brought him exquisite pleasure, and he didn't need his Lalatian senses to know desire fueled her enthusiasm, along with her natural need to serve. He could smell the hot cream dripping from her cunt, and he wanted to taste it as much as he wanted to draw his next breath.
The rhythm of her sucking quickened, and she swirled her tongue around his shaft with as much skill as any woman in his harem. His climax rose. He tightened his grip on her hair, thrusting into her as she sucked. "Swallow as you feel me come in; see how much of me you can take."
Fear returned to her eyes. She tried to pull back, but he held her firm. "Trust me to know your limits."
Nia whimpered, but ceased her struggles.
"I'm going to come in your mouth, and you are going to take it like the gift it is."
Her eyes widened as he thrust into her mouth, holding her still. A few strokes later, he felt her surrender.
Buy it at Amazon
Buy it at Loose Id
Buy it at All Romance eBooks