Free Story – Heat in the Kitchen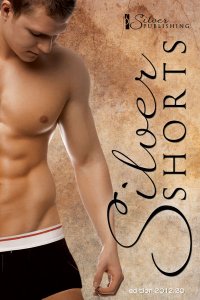 Heat in the Kitchen is a Thanksgiving story that's hotter than your oven after working overtime on turkey, pies and all those sides. This story appears in Silver Shorts Week 45, and you can download it here. Or you can read it now on my site…..
Heat in the Kitchen by Silvia Violet
"You want me to cook Thanksgiving dinner for your family?"
Allen looked everywhere but at Layton. "Well, yeah. You know what it's like to suffer through my mother's cooking, and we already decided not to fly to see your dad, so…"
"The last time your family came to dinner, you gave me a blowjob in the pantry, and I burned the chicken."
Allen had the decency to blush. "You know how I get when you wear an apron. It brings out the animal in me."
Layton gave him a hard stare. "That's exactly what I'm worried about."
"I'll be good."
Layton sighed. "No, you won't, but that's part of what I like about you."
"Exactly."
"So what should I make?"
Allen's eyes widened. "You'll do it? For real?"
Layton wanted to strangle him. "I didn't think I really had a choice."
"Well, there's always dry turkey and instant mashed potatoes."
"Any chance of skipping it all and spending the day in bed?" Layton asked.
Allen smirked. "I'd sure be thankful then, but no, my mom would be hurt if we were in town and didn't spend the day with her. There's always the day after Thanksgiving though."
"All right. I'll cook, but no interruptions this time. There's no point in having me make dinner if we're just going to eat something burned anyway."
Allen raised two fingers and tried to look innocent. "Scout's honor."
Read the rest on the story page. And look at the other free reads on my site.

Comments