Shifter's Station Collection Available At Changeling
The four stories in my sci-fi series, Shifter's Station, are now available as a collection from Changeling Press.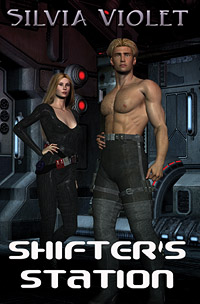 Shifter's Station by Silvia Violet
Years ago, the Terran Government betrayed special forces officer Marc Devlin, forcing him to flee for his life. He rescued several fellow officers and built a new life as the head of his own mercenary force. When he captures a beautiful Cerian diplomat, he thinks to torture the man to learn Cerian secrets. Instead, he finds a lover. Months later, Marc and his Cerian lover, Kirlos, take a young woman captive, fearful she might be an agent of one of Marc's oldest enemies. The two men strike a bargain with her that lands her in their bed for a month. As they dole out exquisite torment with their Cerian sex table, passion builds and turns to love. But Marc and Kirlos must fight to keep her and the life they've made for themselves.
Read an excerpt here.