Posts Tagged 'holiday cooking'
Candy Cane Brownie Lollipops
Ingredients:
1 package (18-21 oz.) fudge brownie mix (plus ingredients to make brownies)
24 candy canes
10 oz. chocolate-flavored almond bark
Additional decorations, such as red jimmies (optional)
Directions:
Line sheet pan with a piece of parchment paper. Lightly spray with nonstick cooking spray and set aside. Prepare brownie mix according to package directions. Pour batter into pan. Bake 30 minutes, or until wooden pick inserted in center comes out with moist crumbs attached. Remove from oven to cooling rack, and cool for 20 minutes or until slightly warm.
Meanwhile, cut straight ends of candy canes off to form 4½-inch sticks. Place candy cane tops into resealable plastic bag, and crush into small pieces. Set aside.
Roll brownie into 24 smooth balls. You can use a coffee scoop or something like that to make them the same size. (I didn't have a coffee scoop, so I just eyeballed it. As with my homemade candy canes, these are like snowflakes. Every one is different!) Then, insert candy cane sticks into centers of balls, mounding brownie around each stick.
Place almond bark into small bowl. Microwave according to package directions until smooth. (The microwave method didn't work out so well for me, so I used the stove-top directions the second time around. Worked like a charm!) Spoon melted bark evenly over each ball, turning to coat completely.
Allow excess bark to drip off. Dip into reserved crushed candy canes or jimmies, and stand upright on a piece of parchment paper. Repeat with remaining almond bark, lollipops and crushed candy. Let stand until set.
You can place into miniature cupcake liners and wrap lollipops in cellophane, tie with ribbon and use as table décor, place cards, or take-home goodies for a special holiday touch. Yields 24 servings.
After eating the brownie, may I suggest enjoying the candy cane as much as Leon and Jase.
"He nearly fell over the edge when Leon suddenly produced a thick candy cane and began sucking it deep into his mouth, bringing it nearly all the way out, letting his tongue swirl around the edge before sucking it back between those lush lips." from Leon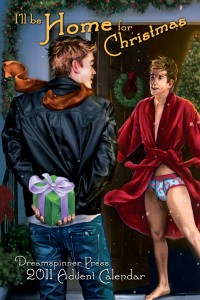 Leon
By SJD Peterson
After growing up poor in rural West Virginia, Jase McCoy doesn't have a single good thought for Christmas… until he dreams of a mysterious stranger who follows him home and treats him to a night of magical passion designed to convince Jase of the joys possible in the holiday season.
Excerpt:
In Jase McCoy's opinion, there was only one thing worse
than New York City during rush hour: New York City
during rush hour on Christmas Eve. Not that anyone
would ask his opinion. If they did, he'd admit that the
subzero temperatures, the ugly mud and oil-slick snow, and
the extra padding each New Yorker wore, making the already
crowded walkways nearly impassable, were just minor
inconveniences. What Jase really hated about this time of
year was the sorry homeless-looking Santas with their
missing teeth, dirty natural beards, and the stench of cheap
booze that rolled off them—or worse, the leering, over-jolly
fat men who got their rocks off by groping children. The
constant noise of Christmas music, mixed with the
screeching and crying of children and added to the constant
blinking of multicolored lights—it was enough for Jase to
want to rip out his hair and gouge out his eyes from their
sockets.
There wasn't anything festive or jolly about this season.
He couldn't bring to mind a single pleasant memory of
Christmases past. To him it wasn't a goodwill or spreadcheer
time of year. More like, cuss, beg, go in debt, hate your
in-laws, spoil your brats, rush, fight lines, give-me-a fucking-
migraine time of year. The facts that the calls
coming into the complaint desk where he worked multiplied
by several numbers and the suicide rate went up
substantially during this time of year were proof that he
wasn't the only one on the planet who hated Christmas.
Buy Leon here.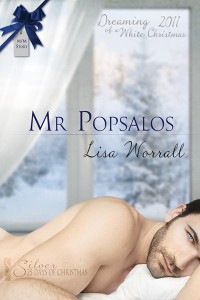 When Silvia asked me to provide a recipe for Christmas, there was only one thing that came straight to mind.  My Uncle Ken's Yorkshire puddings.  They are legendary in our family, and no one has ever matched or surpassed them.  They are gorgeous covered in gravy with your Christmas dinner and he always cooked an extra batch for us kids to have later with jam (jelly to my American pals).
So here it is, the recipe for Uncle Ken's Yorkshire puddings:-
Three cups of plain flour
Three eggs
¼ pint of full fat milk
¼ pint of cold water
Oil that the joint of meat is cooking in
Put the flour and eggs in a bowl and mix together roughly.  Then add the milk and water, and mix together until you have a batter of a nice thick consistency that will run off the spoon when you lift it up.  Place in fridge for two hours prior to cooking.
Take a bun tin (should make twelve or more, depending on the thickness you like) and put a teaspoon of oil from around the meat into each one, to cover the bottom.  Put on the top shelf of the oven until the oil is spitting nicely.  The key to good Yorkshires is the temperature of the oil, it has to be really hot.
Then place three desert spoons of mixture into each and put them on the top shelf of the oven on gas mark 7, um…. 220 degrees for thirty to thirty-five minutes until risen and golden brown.  Then shove into your mouth with reckless abandon 🙂
Excerpt from Mr Popsalos released by Silver on the 19 December 2011:
Pre-Order it now.
"Do you think his dad's in Harry Potter?"
Luke looked up from his newspaper, a piece of raisin toast paused in mid-air on its way to his mouth, and raised an eyebrow at his six-year-old son. "Huh?" He wasn't big on eloquence first thing in the morning, and the garbage truck had awoken him at the ass-crack of dawn.
"I said," Reggie repeated with a roll of his big brown eyes. "His dad must be Harold in Harry Potter."
"Hagrid," Luke automatically corrected. "Whose dad?" He asked, folding his newspaper and giving his son his undivided attention. He had a feeling he was going to need all his little grey cells to decipher Reggie's latest random statement.
"Mr Popsalos."
"Mr Who?"
"Our new teacher helper," Reggie huffed with all the patience of having to deal with someone of obviously limited intelligence.
"Mr Popsalos?" Luke repeated. He vaguely recalled the mention of a new assistant teacher and nodded sagely, as if he knew what the hell he was talking about. "Ah, yes, Mr Popsalos." He scratched his chin and smiled softly. "I'm almost afraid to ask, but why do you think his dad is a giant?"
"Because he's really, really big," Reggie said in his best "duh" voice, as if Luke had just dribbled on himself. "You should write things down, Daddy."
"Why?" Luke said, confused. He watched Reggie spoon more Cocoa Puffs into his mouth and crunch down on them, spraying little bits of toasted rice across the table as his son continued.
"Mrs Olsen said when you get old you forget things. She writes it down. So should you, or I can remember for you." Reggie nodded happily to himself, taking a healthy slurp of his milk and leaving a white moustache on his upper lip.
Staring at Reggie for a few moments, his mouth hanging open in disbelief, Luke forced a smile onto his face and thanked his son for bowing to his great age and making allowances for his diminishing memory. Glancing up at the clock, he shoved the last bite of raisin toast into his mouth and carried his plate to the sink. "Dude, we gotta go. I've got a big presentation this morning and I need to get to work early. Do you have your shoes on?"
"Nope. What's a—" he frowned "—restation?"
"Presentation." Luke chuckled.
Reggie looked up at him for affirmation when he slipped his sneakers on, making sure he had them on the right feet. Luke gave him an encouraging nod.
"It's when I have to stand up in front of a room full of people and try not to look like an idiot."
"There's a raisin in your teeth."
Luke waited patiently while his six-year-old studied his face for further signs of idiocy. Then he flinched when Reggie sent up a war cry as he ran to put on his coat and grab his book bag from the peg. Don't you just love it when they put you in your place?
"Okay, almost done." Luke grinned, wrapping Reggie's scarf around his neck and pulling the matching beanie onto the little boy's head. He chuckled through their morning ritual of covering Reggie's face with the beanie—Reggie complaining and Luke insisting that he looked better when you couldn't see his face—ending with Reggie grabbing Luke's beanie and doing the same to him.
"Right, in the car, little big man," Luke urged, pulling open the door and shaking his head slowly when hurricane Reggie flew down the porch steps and sprinted to the car. The kid's energy never ceased to amaze him. Locking the house behind them, Luke took the porch steps at a more sedate rate and opened the car, waiting for Reggie to climb in before he slid behind the wheel. "Okay… do we have everything? Book bag—check, lunch box—check, kid… aaah, I forgot the kid!"
Luke smiled to himself when the voice from the back deadpanned, "Daddy, I'm six."
"Humor me," Luke drawled, starting the engine. He pulled the car off the drive and eased into the steady stream of traffic heading towards downtown—then turned around and drove back to the house, running inside and grabbing the box of toys Reggie was donating to the Toys for Tots program. Luke groaned as he stowed the box in the trunk. He couldn't believe it was only two weeks to Christmas. None of his shopping was done, and he still hadn't booked the flight to his sister's, not that Abbie would expect anything less than a last-minute panic attack from him anyway.
Climbing back behind the wheel and pulling off the drive for the second time, he sighed heavily and ran a hand through his hair. He'd planned to be mega-organized this year, but of course he had failed miserably again. Oh well, thank God for the Internet and express delivery.
When they arrived at the school, Luke parked in the closest space he could find and ushered Reggie out of the car. Checking they hadn't left anything behind, he pressed the remote button on his key fob and grabbed Reggie's hand. They trotted along the street and up the steps into the school, rushing to get out of the cold December air. Once inside, they walked quickly along the children-filled corridors, stopping outside the little boy's bright red classroom door. Luke helped Reggie hang his coat up, unable to contain the smile when he saw the sprigs of mistletoe and strands of tinsel twined around each little peg. Making sure that his hat, gloves, and scarf were firmly secured in Reggie's coat pockets, he dropped to his haunches.
"Okay, dude," he said, lifting a hand and executing the handshake-fist-punch the two of them had perfected over the last three months—after a very serious six-year-old had declared that he was far too old to be kissed in public. As much as the statement had doubled him over like a knife had been plunged into his chest, Luke had swallowed his bruised pride, and the cool handshake they'd devised became the compromise he'd agreed to. "Now, don't forget I'm going to be late tonight. Grandma is picking you up, and she's staying over."
"I won't forget," Reggie said indulgently, lifting a small hand to pat Luke's cheek. "I'm not as old as you, remember?"
"Silly me," Luke deadpanned, then stood up and ruffled the soft golden strands curling around Reggie's ear, much to the boy's disgust. "Have a good day and make sure you behave for Grandma. You'll probably be asleep when I get home, so say your prayers and clean your teeth before bed, and I'll see you in the morning."
"'Bye, Daddy!" Reggie yelled, opening the door of the classroom and throwing over his shoulder as an afterthought. "I'm gonna ask him if his dad is Harold!"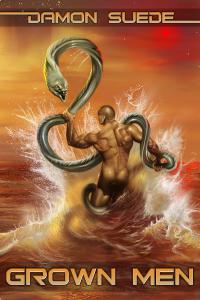 In southern Italy, meat is reserved for Christmas Day, so seafood is traditional for Christmas Eve celebrations. As it happens, roasted eel is a standard Italian holiday dish so here is a groovy, quick baked-eel recipe which is heartier and simpler to prepare than you might imagine for a big ole fish…
BAKED CAPITONE
(serves six)
TIME: 75 minutes (Prep is 15 minutes/cooking takes 60 minutes)
Ingredients:
1 cleaned and skinned eel, weighing 1 1/2 to 2 lbs (as fresh as possible!)
6 medium peeled potatoes
3 bay leaves
salt
fresh ground pepper
6 sage leaves
4 tablespoons sweet butter (1/4 cup)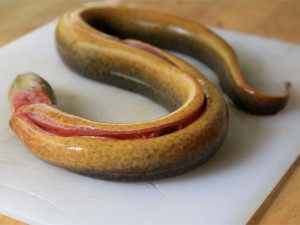 INSTRUCTIONS:
Preheat oven to 360 degrees Fahrenheit
Bring a large pot of water to a rolling boil. Crush the bay leaves lightly, and add them to the water with a fat pitch of salt and the potatoes. Allow them to boil until fork tender (8-10 minutes). Drain them (making sure to remove the bay leaves) and put them in a nonstick baking pan.
Rinse the eel thoroughly in warm water, section it into 4 inch pieces, and put it in the baking pan with the potatoes. Season liberally with pepper and salt. Roast for 50 minutes until the flesh becomes golden.
After 45 minutes of baketime, take a shallow pan and melt the butter over a medium flame; gently sauté the sage leaves until their scent permeates the butter. Don't scorch!
When the eel is lightly browned, remove the baking pan from the oven and portion into six servings, plating each with a halved potato. Drizzle with sage & butter to taste.
Blurb:
Every future has dirty roots.
Marooned in the galactic backwaters of the HardCell company, colonist Runt struggles to eke out an existence on a newly-terraformed tropical planetoid. Since his clone-wife died on entry, he's been doing the work of two on his failing protein farm. Overworked and undersized, Runt's dwindling hope of earning corporate citizenship has turned to fear of violent "retirement."
When an overdue crate of provisions crashes on his beach, Runt searches frantically for a replacement wife among the tools and food. Instead he gets Ox, a mute hulk who seems more like a corporate assassin than a simple offworld farmer. Shackwacky and near-starving, Runt has no choice but to work with his silent partner despite his mounting paranoia and the unsettling appeal of Ox's genetically altered pheromones. Ox plays the part of the gentle giant well, but Runt's still not convinced he hasn't arrived with murder in mind.
Between brutal desire and the seeds of a relationship, Runt's fears and Ox's inhuman past collide on a fertile world where hope and love just might have room to grow.
Excerpt:
(The following is an excerpt from Chapter 1 of Grown Men, released by Riptide Publishing)
Runt had almost turned toward the habitat when the huge bundle jerked and curled like a monstrous metallic worm.
"Fuck!"
Runt's shout sent a few surviving moths fluttering from the bluish palm trees. He fell to the ground and scrabbled back on his ass toward the heavy-duty submachete still planted nearby. Noisy, but the only accessible weapon.
The resurfacing tarp moved again, a wriggle all along its length, something packed alongside the fabric.
Alive.
Something alive stuffed inside the sack.
What the hell could be that big?
Hogs, dogs, humans . . .
I'm dead.
His recruiter had warned him that, if he didn't meet their terraform schedule, forcible termination was likely. Fuck. His numbers were shit and he was behind schedule.
I'm a dead man.
After a scant eighteen months, they'd finally sent his retirement plan in a corporate Trojan Horse, the cracked container packed with terraformer nibbles, and he'd fallen for it like a hungry idiot.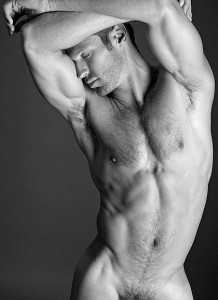 HardCell means business.
Runt realized HardCell had sent a new pair of terraformers stashed in foam to retire and replace him. Duh. Runt was undersized and had been trapped working solo.
All that's their food.
Legs braced to pounce, Runt gripped the whirring submachete and circled the enormous squirming life-support duffel. He could see big angled bumps like limbs inside straining hard at the closure.
The reflective packaging moved again and one of its occupants gave a bass groan. Transport anesthesia wearing off. With a tearing sound, the flex-wrap split, and one gigantic hairy arm clawed at the sand a moment as Runt's assassin struggled free from the life-support sack and the silvered fabric.
A man, large enough to be two people, but no mate.
Because he's too oversized to share a stasis sleeve.
Huge. Naked. Drugged. Alone.
Runt goggled in confusion as the superhuman body squirmed out of the shiny canvas like a colossal larva to flop on the sand and gulp the briny air.
I sat on him. I ate a mealpak sitting on my executioner.
Runt circled nearer, submachete by his side with the safety off. He took a step. He took another one.
Still shivering from the drugs and the bruising impact, the strapping stranger didn't react. He twitched and curled on the hot ground, heaving.
Fuck, he's huge. Runt took another wary step. He's a fucking mutant.
The stranger unfolded his limbs and rolled onto his side. His bulging arms were longer than Runt's legs. His broad back was a shifting wall of muscle over a high, square ass. His flaccid penis hung like some kind of blunt trunk.
Runt knew he had about a thirty-second window as the transport tranquilizers wore off. If he was going to kill his replacement, this was the only moment. The submachete whirred softly in Runt's calloused hand a few centimeters above the ground as he crept.
Closer . . . closer.
Runt's mouth hardened into a scowl under his salt-stiff mustache. If he slaughtered this circus clone now, he could claim the goon had died on entry like his long-lost wife.
Do it.
The groggy giant gasped and spat, then rolled onto all fours, his head hanging. He shuddered, and drool ran from his mouth. He had close-cropped tawny hair, bronzed skin, and a stubbled face that looked like it had seen plenty of fights.
He's a killer.
Brawny slabs of military-grade synthetic muscle covered his frame. Maybe not a full clone, but growth hormones out the wazoo, obviously. The broad paw spread on the ground had a palm bigger than Runt's entire face.
Don't look at him.
Runt's eyes scanned for the sweet spots: throat, kidney, groin. He raised the humming submachete, his hand sweaty on the gel grip. He glanced up at the habitat, his crop terraces, the little kingdom he'd built by himself for eighteen months a millimeter at a time.
Retire him now.
Suddenly, the troll turned his head and looked right into Runt's eyes and simply smiled in relief . . . as if greeting an old friend. A small smile . . . no triumph, no cruelty, a faint hopeful curve of childlike pleasure which dampened Runt's murderous thoughts. As if the big dumb freak was happy to be naked and puking on the sand at the ass-end of the universe.
Shit.
A human smile after so long.
Released 30 October 2011 by Riptide Publishing
Copyright 2011. Damon Suede. All Rights Reserved.
Books:
Bio:
Damon Suede grew up out-n-proud deep in the anus of right-wing America, and escaped as soon as it was legal. Though new to M/M, Damon has been writing for print, stage, and screen for two decades. He's won some awards, but counts his blessings more often: his amazing friends, his demented family, his beautiful husband, his loyal fans, and his silly, stern, seductive Muse who keeps whispering in his ear, year after year. Get in touch with him at: