Posts Tagged 'BDSM'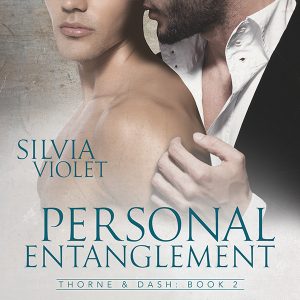 Personal Entanglement is now available in audio narrated by the amazing Greg Boudreaux (aka Greg Tremblay) who voiced Thorne and Dash in Professional Distance. Grab it now at Audible or Amazon.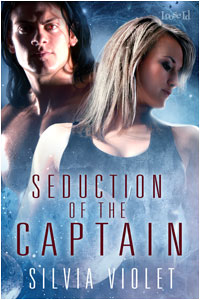 Here's another taste of my recently released BDSM sci fi story, Seduction of the Captain……
Blurb:
Kajinek is a Lalatian Dominant who must feed on fear, pain, and sex for survival. Since leaving his homeworld, he hasn't met a woman who could truly satisfy his needs.
Mercenary captain Saida Alexander needs a pilot for the most dangerous mission she's ever undertaken. She chooses Kajinek, because he's reputed to be the very best. She never suspects that he'll awaken the submissive desires she's ignored for years.
When Saida knocks on Kajinek's door, he senses that she's the partner he's been looking for. He agrees to fly her ship under one condition; she must personally feed his darkest desires. Can Saida give in to what her body wants or will submitting sexually shatter the careful control she wields over the rest of her life?
Excerpt:
Kajinek followed Saida down the corridor toward their quarters, fighting the urge to throw her over his shoulders and run just to get there a few seconds faster. His cock felt like an iron rod in his pants, and the need to take her burned through his veins. At every stop along the tour, she"d managed to brush against him, lean over him, flaunt her body at him, all without seeming to do a thing.
When her ass had brushed his cock as she stepped back into him while reaching for an overhead hatch, he"d almost lost it. He"d planned to introduce her to more of his implements of torment that night. He"d wanted to work her up, make her beg, make her acknowledge what she was to him, but that would have to wait until he got some relief. The second the door to her quarters was closed, he was going to take her hard and fast. Then he was going to torment her until she surrendered her very soul.
Saida laid her palm against the sensor beside her door. Kajinek smiled when he noticed her hand trembling. He breathed deep, drawing in a satisfying stream of hunger and fear.
The door slid back. Saida stepped through. He stepped in behind her, so close they were nearly touching. She smacked the interior sensor. The door slid closed ever so slowly. Kaj didn't move. Neither did Saida. The door clicked shut.
"Full privacy screens." Saida's voice was low and husky.
The control computer responded. "Confirmed."
Kaj grabbed her shoulders, spun her, and slammed her back against the door. He crushed his lips to hers in a brutal kiss. He wasn't interested in finesse or seduction or even forcing her submission—he simply wanted. Wanted what she"d been flaunting all night, wanted relief from the hunger that raged through him.
"Fuck me," Saida demanded, arching her hips to slide her pussy along the hard length of his cock.
He felt the heat of her through her suit and his pants. But that wasn't enough. He needed her naked; he needed to be inside her. He needed to make her scream. But he couldn't seem to tear himself away from her mouth.They bit and sucked at each other. Their tongues were like weapons fighting to devour each other. She dug her nails into his back, tearing into him like the claws she could form. He groaned and used his hips to pin her to the wall while he ground his cock against her pussy lips, which were as clearly defined against her suit as if she were already naked.
She growled and bit his lip hard enough to draw blood. Pleasure jolted through him. He might not need pain like a submissive did, but he"d been taught to appreciate any heightening of sensation. He sucked her tongue into his mouth so hard, she groaned and bucked against him, trying to get him to move, working her clit against the hardness of his shaft. He drank down her fierce need, wanting more, wanting her surrender, wanting to eat her up.
She raked her nails down his back—no longer fingernails, but claws—ripping the fabric of his shirt. He gasped and pulled away from her. Her eyes burned with passion, but they still looked human. "Saida?"
Her need assaulted him, nearly making him choke. She struggled to draw in air. "I'm controlling it. Some of my lovers…like the…danger. I thought you…would too." She worked the fastening of his pants. Once she got them open, she shoved them over his hips, freeing his cock.
She wrapped her still-clawed hand around his cock and slid it up and down. He didn't think it was possible to get any harder, but she proved him wrong. He was supposed to be the one who inspired fear, the one who fed his partner"s need for danger, but the sight of her claws wrapped around his cock was making him hotter than he"d thought possible. If she didn't stop soon, he was going to come.
"Enough." He closed his fingers around her wrist. She released him, but she trailed one of her claws down the length of his cock, barely skimming the delicate skin. He sucked in his breath. His cock jerked, reaching for her touch, wanting the danger she offered.
Saida chuckled. "I knew you were addicted to danger."
Anger burned inside him. How the hell had she gotten the upper hand? As soon as he"d slaked the lust burning through him enough to think again, he was going to torture her until she begged to serve him. He"d make her his slave. He looked up, letting her see the anger burning like fire in his eyes. "You have no sense of self-preservation."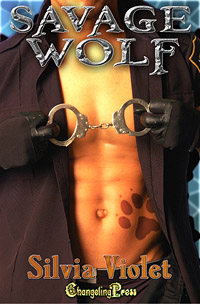 Protect and Serve: Savage Wolf is now available at ARe! I'm so excited about sharing this book with all the readers there. Here's a little taste to whet your appetite….
Savage Wolf by Silvia Violet
I'm Wolf, Officer Aidan "Wolf" Savage. I'm a werewolf. But unlike most of my kind these days, I'm one of the good guys even if I do scare the hell out of most people the first time they meet me. When a white-tailed deer shifter comes leaping into my life, she makes my body hotter than an erupting volcano. She's on the run, and she doesn't want my help. But I'm not about to let her get herself killed, and I'll use any means necessary to keep her safe.
Excerpt:
I tried to make myself be a gentlemen and roll off my naked little shifter. But werewolves aren't gentlemen. I heard her racing heart and smelled the hot cream between her legs, and my wolfish side begged me to shove her legs up onto her chest and bury my cock in her pussy. Then she shocked me by opening her legs and inviting me in. How could a man say no?
And, by all that's holy, she said those four words that just about made me lose it before I'd even gotten inside. "I like it rough." Just what an alpha wolf like me needs. A woman who appreciates my appetite.
When I drive into her, holding nothing back, she cries out. Her pussy holds me tight. I fight to hold still and let her adjust to my size. But she wraps her legs around my hips and bucks against me.
"More," she begs, and I'm not about to deny her. I slide out nearly all the way. She whimpers.
I thrust back in, and she groans, "Yes." After that I ride her hard and fast. She meets every stroke, slamming her hips against mine. I fuck her with brutal strength, and she keeps crying for more. I'm in heaven.
Her gorgeous breasts bounce up and down in rhythm with my thrusts. I can't wait another second to get better acquainted with them.
I shift my weight to one arm, and use the other hand to cup the tantalizing flesh, which is as soft and smooth as it looks. I slide my thumb back and forth over her tightly puckered nipple, and I'm rewarded with a sharp cry.
I keep up the light, teasing strokes. She arches toward my hand, whimpering. I pinch and tug on the pink bud. She bucks so hard she nearly unseats me. "Yes, God, yes!" she cries.
I need one of those sensitive nipples in my mouth like I need to breathe. I grab her hips, holding her firmly on my cock as I sit back on my heels. She lets her torn dress and bra slide from her arms. Then she wraps her arms around my neck and pulls herself up until she's seated in my lap. Now I can lick and suck and bite those hard buds all I want while driving myself even deeper inside her tight, wet cunt.
As if she can read my mind, my doe pulls my head down to her breast. I draw a pink tip into my mouth and suck hard, letting my teeth sink in just enough for her to feel them. She cries out, digging her hands into my scalp. "Harder, oh God, harder. I . . ."
I glance up without letting go of her nipple, desperate to know what she wants to say. Her deep brown eyes are wide and filled with need. "I like it to hurt."
I nearly choke around the hard flesh in my mouth. Have I died and gone to werewolf heaven? I bitehard enough to make her scream. She writhes against me. Before she's recovered, I give her other nipple a vicious pinch.

Here's a second excerpt from my brand new m/m/f, BDSM, sci fi release, Shifter's Galaxy: Accommodating Desire. Read the first excerpt here.
Accommodating Desire by Silvia Violet
A sexy captain, his dominating security chief, an outrageous proposition. How could a girl say no?
Lucy Vasilia is the director of the Alkestis Market, a well run trading center catering to both legitimate and black market concerns. She's not a woman who normally mixes business with pleasure, but shipping tycoon Ian Hadley's dominating presence and cool control make her knees weak.
When he matter-of-factly proposes a three way with his lover, Security Chief Connor Langley, she decides to make an exception and give herself over to pleasure for an afternoon.
But Ian and his dark, dominating lover want far more from her than a few hours' dalliance. They intend to make her acknowledge their soul-deep connection, and they won't be satisfied until they've claimed her in every possible way.
Excerpt:
Ian ran a hand over her hair. "I do believe Langley enjoyed the show. You may stand and turn so he can get a better look at you."
Lucy did as he asked. Hot desire stabbed through her core, and her legs shook as
she got her feet under her. Her pussy was so wet from the delicious taste of
Ian's cock that she could feel moisture on her inner thighs. She thrummed with
need to look at Langley, but she knew what he and Ian expected, and she craved
their mastery even more.
After several long seconds, Langley spoke. "Look at me."
She raised her eyes slowly, taking in the supple leather boots that encased his
lower legs, the powerful straining muscles of his thighs. The massive erection
outlined so clearly by his tight leather pants. His flat stomach and wide
shoulders.
Finally, she looked at his beautiful face. His long black hair was pulled back
in a tight braid and his forest green eyes showed a combination of hot need and
icy control that made her stomach flip flop. Ian's dominance made her squirm,
but this man might be able to touch her very soul.
Ian ran a finger slowly down her spine. She couldn't help but arch into his
touch. Langley smiled and she feared she might melt into a puddle.
Buy it here.

Shifter's Galaxy: Accommodating Desire is an m/m/f BDSM sci fi story set in the same world world of my Shifter's Station collection and it's coming your way in less than a week. Here's a little sneak peak…..
Shifter's Galaxy: Accommodating Desire
by Silvia Violet
Ian Hadley opened the door to the reception area for the Alkestis offices. A Vindolesian with the characteristic grass green hair and onyx eyes burst out of Ms Vasilia's office. "Stupid bitch," he yelled as he threw a nano tablet at the receptionist, narrowly missing her head. "If that slut thinks she can keep us out of her fucking market, she's even stupider than I thought."
Ian stepped into his path. "You would be wise to retract that last statement."
The Vindo shoved at Ian's chest. "Fuck off, asshole."
In one swift motion Ian drew his plasma gun and shoved the man up against the wall, weapon pressed under his chin. "If I or one of my employees hear you refer to Ms. Vasilia like that again, those will be the last words you ever speak."
"Jeez, lighten up man. You fucking her or something?" Ian shoved the weapon harder against the man's chin. The Vindo made a choked gasp. "Fine. Fine. I'll lay off your girlfriend."
"I respect the women I do business with, and I will defend their honor even if that means some asshole has to die. Don't let me see you on this station again."
Ian stepped back and the Vindo scrambled to the door and disappeared down the corridor.
***
Lucy Vasilia electronically signed a document and folded her nano tablet before looking up at Ian Hadley. She made a final, slow perusal of his well-toned physique, suppressing a sigh that their meeting had come to an end. "That should conclude our business. I've sent a copy of the contract to your ship's computer."
He smiled, a slow, sensuous curve of his lips. "Excellent." He made no move to leave her office.
"Did you have further questions?" Lucy managed to keep her tone professional though he made her want to purr.
"I do have one question." He paused, his bright blue eyes hot and unrelenting. "Would you like company?"
Lucy titled her head and stared at him. "For what?"
His smile deepened. "When I fuck you."
Lucy sucked in her breath. "Presumptuous, aren't you?"
"I've seen your eyes drifting down to my cock. You want this as much as I do."
She stared pointedly at his crotch. His erection threatened to burst one of the seams of his expensive suit. "You certainly are making a rather impressive display."
He smirked. "Indeed."
"I assume you'd like your Head of Security to join us?"
"Ah, so you did do your homework."
"I never meet with anyone I haven't researched thoroughly. You hired Langley at Captain Devlin's suggestion." It was a statement, not a question.
Ian nodded. "Devlin said to tell you hello by the way."
"Did he indeed? I take it Chief Langley isn't fully human."
Ian shook his head. "He's not, but I have the impression you won't be disturbed by his particular needs."
She grinned. "I'm not as fragile as I look."
"I never thought you were. So what will it be? How much hard use are you game for today?"
She nearly choked. "I can take whatever you and your lover want to give."
"You may live to regret that statement. When?"
She held up a finger signaling him to wait and pressed a button on her desk unit, paging her receptionist. "Cynthia."
"Yes, Director?"
"Cancel my next two appointments."
Ian raised his brows, studying her curiously.
A sharp voiced erupted from the comm. Unit. "With all due respect, Director, the delegation from-"
"My business with Mr. Hadley is taking longer than expected. I will simply have to reschedule."
"Yes, Director." Cynthia sounded resigned.
Lucy looked at Ian, fighting the urge to tremble. The sexual heat in his eyes was devastating. She'd never slept with a business associate, and she'd certainly never cancelled an appointment so she could get a quick fuck in her office.
Then again, she couldn't recall a man who'd ever turned her on as hard and fast as Ian did. She'd glimpsed him with his lover as she'd headed to dinner the night before. Connor Langley was a glorious mix of beauty and pure animal power. He moved with a panther's grace, but she had no doubt he could kill most men one-handed. She'd been working her ass off. She deserved a treat. "Call Langley now."
He pressed a button on his wrist unit. "Langley, you're needed in the Director's office."
"Is there a problem, sir?"
"No, we are simply in need of a . . . consultation."
"I will be right there, sir, " Langley responded.
Learn more here.

Coming Soon:
Shifter's Galaxy: Accommodating Desire, an m/m/f short story, will be available very soon from Changeling Press. I loved having the chance to revisit my Shifter's Station world with this story, and I've got several more story ideas for this spin off series.  Here's an unofficial blurb:
Shifter's Galaxy: Accommodating Desire by Silvia Violet
Lucy Vasilia is the director of the Alkestis Market, a well-run trading center
catering to both legitimate and black market concerns. She's not a woman who
normally mixes business with pleasure, but shipping tycoon, Ian Hadley's
dominating presence and cool control make her knees weak. When he
matter-of-factly proposes a three way with his lover, Security Chief, Connor
Langley, she decides to make an exception and give herself over to pleasure
for an afternoon. But Ian and his dark, dominating lover want far more from
her than a few hour's dalliance. They intend to make her acknowledge their
soul-deep connection, and they won't be satisfied until they've claimed her in
every possible way.
Seduction of the Captain, a BDSM sci fi set in the same world as Surrender in the Dark, will be coming your way this summer.
Works in Progress
I'm currently working on Protect and Serve: Sex on the Hoof. This is Jason, Natalie's brother from Savage Wolf's, story. I love writing for this series and Jason and his lover, Drew, are a roller coaster ride of humor, angst, and dirty fun.
I've got lots of other projects bouncing around in my head. But I think once Sex on the Hoof is done, I'll be focused on Wet: Reef's Guardian, part of an upcoming multi-author series for Changeling. I know this one is going to be fun because one of the characters is a cuttlefish shifter. Oh the things I'll be able to do with that 🙂
After that I've got a m/m Christmas story that's been begging for my attention as well as one featuring intergalactic spies, betrayal, confusion and seriously hot sex.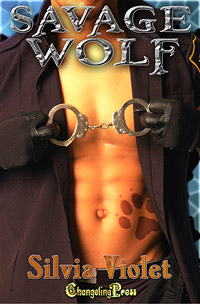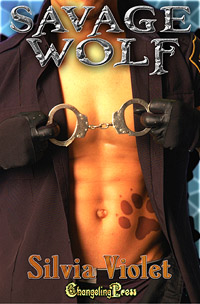 Woohoo! Protect and Serve: Savage Wolf is available now at Changeling Press!
I'm Wolf, Officer Aidan "Wolf" Savage. I'm a werewolf. But unlike most of my kind these days, I'm one of the good guys even if I do scare the hell out of most people the first time they meet me. When a white-tailed deer shifter comes leaping into my life, she makes my body hotter than an erupting volcano. She's on the run, and she doesn't want my help. But I'm not about to let her get herself killed, and I'll use any means necessary to keep her safe.

Later this week, Protect and Serve: Savage Wolf will be released. Isn't the cover simply luscious? I'm so excited about being part of this fantastic series.  Here's a little taste of what my story has to offer…..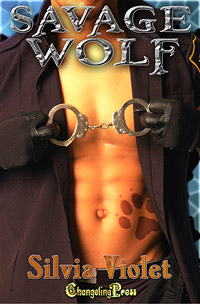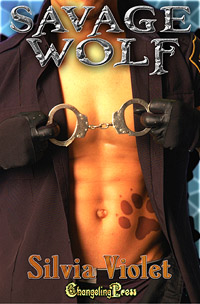 Protect and Serve: Savage Wolf by Silvia Violet
I'm Wolf, Officer Aidan "Wolf" Savage. I'm a werewolf. But unlike most of my kind these days, I'm one of the good guys even if I do scare the hell out of most people the first time they meet me.
I'm a damned good cop. If I'm tracking a criminal, he doesn't stand a chance of getting away. I love the chase, the take-down, the chance to be scary-as-hell, but there's one thing I hate about this job: stakeouts.
That's what tonight is all about, sitting in a hot, muggy car, eating doughnuts and watching the woods for signs of life. Man what I wouldn't give for a beer right now. And a warm house and a warm woman. Ok, that train of thought isn't doing a damn thing for me. Because my partner and I are stuck right here until we see something, or the sun comes up.
Jacobson, my partner, crushes his paper coffee cup and tosses it in the bag that serves as a trashcan. "I so don't want to do this shit tonight."
I don't think his comment deserves a response so I take a sip of my own coffee, which is damn near empty too.
Jacobson stares hard at the fence outside his window. "Do you actually think we're going to see anything? Anyone could have dumped those bodies by the park. Why would they come back now?"
We're parked along the outer perimeter of City Park. In it's heyday it was a place for city residents to relax, have a picnic, get some exercise, and remember what trees actually looked like. When the economy went south, the city stopped maintaining it. Now it's an overgrown eyesore used primarily by the homeless, drug addicts, and kids looking for a thrill.
The department is constantly getting complaints about the vermin that thrive in the undergrowth, both animal and human. But recently, the volume of calls about trouble in the park has increased, and two teenagers were found dead at the park's northern gates last night. They'd been shot, execution style.
I take another sip of coffee before responding to Jacob's questions. "We've had too many complaints and none from the usual suspects. Something's up."
"Gang initiation?" Jacobson suggests.
I shake my head. "I don't think so."
His eyes narrow. "You smell something, don't you?"
I nod. Under the smells of sex, beer, and greasy food, there's an odd chemical odor. I can't place it, but I'm certain it doesn't belong in the park. It hadn't been there a few months ago when I'd pulled the short straw and been sent to run off a bunch of kids who'd come out here to party.
Before I can describe the smell to Jacob, I hear distant footsteps pounding the pavement. "Someone's running this way. Someone fast."
Jacob nods. I doubt he can hear a thing, but he's learned to trust my non-human ears without question. A few seconds later, a woman comes into view. She's wearing a sundress and a pair of high-heeled sandals so I doubt she's running for her health. Not that any sane woman would be at night in this part of town.
She has straight, reddish-brown hair that swings past her waist. Her heavy, round breasts are barely contained by her dress. Long shapely legs reach out for the ground making my cock sit up and say hello. Her strides are so long she's practically leaping.
She's moving faster than any human should be in shoes like that. The wolf inside me begs me to chase her for the sheer thrill of apprehending such a hot piece of flesh. But my cop instincts tell me this woman is our key to what's actually going on in the park.
Jacobson reaches for the door handle, but I lay a hand on his arm, stopping him. "Not yet."
"She's not out for an evening jog, Wolf. Someone's chasing her."
"Exactly. And we need to know who and why."
Learn more here.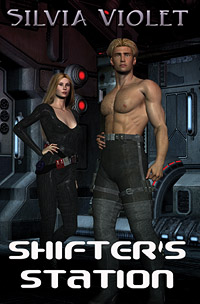 All Changeling Press titles are 25% at All Romance Ebooks this month.
This includes my Shifter's Station Collection:
Shifter's Station Collection by Silvia Violet
Years ago, the Terran Government betrayed special forces officer Marc Devlin, forcing him to flee for his life. He rescued several fellow officers and built a new life as the head of his own mercenary force. When he captures a beautiful Cerian diplomat, he thinks to torture the man to learn Cerian secrets. Instead, he finds a lover. Months later, Marc and his Cerian lover, Kirlos, take a young woman captive, fearful she might be an agent of one of Marc's oldest enemies. The two men strike a bargain with her that lands her in their bed for a month. As they dole out exquisite torment with their Cerian sex table, passion builds and turns to love. But Marc and Kirlos must fight to keep her and the life they've made for themselves.
This e-book collection contains the previously released Shifter's Station series novellas Pilot's Bargain, Pilot's Heart, Loving the Enemy, and Eye of the Tigress.
Excerpt from Shifter's Station 1: Pilot's Bargain
The commander cut off whatever Captain Devlin was going to say. "I have the ability to probe your mind to determine if you're telling the truth. And if you are lying, I can compel the truth from you."
Larissa studied him for a moment. He seemed sincere and somewhat dismayed by the captain's brusque manner. "Do it."
She felt pressure on her head, as if someone were mashing the heel of their hand against her forehead. Then the pressure turned to pain. It grew sharper until it felt like a needle was boring into her skull.
She felt tension radiating from Adesta. "Stop fighting it."
"I… can't. I don't –"
Then the pain spread as if her skull had cracked. She fell to her knees, panting. The world began to go black. But just before she passed out, the pain disappeared.
"Fires of hell, she's strong."
The captain snorted. "Did you get through?"
"Yes, she's telling the truth."
Thank the gods. They would have to let her go now. Larissa heard the men speaking, but they sounded very far away. A dull pounding still echoed in her head. Nothing like the tearing pain of the scan, but she still wasn't sure she could stand.
Then she felt a hand on her arm. It was the commander. She wanted to refuse his assistance, but she didn't want to be on her knees in front of the captain. He was arrogant enough without her prostrating herself like a slave.
When the commander helped her to her feet, she stepped away and forced herself to focus on Devlin. His dark eyes were narrow and cold. "Who taught you to shield your thoughts?"
"My boss."
Devlin raised his brows. "You need this ability often on cargo runs?"
"When you take these kinds of jobs, you do."
He laughed. "I suppose you are right. Federated Transport isn't exactly a legitimate business."
"And yours is?"
Adesta's lips curled into a wicked smile. "You seem to be losing your touch, Captain. You usually have them trembling in their boots by now."
Larissa just managed to keep from rolling her eyes. The captain might be one delightfully put together man, but she had no intention of rolling over for him. "Can I go now?"
Devlin scowled. "No."
"The commander has established my innocence."
"He has established that you were unaware that the weapons were faulty. But I still have one dead crewman and several more injured. Someone has to pay."
"Yes. That someone is my bastard of a boss."
"But he's not here, and you are."
"Captain." The warning glare in the commander's eyes gave Larissa hope he might convince his superior to let her go.
"She stays."
Larissa's heart pounded. "You can't be serious."
He gave a cold smile. "I'm always serious."
Larissa clasped her hands behind her back to hide their shaking. "You can't just keep me here."
"I can do anything I damn well please."
"But –"
The captain stepped toward her. She stabbed her nails into her palms, hoping the pain would dull her fear and help her hold her ground.
Devlin grasped the single braid that hung down her back and jerked her head to the side. "I am the law here. No one questions what I do. If I wanted to shove you out an airlock, that's exactly what I'd do. No one would dare protest."
She held her breath, and commanded her suddenly rubbery legs to keep her upright.
He let her go and stepped back. "Fortunately for you, I have something far more pleasant in mind as repayment for your crimes."
Larissa's lungs burned, but she couldn't seem to fill them with air. She forced herself to look him in the eye. "I have no intention of letting you punish me for a crime I didn't commit."
Adesta smirked. "I like her spirit."
The captain stared at her intently. "So do I. The spirited ones are so much more fun to break."
Larissa's heart hammered against her chest. She knew her eyes were wide and her fear shone all too plainly. She felt like a rabbit cornered by a wolf — a big bad wolf with plans to eat her.
Now why the hell did that thought make her body feel hot and tight? She was so damn wet she'd likely soaked through her flight suit. What was wrong with her?
Devlin took a long, deliberate inhale. "Mmm. I think she likes us more than she wants us to know."
Shit! The last thing she needed was for him to be aware of how she was responding to them. She needed to convince them to let her go. But before she could think of anything to say, Devlin's lips curled up in a wicked smile.
"Since you seem so interested in the issue of fairness, why don't we strike a bargain?"
"What bargain would that be?" Larissa mentally cursed the quaver she heard in her voice.
His smile widened. "I will spend the next two hours convincing you that you want to stay. If you can resist, you go free. If you can't, you agree to remain on the station as my servant for the next month."
Larissa took a deep breath. Her initial reaction was to tell him to go to hell, but something told her this might be her only way off the station. "How will you convince me to stay?"
"That's my secret, but you have my word you will come to no harm."
"Why should I trust you?"
The captain's face froze, and a sound too like an animal's growl rose from his chest.
Larissa glanced at Adesta. He shook his head. "I wouldn't go down that road if I were you."
"Fine. If I were to lose, which I have no intention of doing, how would you expect me to serve you?"
The captain's smile returned instantly. "With every last inch of your naked body."